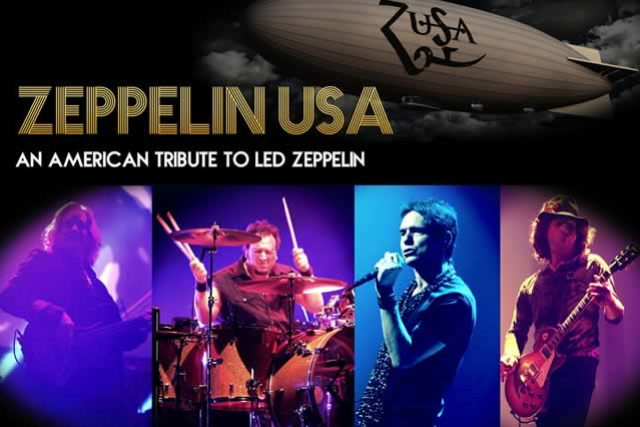 Zeppelin USA
Saturday
Apr 28th
8:00 pm
PDT
6:00 pm

Doors
$20.00
The songs remain the same....just a different approach

Zeppelin USA (ZUSA for short) is all about the music and spirit of Led Zeppelin. When the members of ZUSA formed, a clear decision had to be made. We could have easily donned the blonde "Robert Plant" wig, the dragon suit a la Jimmy Page, the 3 rings on the kick drum, etc. as so many other Zep tributes have done. But we knew that in order to set ourselves apart from the pack we had to choose a different path. To stand on the music only, we know we're going to be judged hard in that respect. And so, we focus on getting the right tones, vocal inflections, our mix out front, borrowing a little from the studio versions here, the live versions there...much attention is spent on delivering a true sonic Zep experience.

But we also believe in entertainment. The members of ZUSA are veteran musicians who've performed for tens of thousands of people. This is, after all, show business, and we go out of our way to engage and entertain our audience, no matter the size. Our larger venue shows are complete productions with huge video screens, low fog, lasers, state of the art lighting, and theatrics.

A Zeppelin USA show captures the sound and spirit of the greatest rock band of all time, and promises to either introduce or remind fans of just how great the mighty Zep will always be.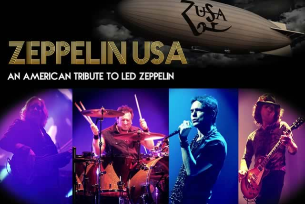 Zeppelin USA - An American Tribute
Pop
A new band, comprised of veteran musicians from Las Vegas and Southern California, has formed and is preparing to bring a new energy to the Tribute band scene, and to Led Zeppelin fans from all walks of life.
Brody Dolyniuk, former lead singer and founder of the popular Las Vegas Classic Rock band, Yellow Brick Road, has long had a passion for singing Led Zeppelin music. After meeting up with former Led Zepagain guitarist Steve Zukowsky (2001-2012), a new kinship was born, and the idea of putting together a Led Zeppelin project was brought off the back burner. Joining up with former YBR bandmate Jonathan Gilcrest and So Cal drummer Pat Leon, the group met up at a rehearsal facility for the first time, and it quickly became clear that there was something worth pursuing.
Forgoing the costumes, the members of ZUSA are focused only on the music and the presentation, delivering everything that was great about the mighty Zep in their heyday...the sonic details of the studio masterpieces with the raw energy of their live performances....literally the best of both worlds.
In 2004, Jimmy Page watched Steve play a full set of Led Zeppelin music and praised him on his performance and attention to detail, signing an autograph for him: "Steve - Thanks for sounding so GOOD!!"
If, like many others, you have been waiting to see someone capture this magic and bring it to the stage with real passion and precision, your wait is over.
Enter ZUSA....the American Led Zeppelin tribute.
Facebook:
https://www.facebook.com/zusarocks