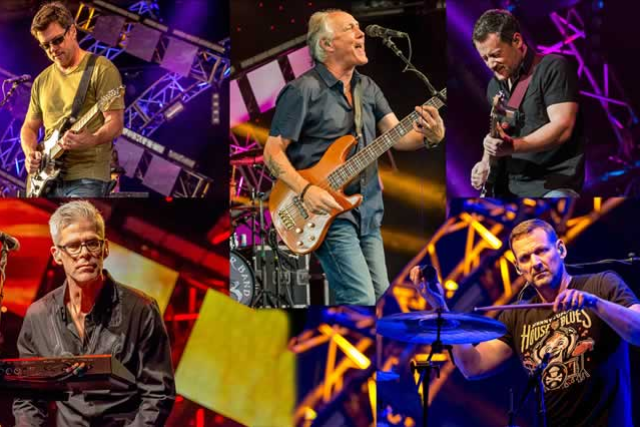 Little River Band
Thursday
Jul 19th
8:00 pm
PDT
6:00 pm

Doors
Little River Band was the first Australian band to successfully conquer foreign markets from an Australian base.
Within eight months of their birth, LRB had already scored three Australian Top 20 singles and two Top Ten albums. In 1976, after their self-titled debut album was released in the USA, the long grind of 13 US tours in eight years had begun.
By 1982 they became the only act – from anywhere – to have a top ten US single for six consecutive years.
Record success ran alongside – total record sales around the world have eclipsed the 30 million mark...All-told LRB have notched up eight top 10 singles in the US, where two of their songs, Reminiscing and Lady, have more than 9 million radio plays between them.
The band is anchored by American bass player Wayne Nelson, who began his LRB career in 1980. The following year Wayne debuted as lead vocalist on the top ten hits "The Night Owls" and "Take It Easy On Me," and continues in that role today. Wayne has more years of service than anyone throughout the band's illustrious history.
Greg Hind (guitars and vocals) has been an integral part of the bands current sound since 2000.
Rich Herring (guitars and vocals) is a consummate player and Nashville producer. He has produced CDs for Shane McAnally (Curb Records) and Eric Stromer (Jimi Noodles Records), as well as being co-producer on three Little River Band projects since joining the band in 2006.
Chris Marion (keyboards and vocals) was born on Elvis' 27th birthday.After studying music in college, Chris moved to Nashville and began his playing career, with his music garnering nominations for 4 Dove awards from the Gospel Music Assoc.
Ryan Ricks (drums and vocals) is one of those great Nashville musicians who checked out of the business for a few years to be a stay-at-home dad. His vocal talents complete the picture for LRB, with all five band members singing.
Nelson remarks of the changes "after 30 years, the prospect of looking for American musicians to be part of LRB was challenging but ultimately rewarding. Greg, Chris, Rich, and Ryan are very talented; they respect the history of the band and want to do what's right for the songs, but they also bring something new to the table with their experience and their versatility. We're having a lot of fun exploring new ways to deliver the songs - still recognizable and powerful, but with new twists that will delight those fans who like to listen deep and analyse. And, in a kind of "back to the future" way, we're digging into the vaults and rearranging some older songs while collaborating on new material as well. ".
July 27th 2013 marked the U.S. release of the group's newest album project entitled "Cuts Like A Diamond" on Frontiers/Universal Records worldwide and boasts 11 cuts of some of the best work the band has put out in decades. With an undeniable rock/country crossover feel, this album had already caught fire on radio as well as the ears of contemporary country listeners along with the millions of LRB fans across the globe.
2015 marked the band's 40th Anniversary and in keeping with LRB tradition in 2017, they continue to perform to capacity crowds across America and beyond, keeping alive the enduring appeal of Little River Band…on CD and in concert.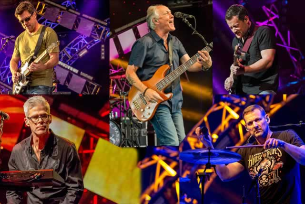 The Little River Band
Pop
The Eagles founding member, the late Glenn Frey, knew what he was saying when he dubbed Little River Band "the best singing band in the world."
Through the '70's and '80's, LRB enjoyed huge chart success with multi-platinum albums and chart topping hits like:
"Reminiscing," "Cool Change," "Lonesome Loser," "The Night Owls," "Take It Easy On Me," "Help Is on Its Way," "Happy Anniversary," "We Two," "Man On Your Mind," "The Other Guy," and "It's A Long Way There."
Worldwide album, CD sales and digital downloads now top 30 million and LRB has set a record for having had Top 10 hits for 6 consecutive years – In fact, they were the very first band to achieve that remarkable status! According to BMI, "Reminiscing" has garnered rare status with over 5 million airplays on American radio, and"Lady" is close behind with over 4 million airplays.
Bassist/vocalist Wayne Nelson joined the band in 1980, and worked alongside founding members with some of the most distinctive harmonies and vocal abilities, creating the unique LRB sound. In 1981, Nelson was recognized by world renowned Beatles producer Sir George Martin whom, while producing 'Time Exposure',chose Nelson to record lead vocals on two of the band's biggest hits, "The Night Owls" and "Take It Easy On Me." Later that same year, guitarist extraordinaire Stephen Housden joined LRB bringing a rock element into the band's sound and helped contribute to their string of Top 10 hits. As band members departed, both Housden and Nelson worked together to bring LRB into the new millennium.
To date, lead singer/bassist Wayne Nelson has contributed his vocal and bass guitar talents on 22 Little River Band Albums/CD's. LRB continues to perform to sold out audiences, and Stephen Housden continues to write and participate in all things Little River Band.
In 2004 LRB was inducted into the Australian Recording Industry Association Hall of Fame at the 18th Annual ARIA Music Awards and in September 2015 the band was awarded Casino Entertainer of the Year at the G2E Gaming Expo in Las Vegas Nevada.
Turning the page brings us to the current lineup of Little River Band…
Australian Guitarist Greg Hind shares lead vocal duties with Wayne, plays rhythm and lead guitar, and is instrumental in coming up with new ideas that keep LRB's arrangements fresh and current.
Keyboardist Chris Marion is a Dove Award winning producer. Chris is the creator of all the orchestral arrangements and charts on The Big Box. It is amazing to watch him play, sing, and conduct from his riser!
Lead Guitarist Rich Herring is a highly skilled player, singer, and producer of many Nashville artists…not to mention a great songwriter. He and Wayne have co-produced every LRB project since he joined the band.
Drummer Ryan Ricks has locked down the rhythm section, and rounds out the vocals with his incredible range. Great singing drummers are rare…and LRB is lucky to have Ryan as part of that all-important vocal blend.
Early 2014 saw the release of Little River Band's, 'Cuts Like a Diamond,' on Frontiers Records. "What If You're Wrong," went to #1 and stayed there for 3 weeks says Jim Shoe of CLASSX Radio. "Forever You, Forever Me," and "You Dream, I'll Drive," both climbed into the station's TOP 3.
In November of 2016, LRB released, 'The Hits…Revisited,' on Wurld Records – a CD consisting of 9 re-recorded hits along with 2 new songs, and in May of 2017 released 'The Big Box' – a box set consisting of 6 disc's featuring a DVD with live footage from their 40th Anniversary Tour.
Bringing their vocal and musical energy along with some cool arrangements to their timeless classic hits, each show creates new memories for the audience. The band enjoys watching their fans fall in love with the songs all over again as they are swept up by the show's powerful performance and the volume of hits from LRB's history.
With 90 -100 dates scheduled for their 2017 tour, Little River Band is hotter than ever selling out shows and making music from coast to coast nationwide continuing their legacy of being"the best singing band in the world."