Beatles vs Stones
- A Musical Showdown
Friday
Jun 8th
8:00 pm
PDT
6:00 pm

Doors
$20.00
Beatles vs. Stones tribute
ALBUQUERQUE, CA (1/13/13) For decades, the battle has raged: Beatles or Stones? Through their heyday, fans accused London's Rolling Stones of stealing ideas - even entire albums - from their Liverpool counterparts. At the same time, the Beatles secretly envied the Stones' "bad boy" image and attitude, often copying their style. Both bands are unmistakably great, scoring an array of hits that changed musical history, but only one can be the best. The most infamous rivalry in rock and roll never played out in a public arena until now as Beatles vs. Stones – A Musical Shoot Out performs Friday, January 25 at 8 pm at the Legends Theatre at Route 66 Casino in Albuquerque. Tickets are $30 and the show is appropriate for all ages.
While fierce competition fueled the creative output of both bands during the 1960's, tension between the tribute performers is equally palpable.
"The Beatles cornered the rock market on cute suits and fluffy hairdos, but then they stood still on stage and modeled them," that according to Young Hutchison​, who plays a dead ringer for Keith Richards in both swagger and stagger​ .
"The Stones rocked the stage, and worked as hard as the bluesmen they modeled their stage show after, generating the smoldering sexuality that came to be a hallmark of great rock-n-roll acts. The Beatles? Well, they were cute! The Stones were the original punks, outsiders at best. Beatles took tea with the bloody Queen--how rock-n-roll is that?!"
As for the Beatle response? "We got our Sgt. Pepper jackets made a little long so the Stones would have no problem riding our coat-​tails!" Mocks drummer Axel Clarke as Ringo. "That Mick Jagger sure can move! It's a shame he has to work twice as hard to be half as good!"
Would you let your daughter marry a Rolling Stone, or your son come home with a Beatle haircut? This ultimate battle of the bands pits the mop tops against the bad boys. London against Liverpool. Guitars will weep and dice will tumble, and in the end, when the whip comes down, only one band shall emerge victorious. Whoever wins, the audience is sure to be dazzled by an "electrifying show" (O.C Register), with fantastic music, iconic wardrobe and spot on performances down to the onstage banter, missed notes and flubs heard on the original records.
Members of both Abbey Road and Jumping Jack Flash have taken great care to recreate the experience of seeing these incredible bands live so as to please casual fans and purists alike. That 'All You Need is Love' spirit appears to be lost on Messrs. Hutchison and Clarke, who continue trading barbs. "The Beatles wrote Let It Be, but the Stones countered with Let It Bleed!" snarls Hutchison​ "Listen, mate," counters Axel. "The song John and Paul gave to the Stones ('I Wanna Be Your Man' in 1963) was one they let Ringo sing...that says it all!" Ouch.
Beatles or Stones? You decide!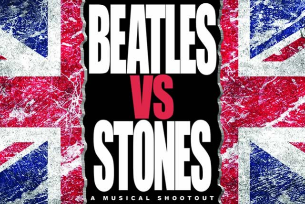 BEATLES vs STONES - A MUSICAL SHOWDOWN
British Pop
The question about which band is better – Beatles or Rolling Stones – has been a spirited debate for half of a century. These two legendary bands will engage in an on-stage, throw down - a musical 'shoot out" if you will - courtesy of tribute bands Abbey Road and ​Jumping Jack Flash.
Beatles vs. Stones – A Musical Shootout will pit Rolling Stones tribute band ​extraordinaire Jumping Jack Flash against rival Brit boys Abbey Road in an all-out musical showdown for rock dominance!
From Mick Jagger's (Joey Jagger Infante) infamous gyrations to Keith Richards' sweet Tele licks, Brian Jones​'​ Vox Teardrop, and the band's original wardrobe,​ Jumping Jack Flash​ brings all the authenticity of an old Stones show smack into the modern era.
Show producers Tom Maher and Andy Nagle auditioned over 200 Beatles hopefuls at a casting call in 2008, many of whom played in their own Beatles tribute bands. "Most of them came in Beatles gear, Beatles wigs – they were all in character," Nagle said. "All the Pauls were running around trying to out-Paul each other, the Johns were brooding, the Ringos were off by themselves. It was a room full of guys that all loved Beatles music, it was surreal."
For their part, the members of touring Beatles tribute band Abbey Road bring the mop top haircuts, harmonies, and boyish charm of everybody's favorite Liverpudlians to the stage. They also play modern reissues of the exact same instruments and amps used by the Fab Four.
Axel Clarke ("Ringo Starr"), a high school and college teacher by day, prepares for his time behind the drumkit by studying old video footage, listening to band interviews, and mimicking Starr's very specific performance style.
"Ringo's style and physical approach to the drumset were unique," said Clarke. "He sat very high with his drums low, used big sweeping arm movements, punched at his cymbals more than striking them, bounced his torso in time and kicked his head to the side on big accents — and smiled like a goon at all times. That's Ringo 101 for you!"
Clarke and his bandmates also spend time mining the original Beatles recordings for specific nuances, and unintentional flubs that ended up on the final cut.
"There are subtle mistakes all over the Beatles' recordings. In "All My Lovin," Ringo forgets the form of the song and goes into the chorus beat by mistake. He plays that beat for one bar, realizes his error, and switches back to the verse beat. Most people might not notice things like that, but it adds a level of authenticity and would feel weird if it wasn't there."
Kicking off the show in signature A Hard Day's Night-era black suits, the band runs through several costume changes, including mustaches and wigs (a la Sgt. Pepper's) and full-on Abbey Road attire, before the night is up.
Onstage, the bands alternate mini sets and trade improvised barbs and banter between songs to act out the famous rivalry.
Since 2011, the "Beatles" and the "Rolling Stones" have traded improvised barbs and banter to sold out audiences all across the United States, including a four month residency at the Harrah's Reno Showroom.
Whether you're a mod or a rocker, a John or a Paul supporter – Beatles vs. Stones is your ticket back in time to "Yesterday"!
http://www.jumpingjackflash.us/
http://www.abbeyroadtributeband.com/