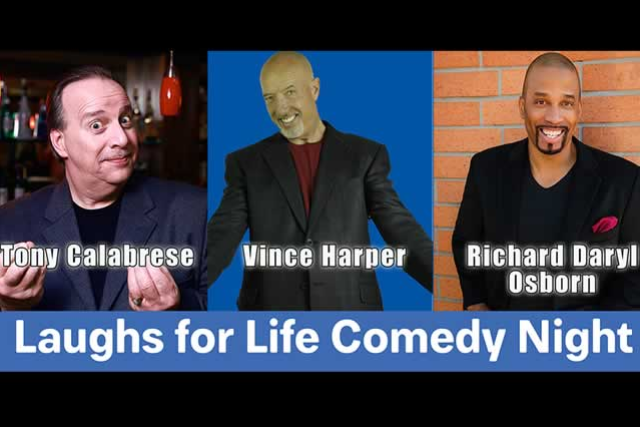 Laughs For Life Comedy Night
Benefit for Suicide Prevention
Friday
May 25th
8:00 pm
PDT
6:00 pm

Doors
$25.00
This fun, and hilarious Orange County comedy event hosted by the OC's favorite comedian, Jim Taylor, is sure to make you laugh while benefiting a great cause. You won't want to miss this event!
afsp.org/LaughsForLifeOC - 100% of ticket sales benefit the Orange County Chapter of the American Foundation for Suicide Prevention.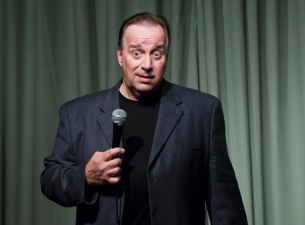 Tony Calabrese
Comedy
Tony's exuberant body language and facial expressions combined with his over the top takes on life's events make him an audience favorite everywhere. A native San Diegan, Tony Calabrese has been performing comedy since 1995, specializing in corporate events and as a master of ceremonies and auctioneer for charity benefits. At 59, he has been married for 38 years, in a row, and has two grown sons and three grandchildren. He talks about life, world events, marriage, kids, grandkids, the corporate world, and the trials and tribulations of not staying in top physical condition. Tony spent 36 years as a banker in San Diego and is the former President and CEO of not one but two banks. That's right Bank President turned Comedian. His unique view of the business world makes him the perfect entertainer for corporate events. He performs regularly at The Comedy Store, The Comedy Palace, The Madhouse Comedy Club and other San Diego and L.A. clubs and venues. Tony also teaches standup comedy at the Point Loma Actors Studio and the National Comedy Theater. In March of 2013 Tony won the "Ultimate Laff-Down" at Flappers Comedy Club, chosen from a field of 160 comedians and in 2014 was a finalist in the World Series of Comedy in Las Vegas.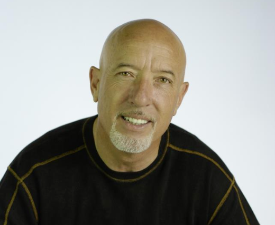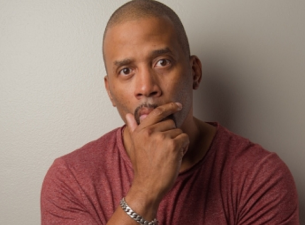 Richard Daryl Osborn
Comedy
Richard is having the time of his life and it's only the begining!! Born and raised in New Haven, CT, Rich got his start in comedy early, discovering his ability to impressionate at the age of 13. After performing at talent shows and comedy competitions up and down the East Coast, Richard made his way to California to pursue his dreams. He's opened for such Artists as Jerry Seinfeld, Sinbad, Damon Wayons, Anita Baker, Whitney Houston, Bobby Brown and Will Smith. He's done voices on SiTV and Comedy Central to name a few. He's appeared on the big screen alongside such artists as the late Jack Lemmon, James Garner and Dan Ackroyd in the Paramount Pictures classic, "My Fellow Americans". He's also appeared on the small screen in; Soul Train, Comic View, Showtime at the Apollo, Latino Laugh Festival, Last Comic Standing just to name a few. In 2003 Richard along with 3 other comedians performed for the troops in Japan, this was one of his lifelong dreams. In 2007 his first Comedy CD, "A First Impression" was released followed by the much anticipated "40 Acres And A White House in 2010. You can hear Richard as the voice of Barack Obama, Rush Limbaugh, Ronald Reagan, Bill Clinton and more in the hit comedy cartoon "B-Rock"! Richard does well over 150 impressions from Denzel to George Burns. You never know who you'll hear next.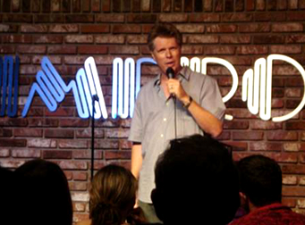 Jim Taylor
Comedy
Whether on a comedy club stage or at an industrial or corporate venue, this former radio talk show host is at home. Jim has shared a stage with a variety of performers, from Judy Tenuta to Jim Breuer. On his comedy talk show Jim's guests included Jeff Foxworthy, Bobby Slayton, Kathleen Madigan and Weird Al Yankovik.
He has performed at countless fundraisers, charity events and auctions for a variety of worthy organizations acting as host, entertainment and as auctioneer. Corporate events intrigue him because he is given the opportunity to provide customized humor geared towards the particular company or industry.