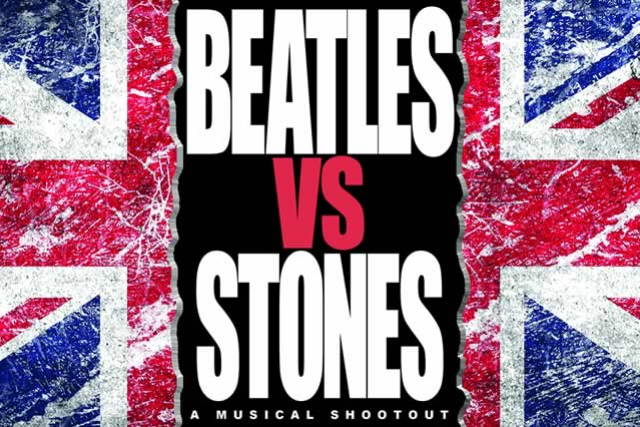 New Year's Eve with Beatles vs Stones
A Musical Showdown
Monday
Dec 31st
8:00 pm
PST
6:00 pm

Doors
A New Year's Eve Celebration!
The British Invasion brought us the two most popular rock groups of all time, the Beatles and the Rolling Stones, as well as the liveliest debate in rock history - which band is the greatest? These two legendary bands will engage in an on-stage, mash-up duel - a musical "shoot out of the hits" if you will – featuring internationally renowned tribute bands, Abbey Road and Jumping Jack Flash.
Alternating power sets with the two bands coming together on stage for an amazing encore makes this show a once-in-a-lifetime event.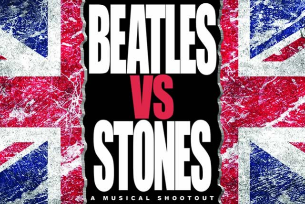 BEATLES vs STONES - A MUSICAL SHOWDOWN
British Pop
The question about which band is better – Beatles or Rolling Stones – has been a spirited debate for half of a century. These two legendary bands will engage in an on-stage, throw down - a musical 'shoot out" if you will - courtesy of tribute bands Abbey Road and ​Jumping Jack Flash.
Beatles vs. Stones – A Musical Shootout will pit Rolling Stones tribute band ​extraordinaire Jumping Jack Flash against rival Brit boys Abbey Road in an all-out musical showdown for rock dominance!
From Mick Jagger's (Joey Jagger Infante) infamous gyrations to Keith Richards' sweet Tele licks, Brian Jones​'​ Vox Teardrop, and the band's original wardrobe,​ Jumping Jack Flash​ brings all the authenticity of an old Stones show smack into the modern era.
Show producers Tom Maher and Andy Nagle auditioned over 200 Beatles hopefuls at a casting call in 2008, many of whom played in their own Beatles tribute bands. "Most of them came in Beatles gear, Beatles wigs – they were all in character," Nagle said. "All the Pauls were running around trying to out-Paul each other, the Johns were brooding, the Ringos were off by themselves. It was a room full of guys that all loved Beatles music, it was surreal."
For their part, the members of touring Beatles tribute band Abbey Road bring the mop top haircuts, harmonies, and boyish charm of everybody's favorite Liverpudlians to the stage. They also play modern reissues of the exact same instruments and amps used by the Fab Four.
Axel Clarke ("Ringo Starr"), a high school and college teacher by day, prepares for his time behind the drumkit by studying old video footage, listening to band interviews, and mimicking Starr's very specific performance style.
"Ringo's style and physical approach to the drumset were unique," said Clarke. "He sat very high with his drums low, used big sweeping arm movements, punched at his cymbals more than striking them, bounced his torso in time and kicked his head to the side on big accents — and smiled like a goon at all times. That's Ringo 101 for you!"
Clarke and his bandmates also spend time mining the original Beatles recordings for specific nuances, and unintentional flubs that ended up on the final cut.
"There are subtle mistakes all over the Beatles' recordings. In "All My Lovin," Ringo forgets the form of the song and goes into the chorus beat by mistake. He plays that beat for one bar, realizes his error, and switches back to the verse beat. Most people might not notice things like that, but it adds a level of authenticity and would feel weird if it wasn't there."
Kicking off the show in signature A Hard Day's Night-era black suits, the band runs through several costume changes, including mustaches and wigs (a la Sgt. Pepper's) and full-on Abbey Road attire, before the night is up.
Onstage, the bands alternate mini sets and trade improvised barbs and banter between songs to act out the famous rivalry.
Since 2011, the "Beatles" and the "Rolling Stones" have traded improvised barbs and banter to sold out audiences all across the United States, including a four month residency at the Harrah's Reno Showroom.
Whether you're a mod or a rocker, a John or a Paul supporter – Beatles vs. Stones is your ticket back in time to "Yesterday"!
http://www.jumpingjackflash.us/
http://www.abbeyroadtributeband.com/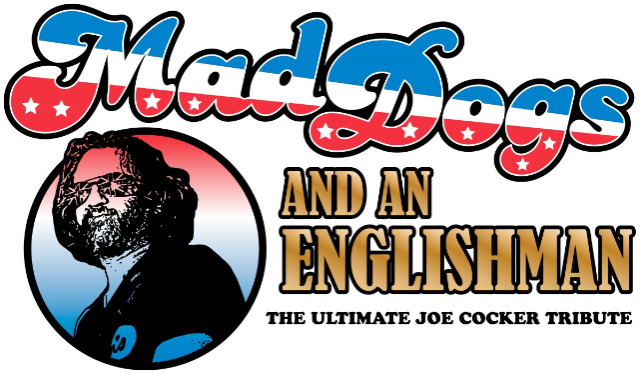 Mad Dogs and An Englishmen
Pop
The Ultimate Joe Cocker Tribute
Lead by Jason Feddy -
Born and raised in Leeds, 30 miles north of Joe Cocker's home town of Sheffield. Jason paid his musical dues in the '80's in the same working men's clubs and pubs that Joe sang in in the 1960's. He has worked as a singer/songwriter and guitarist ever since school days, pausing only for a few years as a morning jock on Laguna Beach Ca's local radio station.
His career has seen him open for Neil Young, Tears For Fears, The Cranberries, John Martyn, Christie Moore and Joe Cocker himself.
Jason has a well regarded show of songs from the plays of William Shakespeare and recently wrote the score of a play with veteran Saturday Night Live comedienne Rita Rudner.
In 2016, Jason quit the Marlboro Lights he'd smoked since high school… they paid off tho… we think you'll agree, he sounds just like Joe!
The band -
David Witham
Dave toured with George Benson as pianist and music director for almost 20 years. A highly regarded "musician's musician," he has also worked with a wide range of artists, including Barbra Streisand, Al Jarreau, Ernie Watts, Michael and Randy Brecker, Chick Corea, and Jose Feliciano, to name only a few.
Ray Weston
Ray is originally from Glasgow Scotland and moved to London after joining Scots band 'Contraband'! Ray worked the London session scene recording and touring with such luminaries as; Sir Tom Jones, Robert Palmer, Lulu, Andy Summers, Bjork, Iron Butterfly, Right Said Fred, Del Shannon, Ultravox ...
Jimmy Z
Legendary blues diva Etta James called Jimmy Z her "Hootchie Cootchie Man." He has toured and recorded with Rod Stewart, Tom Petty and Eurthymics. He has also played on recordings by Dr. Dre, Barry White, Ziggy Marley, Yes, Bon Jovi. Bone Thugs-N-Harmony, Macy Gray, Jaguares and countless others.
Jimmy Z has appeared and acted in the movies "Georgia," "The Doors," "Wild at Heart," and "The Shrink is In." He has scored numerous videos, films, and documentaries.
John Troy
In the late '80's, bass player John Troy toured with Joe Cocker.
He appears on the album and video of Joe "Live At Montreux '87" He has also toured with Natalie Cole, Livingston Taylor, Mamas and the Papas, Jonathan Edwards, Pousette-Dart Band and the John Hall Band.
David Witham
Dave toured with George Benson as pianist and music director for almost 20 years. A highly regarded "musician's musician," he has also worked with a wide range of artists, including Barbra Streisand, Al Jarreau, Ernie Watts, Michael and Randy Brecker, Chick Corea, and Jose Feliciano, to name only a few.
Bassist Alan Deremo has performed or recorded with an astounding variety of artists, a small sampling of those being Vince Gill, Amy Grant, Olivia Newton-John, Belinda Carlisle, the Mamas and Papas, Jesse Colin Young, Glenn Branca, John Oates, Richie Furay, LeeAnn Womack, Dave Alvin, The Nitty Gritty Dirt Band, Colin Hay, John Denver, Glenn Frey, Eric Marienthal, Jack Tempchin, Jules Shear, and Honk.
The Vocalists -
Janis Liebhart
A 6-time Emmy winning songwriter for Jim Henson, Disney, Natl.Geo TV, Sesame St - Janis is also a session and touring singer with Michael Bolton (19 years), Moody Blues, Righteous Bros;
She currently writes/records and produces jingles for JinglesJane.com.
Pat Hawk is a veteran ensemble vocalist whose credits include Michael Bolton, John Denver, Bill Medley & the Righteous Brothers, Merry Clayton, Eric Carmen, Pet Shop Boys, Kenny G, Peabo Bryson and more. She values her life-long friendships with her fellow chick singers and is thrilled to be part of this all-star project!
Lori Mark toured with The Righteous Brothers, Bill Medley, Engelbert Humperdinck, Eric Carmen, Merry Clayton, Charlie Rich and was a featured singer on The Dirty Dancing Tour. Lori currently resides in LA, where she sings for films, television and commercials.