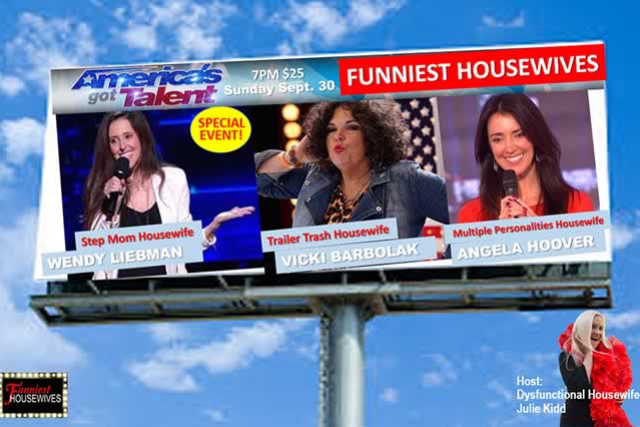 OC's Funniest Housewives
America's Got Talent Show
Sunday
Sep 30th
7:00 pm
PDT
5:00 pm

Doors
$25.00
Announcing our biggest show yet!
Funniest Housewives Straight from AMERICA'S GOT TALENT! Spend an evening with NBC's favorite comics! A trio of extreme comedy talent where hilarious is an understatement!
You'll meet Trailer Trash Housewife Vicki Barbolak, Step Mom Housewife Wendy Liebman, and Multiple Personalities Housewife Angela Hoover.
With host from ABC's The View - Dysfunctional Housewife Julie Kidd.
This is a must see comedy show!
Orange County's Funniest Housewives
Comedy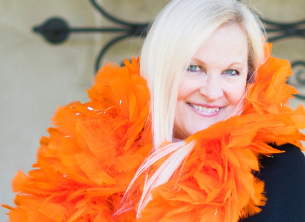 Julie Kidd
Comedy
CEO of Funny Mom Productions. She was crowned the Hilarious Housewife on ABC's The View and has had additional appearances. In addition to performing with the Housewives she is currently starring alongside one of Nickelodeon's Funniest Moms in "Single Mom The Musical" which she wrote and produces. In addition, her jokes have been featured in Good Housekeeping, Reader's Digest and Modern Mom Magazine as well as numerous comedy books including, Comedy Thesaurus, She's So Funny, Mom This Jokes For You, and Loves Funny That Way. TV credits include NBC's Life Moments, Iyanla Vanzant -Time To Laugh and Next Big Star. Julie produces the Funniest Housewives, the Funniest Husbands and Single Mom The Musical.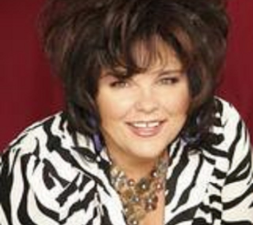 Vicki Barbolak
Comedy
Vicki is the winner of Nickelodeon's Funniest Mom in America hosted by Rosanne Barr and was singled out by E! Television as the 'next breakout star to come out of the World Famous Comedy Store'. She was also selected by Bob Reid and Mark Ross, the Talent Coordinators of The Tonight Show with Jay Leno to be a member of Jay Leno's Laugh Squad. In addition to comedy Vicki owns and operates a popular wedding mobile service "Wedding Chapel To Go"... she can marry you on the spot!
Wendy Liebman
Comedy
Originally from Long Island NY Wendy Liebman started her career in Boston after taking a class at The Cambridge Center for Adult Education in How To Be A Stand-up Comedian. Since then she has been a regular on late night television including Carson Fallon Letterman Kimmel Ferguson and Leno. Wendy has done half-hour specials for HBO and Comedy Central and her first hour "Wendy Liebman: Taller on TV" premiered on Showtime in 2011. Wendy has been in three documentaries: "The Aristocrats" "The Boys: The Sherman Brothers' Story " and "Why We Laugh: Funny Women" recently on Showtime and she was the recipient of The American Comedy Award for Best Female Comedian. Wendy currently co-hosts UNBOUND with Terri Nunn on KCSN 88.5 FM in Los Angeles. She also performs at clubs corporations and benefit shows throughout the US and Canada and lives in Los Angeles with her husband Jeffrey Sherman her amazing stepsons and her funny dog. She was recently in New York Magazine as number 23 down in the crossword puzzle.