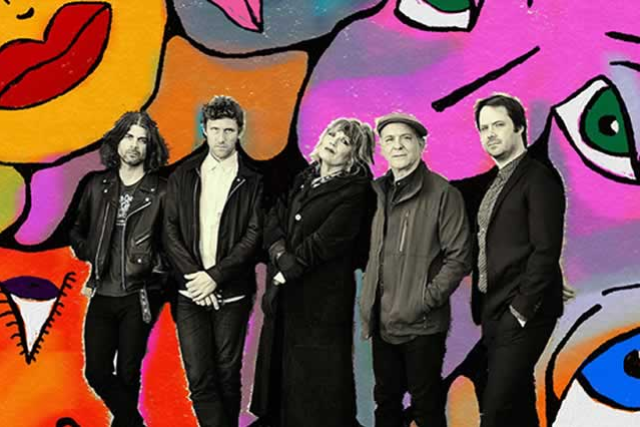 Martha Davis and The Motels
Friday
Dec 28th
8:00 pm
PST
6:00 pm

Doors
$20.00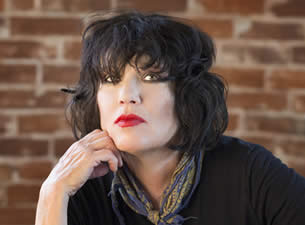 Martha Davis & the Motels
Alternative Rock
MARTHA DAVIS AND THE MOTELS
Whether you were there when The Motels first burst onto the music scene, or are just discovering them now, 2014 became a year of rediscovery for this iconic artist, which saw more Motels shows than in any year since 1985. Martha began writing songs at the age of 15 and has always known that the songs she writes are her mark. Born and raised in Berkeley, California, she moved to Los Angeles in the early '70s, along with the first incarnation of The Motels. The band reformed in 1978 and was immediately signed to Capitol Records.

The Motels recorded six records for Capitol. Their self titled debut was greeted with positive critical reviews in 1979 and exploded in Australia on the strength of the #2 Pop single, "Total Control" (which was later covered by Tina Turner for the We Are The World album). In 1981, their sophomore effort, "Careful" went Top 50. Then, in 1982, the Motels released "All Four One." The smash single "Only The Lonely" rocketed into the Top 10, immediately propelling the album to gold status and breaking The Motels wide open in the United States. The group dominated the music scene and was voted Best Performance for "Only The Lonely" at the 1982 American Music Awards. In 1983, the "Little Robbers" album went gold due to the Top 10 single "Suddenly Last Summer," as well as their Top 40 hit "Remember The Nights." In 1985, the "Shock" album yielded the Top 20 hit, "Shame" and 1987 saw the release of Martha's first solo effort, "Policy."

In 1988, Martha took a sabbatical from the music scene, prompting the question, "Where have you been?" Davis responded, "Looking for my sense of humor. I seemed to have lost it somewhere around 1984. It's not a business that one should be in without a sense of humor."

Though constantly writing during her sabbatical from performing, Martha worked on various collaborations with artists including Ivan Neville, Arthur Barrow (Frank Zappa), Jeff Daniel, Kiki Dee, Richard Feldman, to write songs for a new musical for the Civic Light Opera and author a new musical of her own entitled Rebecca. Capitol also reissued an expanded and re-mastered edition of the "All Four One" album during this time, which contained previously unreleased bonus tracks. In the Fall of 2000,"TheMotels Anthology" was released, a first ever double disk of rarities, B-sides, soundtrack cuts, as well as live performances. Martha Davis also had several
independent publishing deals, including one with DreamWorks SKG. She wrote a children's album as well as a forthcoming jazz album.

Beginning in 2012, Martha began touring with the current and strongest incarnation of The Motels. Dates included a landmark performance at the legendary Hollywood Bowl in September, the band's first ever performance there.

2014 has proven to be the most exciting year yet for Ms. Davis and the band, with the above mentioned returned to Australia/NZ, a major summer tour in the US, new recordings for the first major studio album in decades, and a much anticipated Blu-ray/DVD release of their January 19, 2014 performance, "Martha Davis and the Motels Live at The Whisky A GoGo's 50thAnniversary." Fans will get to see Martha and the band introduced by BAFTA winner and Golden Globe Nominee Rosanna Arquette, and Grammy nominated singer/songwriter Linda Perry. 2014 started with their January 9th show at the prestigious Crystal Ballroom in Portland. This concert film is set for a major release in January of 2015.

Some recent highlights were: January 25th, performing at NAMM in their "Living Legends" special concert series on their Main Stage with some of the most significant musicians of the 21st century backing her performance. The Motels also gained a significant social media presence for the first time, enhancing their tickets sales with consistently packed venues and sold out shows. Tour dates included the East Coast swing at the prestigious Bergen Performing Arts Center in New Jersey, and a 4th of July headline for the final night of the San Diego/Del Mar County Fair. One of the band's biggest shows was their September 2nd Labor Day concert with The Bangles, for roughly 10,000 people, at the Los Angeles County Fair, the largest fair in the United States.
Martha continues her passion for writing, currently co-writing several songs for the new album with her current band, as well as an exciting and diverse group of collaborators. One of those new songs is a co-write with multiple Grammy winner Charlie Colin, the co-founding member of TRAIN (and co-writer of mega hits, DROPS OF JUPITER and CALLING ALL ANGELS) and with San Francisco based Tom Luce.

The current band line-up includes Brady Wills on bass, Nicholas Johns on keyboards, and former Gnarls Barkley touring band members Eric Gardner and Clint Walsh on drums and lead guitar, respectively. They have been together for 10 years, longer than the original Motels. As icing on the cake, original Motels sax player Marty Jourard has begun touring with the band again and is also playing on the new album, which has a highly anticipated major release planned for April 2015.
The latest news: Martha Davis and the Motels joined The Go-Go's for a US Summer tour this July, which started at the Hard Rock Amphitheatre in Florida. Venues included the 15,000+ seat DTE Energy Theatre in Michigan, formerly Pine Knob, one of the first such amphitheatres in the US. On August 25th, Davis and the band also marked their return to Manhattan, for the first time in many years, at one of the city's top venues, The Iridium. Critical response was fantastic, with East Coast reviewers such as Christian John Walker in NY saying, "Davis Doubled on vocals and guitar, fully personifying her role as one of rock's most commanding front persons," and Brett Milano in Boston saying, "If she can keep pulling the Motels in this direction, Davis will be more intriguing now than she was in 1980."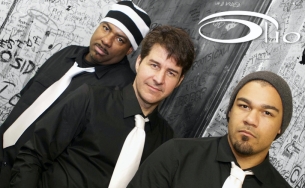 Olio
Pop
Power-packed Rock/Funk/Pop Trio from Los Angeles. Influenced by the legends who came before us and supported by the fans they created.
Electricity fills the room when a musician or group of musicians express themselves from their core, releasing a huge amount of energy. When the audience gives that energy right back, it's intoxicating and addictive. Something really special happens and the sum is much greater than the individual parts and an authentic connection is made between the band and audience. A moment is shared that is forever remembered and cherished. Today there is so much talk about how a lot of new music is lifeless and boring, especially at the concerts. The music is sometimes programmed and made into backing tracks. Nothing played live except the vocals, well...sometimes even that's pre-recorded. Where have all the true artists gone? We believe there is a resurgence of live music. Real music played by people that truly give everything they have to the music they make. We believe in the energy and love that live music brings to everyone involved. Olio was inspired by rock legends that made music in the moment without the help of computers and backing tracks. It's our responsibility to continue this inspired tradition. Sharing moments with you, the fan, that can only happen at a live show. This is what we do...it is who we are.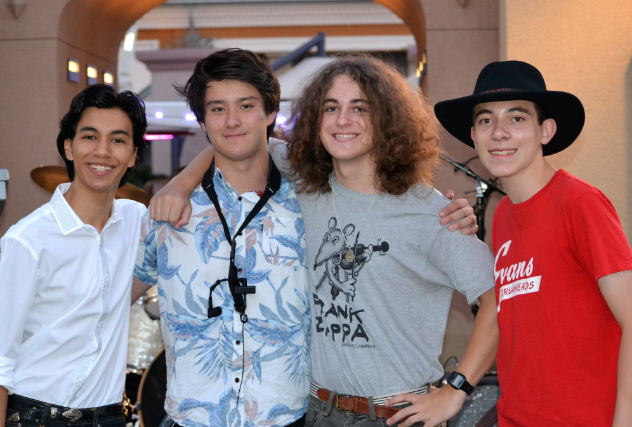 Quartet 5
Music
Quartet 5 is a four-piece band (keyboards, drums, bass and saxophone) that plays rock, jazz and funk. This is not your average teen band! Arrangements and musical direction provided by Dr. Richard Niles who has worked with such stars as Paul McCartney, Ray Charles, James Brown and Michael McDonald.
Quartet 5 is...
Alexander Niles – Alex attends Orange County School of Arts (OCSA) where he is enrolled in the Acting Conservatory. He is an accomplished actor and pianist. He plays keyboards and provides lead vocals for Q5.
Kyle Graham – Kyle attends Mission Viejo High School and participates in the instrumental music program. He plays drums, marimba, vibraphone and a wide variety of accessory percussion and mallet instruments. He is also a member of the percussion section for the Pacific Symphony Youth Wind Ensemble. He plays drums and provides back-up vocals for Q5.
Nolan Murphy – Nolan attends Aliso Niguel High School where he participates in the instrumental music program. He plays alto, tenor and soprano saxophone and provides some vocals for Q5.
Will Wildrick – Will attends Mission Viejo High School and is a member of the instrumental music program where he plays bass guitar and upright bass in addition to mallet instruments and bass clarinet. He plays bass guitar with Q5.
The core of the band has been playing together for 3 years. They have performed in a variety of venues including city events, school festivals, the OC Fair, Stillwater Spirits & Sounds, the Laguna Beach Festival of Arts, The Saban Theatre, The Rose Theater and The Coach House. They have also been a featured guest on the Mike Parlett Show on Solar Radio.
Quartet 5 is always a crowd-pleaser. They mainly perform unique and energetic covers that make people stop and listen! They are young, but they are old souls when it comes to music ...
To learn more about the band, visit their website www.quartet5.com or find them on Facebook at @quartet5band. To book the band, send a message with your event details to or call (949) 636-6152.