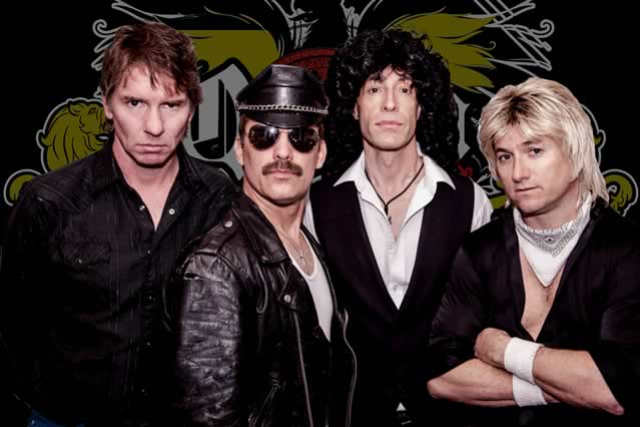 Queen Nation
Performing the Live Aid Album
Friday
Sep 27th
8:00 pm
PDT
6:00 pm

Doors
Performing the Live Aid Album plus other hits.
Queen Nation
Alternative Rock
There is little doubt among the pure rock community that the legendary band Queen and lead performer Freddie Mercury earn high ranks as one of the most powerful and iconic groups in rock history. Queen, the kings of arena rock, performed to packed stadiums around the globe for over two decades. Freddie took showmanship by a rock front man to a new untapped level and was undisputedly crowned the lord of arena rock. He mesmerized audiences with his charismatic energy and larger than life stage persona. Upon his death in 1991, a huge void was left in the rock concert world, which to this day has not yet been matched.
Queen Nation, a tribute to Queen, was formed in 2004. Queen Nation consists of: Joe Retta or Gregory Finsley on vocals & keyboards as Freddie Mercury, Mike McManus on guitar as Brian May, Pete Burke on drums as Roger Taylor, and Parker Combs on bass as John Deacon. The mission of the show is to carry on the musical torch and pay homage to the golden age of vintage Queen concerts.
Queen Nation's live 90-minute production of Queen's greatest hits preserves the image, sound, and stage persona of vintage Queen. Audiences are amazed at the accuracy of Queen Nation's live retrospective journey through such Queen songs as We Will Rock You – Bohemian Rhapsody – We Are The Champions – Crazy Little Thing Called Love – You're My Best Friend – Another One Bites The Dust – Under Pressure and many more. They have performed in front of thousands of people at casinos, fairs, festivals and private affairs. For more info visit www.queennation.com.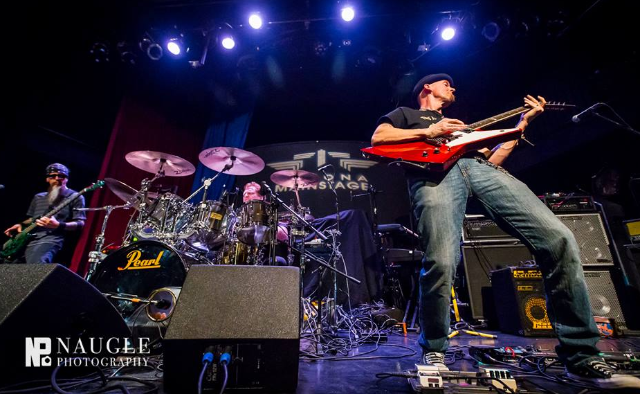 Taz Taylor
Music
In January 1997 UK-born Taz Taylor took a leap of faith and boarded a plane to Los Angeles with nothing more than a guitar, a backpack and roughly $2,000...

He spent much of his first year in the USA as a long haul truck driver, criss-crossing the country countless times in an 18-wheeler and spending the downtime in his sleeper berth practicing guitar. Eventually he settled in San Diego CA and set about recording his debut instrumental album "Caffeine Racer" which was released in July 2004. A band was formed and live shows commenced.

Caffeine Racer got the attention of legendary vocalist Graham Bonnet, most notable for working with the best guitarists in rock (Ritchie Blackmore, Michael Schenker, Yngwie Malmsteen, Steve Vai) and they set about recording the Taz Taylor Band album "Welcome To America" which was released on the UK label Escape Music in Aug 2006. Present TTB drummer Val Trainor joined immediately after the WTA sessions were completed.

International tours followed in 2007 and 2008, taking the band to UK, Germany, Austria, Switzerland, Hungary and Czech Republic.

In 2009 the band recruited another ex-MSG vocalist, Keith Slack for the "Straight Up" album, also on Escape Music, and also featuring a guest appearance from Deep Purple's Don Airey on keyboards.

2010 saw the band returning to Taz' instrumental roots with the release of "Big Dumb Rock".
Current TTB bassist Barney Firks joined immediately after the recording of this album and the band played a string of dates to promote BDR.

In 2014 TTB released "Deja Voodoo", an all instrumental offering of eight songs featuring a line-up that had now been together for four years and bonded and grown into something really special. During the summer of 2014 TTB embarked on a 10-date Summer Tour to promote Deja Voodoo, including dates in California as well as eight dates in the UK.

June 2017 saw the release of "Pressure And Time". This album featured the vocal talents of Chandler Mogel.
The album was released on Escape Music in Europe and on Rubicon Music in Japan. The Japanese version included a live bonus track, Explorations… recorded on the band's 2014 tour in the U.K.

March 2019 sees the band return to their first love…INSTRUMENTAL ROCK!!
"Hats, Tats and Guitars" Hard, fast, slow, tender... Instrumental Rock. Performed by "lifer" musicians who are in it because they have nothing they would rather be doing! On this album, Guitarist Taz Taylor, Bassist B.L. Firks and Drummer Val Trainor have managed to combine the swagger and attitude of 80's Sunset Strip with the musical virtuosity of the shred guitar boom which also peaked in that decade... whilst simultaneously raising a huge musical middle finger to the decade that followed. It's only 2019 if you look at a calendar and tune into today's crap mainstream radio! Grab a copy of "Hats, Tats And Guitars" and remind yourself what Rock and Roll is supposed to sound like!