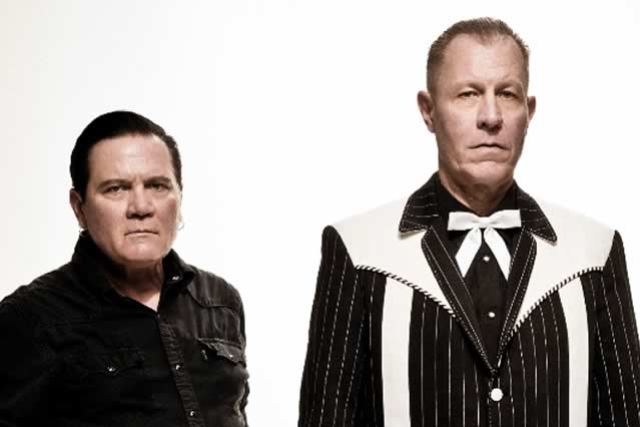 Show Dates are Subject to Change
Reverend Horton Heat with Special Guests Electric Six
Special Guests Electric Six and Jimmy Dale Richardson
Friday
Apr 16th
8:00 pm
PDT
6:00 pm

Doors
$30.00
ALL SHOW DATES ARE SUBJECT TO CHANGE

Loaded .38s, space heaters, and big skies. Welcome to the lethal, littered landscape of Jim Heath's imagination. True to his high evangelical calling, Jim is a Revelator, both revealing and reinterpreting the country-blues-rock roots of American music. He's a time-travelling space-cowboy on an endless interstellar musical tour, and we are all the richer and "psychobillier" for getting to tag along.
REVEREND HORTON HEAT have been the outlet of this creative mind for 29 years, leading to 10 full-length albums, 3 "best-of" collections, 2 DVD releases and thousands of memorable live performances. Never reaching platinum status or having a #1 radio single hasn?t been a problem for the Rev either, the band has continually been a mainstay of late night television and has toured with legendary acts such as Johnny Cash, Motorhead, Marilyn Manson, The Ramones, and many more, all of whom hold the Rev in the highest regard, as a true music industry legend.
Now, entered into a fresh new partnership with Victory Records, REVEREND HORTON HEAT show no signs of slowing down in 2014. January 21st marks the release of their 11th studio album, appropriately titled REV. The album marks a much lauded return to riff-laden, out-of-control rock 'n roll that fans fell in love with when they first heard "Psychobilly Freakout". The album's first single has already turned heads; "Let Me Teach You How to Eat" is REVEREND HORTON HEAT at its finest: tongue-in-cheek and so catchy, it won't leave your head for weeks.
The band has an incredible tour history and, with major shows and tours already booked throughout the year, will make sure you get the chance to dance one more time! Jim Heath and Jimbo Wallace have chewed up more road than the Google Maps drivers. For twenty-five psycho(billy) years, they have blazed an indelible, unforgettable, and meteoric trail across the globe with their unique blend of musical virtuosity, legendary showmanship, and mythic imagery.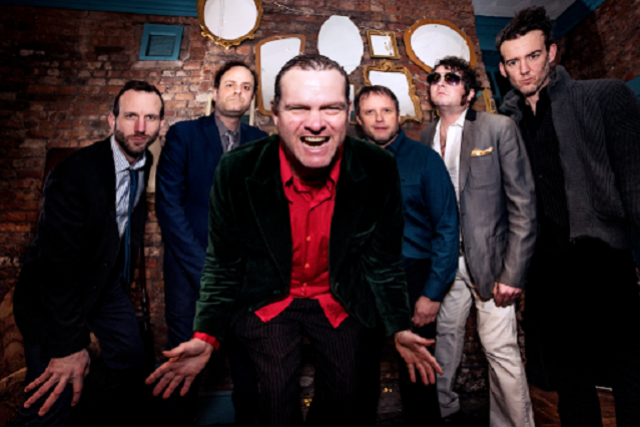 Electric Six
Alternative Rock
Hailing from Detroit, MI sextet Electric Six mix garage, new wave, and metal into in-your-face songs like "Danger! High Voltage," which reached number two on the British charts early in 2003. Singer Dick Valentine, guitarists Rock and Roll Indian and Surge Joebot, bassist Disco, and drummer M. formed the Wildbunch in 1996 , releasing their debut single, "I Lost Control (Of My Rock & Roll)." The group switched to Flying Bomb for singles like 1997's "The Ballade of MC Sucka DJ," the Christmas single "Flying Bomb Surprise Package, Vol. 1," and 2001's "Danger! High Voltage," which became an underground hit, particularly in the U.K. The following year the group signed to XL and re-recorded "Danger! High Voltage," this time adding backing vocals from the White Stripes' Jack White. After the re-release of the single in 2003, Electric Six issued their full-length debut album, Fire, later that spring. In 2004, the band got a new record deal with Rushmore, a British Warner Bros. imprint,. The second Electric Six album, Señor Smoke, arrived in the U.K. early in 2005. Early in 2008, Valentine embarked on his American Troubadour solo tour, which included stops in Hamtramck, Michigan, and Portland, Oregon; that spring, Electric Six recorded their fifth album, Flashy. Metropolis released Flashy that fall, followed by Sexy Trash, a 30-track album of demos and previously unreleased material, and two new studio albums, Kill (2009) and Zodiac(2010). The following year, the band took their sound in a darker direction, shifting slightly from dance-rock to synth pop on the nocturnal Heartbeats and Brainwaves. 2012 saw them bringing their high-energy live shows to fans on their first concert album, Absolute Pleasure. Their tenth studio album, Mustang, arrived in October of 2013.