Pato Banton & Ken Garcia
Show Dates are Subject to Change
Friday
Oct 15th
8:00 pm
PDT
6:00 pm

Doors
$20.00
SHOW DATES ARE SUBJECT TO CHANGE
Pato Banton
World
Pato Banton is a grammy nominated reggae legend that has recorded and toured the world with The English Beat, Steel Pulse, UB40 & STING! (just to name a few) . During the year 2000, while in the midst of a global trek with Peter Gabriel's WOMAD organization, that combined huge festivals with music outreach programs to poor and underprivileged communities, Pato learned that two of his sons had been shot in a drive-by shooting! He immediately put his career on hold and turned his sorrow into the impetus for community & educational initiatives that would consume the next six years of his life.
Pato created an organization called "Musical Connections" and in partnership the Community Safety Team, provided tuition and counseling for "at risk" young people in 16 different communities across his city of Birmingham, UK. This project was so successful that Pato was approached by the West Midlands Police Department to tackle the ongoing problem of gun crime in some of the poorest neighborhoods. Within a few years this partnership greatly reduced gun crime across the entire city and Pato was given a Lifetime Achievement Award by the BBC and entered into the British Music Hall of Fame during the same year.
In 2006, after feeling that he had planted enough seeds of progress within his home community, Pato decided to relocate to Southern California and embark on the second phase of his musical journey, taking with him the years of experience in the field of Loving Service. Since then Pato has recorded many albums and collaborated with artists all over the world. His most recent albums Love Is The Greatest & The Words Of Rastafari were released on Bob Marley's Tuff Gong Records International.
Pato Banton's four-decade public presence has increasingly transcended music to convey a positive & uplifting message of global peace and love for humanity. Now based in Southern California, he continues to record and tour the world extensively with his band The Now Generation, while simultaneously serving as a Teacher, Minister, Counselor and Mentor to his Fans, Friends & Family worldwide!
Ken Garcia
Folk Rock
Ken Garcia grew up in San Bernardino, California and was surrounded by diverse musical influences, from Hispanic to Polynesian. By the age of five, Ken's uncles frequently encouraged him to play his guitar at family gatherings. Recognizing his strong desire to perform and musical potential, his parents eagerly invested in his future by providing him with guitar and piano lessons. Yet, formal lessons could only take Ken's raw talent so far. He began teaching himself the art of guitar playing with assistance of books and hands on experience. As his talent and confidence developed, Ken began playing school functions as well as private concerts for friends and family. Ken often fondly notes a smile that his most rewarding performances of this era were those for his father, Ramon, and his construction buddies after a hard day's work and a few cold beers.

Around age of twenty Ken was faced with the difficult decision of pursuing a career in music or following in his older brother's footsteps and becoming a dentist. Recently married and wanting to start a family, he opted for dentistry. Upon graduation from Loma Linda School of Dentistry, Ken started a successful practice in Fontana California, close to where he grew up, which he sold prior to opening another new office, Island Dentistry, in Laguna Beach California in 2002. All the while Ken retained his passion for music playing lead guitar with various bands in clubs throughout Southern California and especially in Laguna Beach where he has resided with his family for over 20 years.

Ken differs from other artist in numerous ways. Not only has he maintained an impeccable dental career spanning nearly three decades as well as compiling an impressive body of work musically, including 5 CD's, and live performances that legends are made of.

His new CD will be coming out this summer: "Nowhere in the Rain"

Ken has always sustained a solid reputation in whichever community he has called home. Ken's contagious love and zest for life shines through in whatever task he undertakes. Whether he's performing dentistry, playing music, surfing or spending time with his wife Jody of 40 years or his children Lea & Tayber. Ken gives no less than 100% of himself, 100% of his time. Ken's multifaceted lifestyle is easily recognizable in his music, be it a soothing melody to provide a healing touch, a rocking jam to lift the spirit, or a simple strummed lullaby to put his daughter Lea or son Tayber to sleep.

Ken's music is a combination of soulful folk rock with a Latin and Hawaiian flavor. The lyrics, written by Ken, bask in the warm memories of family and friends, often giving thanks to GOD for the opportunity to take part in such an amazing life…. a life that he would like to share with the rest of the world through his music.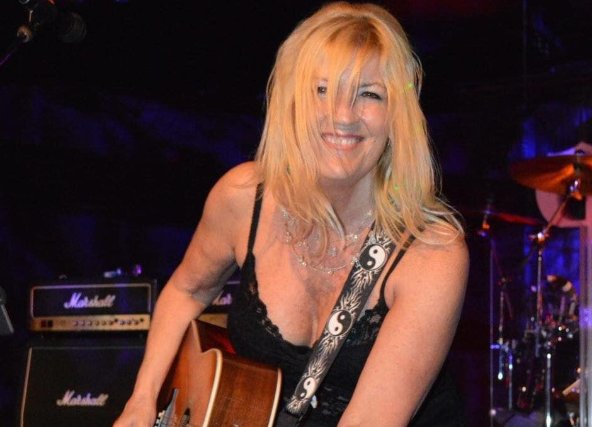 Tricia Freeman
Country-Blues
Raised in Kansas and Texas, Tricia's earliest memories of music go back to her mother's love of jazz and blues, flooding the house with the likes of Nat King Cole, Ella Fitzgerald, and her favorite, Dinah Washington. Her father loved it all, from the Latin American to classical. As she started developing her own taste in music, she began to lean more to the local country/bluegrass sound mixed with a rockin' blues flavor that was prevalent in her college town of Lawrence, Kansas.