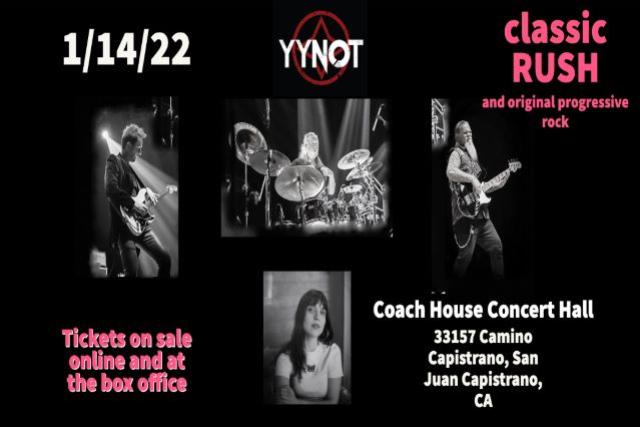 YYNOT A Tribute To RUSH
Show Dates are Subject to Change
Friday
Jan 14th
8:00 pm
PST
6:00 pm

Doors
$25.00
SHOW DATES ARE SUBJECT TO CHANGE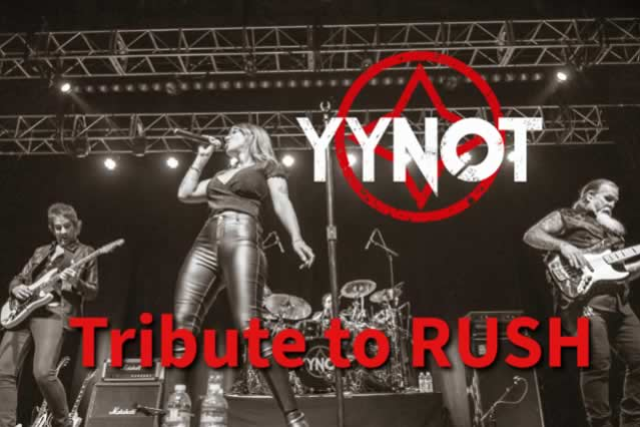 YYNOT A Tribute to RUSH
Progressive Rock
Progressive Rock band YYNOT to hit the road in 2021 in advance support of their forthcoming ORIGINAL ALBUM "Light And Shade". Their first stop August 26th in Agoura Hills, CA. Headlining the Canyon Club. As with most performers, 2020 saw the band having to cancel or postpone all of their shows, so the band used the time to make a new album and more personal preparation for the return of live dates. Says producer/songwriter/guitarist Billy Alexander; "because we each live thousands of miles away from each other since the beginning of the band's creation, we were already sort of built for doing our own 'homework' on our own respectively, so in the past we'd fly in to a city and perform a 2 hour show of Rush and original material without even a single rehearsal so we had to be VERY prepared. So if anything, this extra time has allowed us to get even more prepared and laser-focused." The band considers themselves as a 'hybrid' in terms of paying tribute to the band Rush as well as incorporating plenty of original material from their 3 albums. Says bassist Tim Starace; "we don't call ourselves a Rush tribute band per se, one because we play so much original material live but also because we are a 4 piece with a 21 year old female singer. However, the Rush material we do play, we treat with great care and respect for the music, the sounds and the vibe of early Rush. Because we each love that music and that band so much." Speaking of the original material, fans of Rush will without a doubt hear the heavy influence on their original material. Vocalist Rocky Kuner; "we intentionally color the original songs with some of that Rush "DNA" but underneath it we let our own personalities and other influences breath as well." Says drummer Mike Hetzel; "this band is so fun in that we get to have a blast playing all these Rush classics while still getting to do our own thing musically."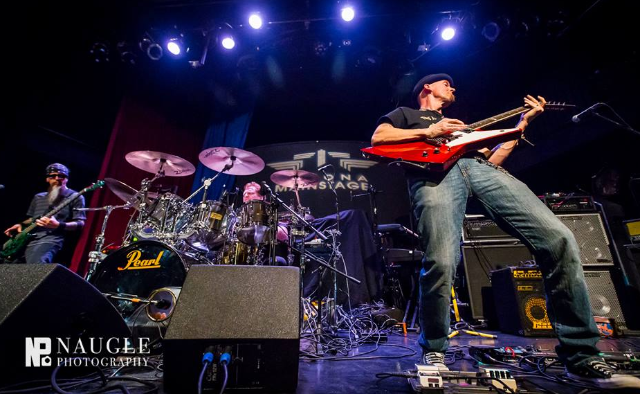 Taz Taylor
Music
In January 1997 UK-born Taz Taylor took a leap of faith and boarded a plane to Los Angeles with nothing more than a guitar, a backpack and roughly $2,000...

He spent much of his first year in the USA as a long haul truck driver, criss-crossing the country countless times in an 18-wheeler and spending the downtime in his sleeper berth practicing guitar. Eventually he settled in San Diego CA and set about recording his debut instrumental album "Caffeine Racer" which was released in July 2004. A band was formed and live shows commenced.

Caffeine Racer got the attention of legendary vocalist Graham Bonnet, most notable for working with the best guitarists in rock (Ritchie Blackmore, Michael Schenker, Yngwie Malmsteen, Steve Vai) and they set about recording the Taz Taylor Band album "Welcome To America" which was released on the UK label Escape Music in Aug 2006. Present TTB drummer Val Trainor joined immediately after the WTA sessions were completed.

International tours followed in 2007 and 2008, taking the band to UK, Germany, Austria, Switzerland, Hungary and Czech Republic.

In 2009 the band recruited another ex-MSG vocalist, Keith Slack for the "Straight Up" album, also on Escape Music, and also featuring a guest appearance from Deep Purple's Don Airey on keyboards.

2010 saw the band returning to Taz' instrumental roots with the release of "Big Dumb Rock".
Current TTB bassist Barney Firks joined immediately after the recording of this album and the band played a string of dates to promote BDR.

In 2014 TTB released "Deja Voodoo", an all instrumental offering of eight songs featuring a line-up that had now been together for four years and bonded and grown into something really special. During the summer of 2014 TTB embarked on a 10-date Summer Tour to promote Deja Voodoo, including dates in California as well as eight dates in the UK.

June 2017 saw the release of "Pressure And Time". This album featured the vocal talents of Chandler Mogel.
The album was released on Escape Music in Europe and on Rubicon Music in Japan. The Japanese version included a live bonus track, Explorations… recorded on the band's 2014 tour in the U.K.

March 2019 sees the band return to their first love…INSTRUMENTAL ROCK!!
"Hats, Tats and Guitars" Hard, fast, slow, tender... Instrumental Rock. Performed by "lifer" musicians who are in it because they have nothing they would rather be doing! On this album, Guitarist Taz Taylor, Bassist B.L. Firks and Drummer Val Trainor have managed to combine the swagger and attitude of 80's Sunset Strip with the musical virtuosity of the shred guitar boom which also peaked in that decade... whilst simultaneously raising a huge musical middle finger to the decade that followed. It's only 2019 if you look at a calendar and tune into today's crap mainstream radio! Grab a copy of "Hats, Tats And Guitars" and remind yourself what Rock and Roll is supposed to sound like!