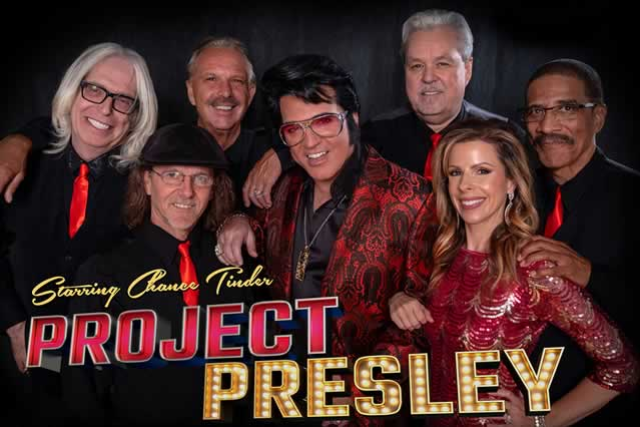 Project Presley
Show Dates are Subject to Change
Thursday
Jul 14th
8:00 pm
PDT
6:00 pm

Doors
$25.00
SHOW DATES ARE SUBJECT TO CHANGE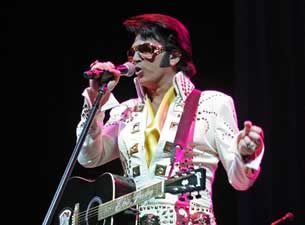 Project Presley Featuring Chance Tinder
Music
Chance Tinder is a multi-award winning "Elvis Presley Entertainer" with more than 25 years in the tribute show industry. He has been a part of the Elvis Presley phenomenon since the late 1980s, when he was first discovered in Southern California by none other than Bill Medley of the musical super duo The Righteous Brothers.
Chance is also alumni of the award winning Las Vegas celebrity lookalike production shows, LEGENDS IN CONCERT, AMERICAN SUPERSTARS and SHOWSTOPPERS LIVE!
Chance's secret is believing, that it's not so much the "voice" that should be the main focus… But it's knowing how to become the man himself on that stage! It's basically the attitude of Elvis Presley… shy but confident… knowing exactly what he's doing!
Chance isn't Rich Little or Jimmy Fallon doing a "spin" on Elvis Presley… Rather, he's Chance Tinder, the actor, recreating a character – much like the Juilliard trained actor Val Kilmer as 'Jim Morrison," or entertainer/actor Jamie Foxx as the great 'Ray Charles'.
Through all of Chance's experiences in show business, none has given him more gratification and fulfillment than paying an honest, true to life, salute to his childhood hero, the legendary "KING OF ROCK 'N' ROLL – Elvis Presley!