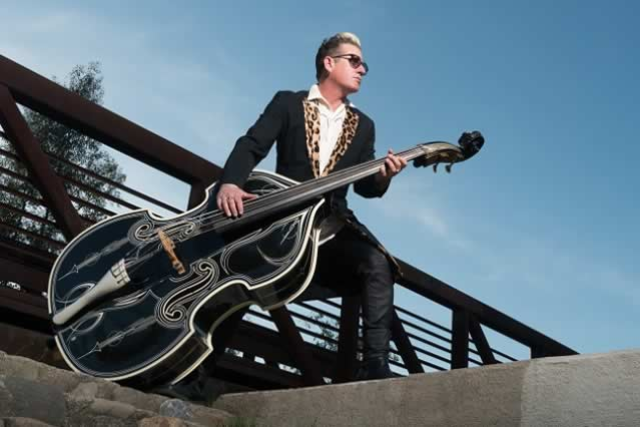 Lee Rocker of the Stray Cats
Show Dates are Subject to Change
Friday
Nov 25th
8:00 pm
PST
6:00 pm

Doors
$25.00
SHOW DATES ARE SUBJECT TO CHANGE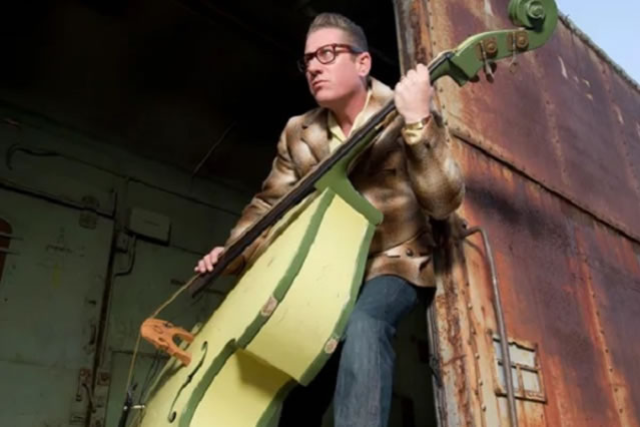 Lee Rocker
Rockabilly
The Stray Cats' Lee Rocker!
Grammy-nominated musician and Bass Player Hall of Famer
Lee Rocker made his mark singing, playing, standing on, spinning and rocking his giant upright bass as a founding member (along with Brian Setzer and Slim Jim Phantom), of the Grammy nominated music group The Stray Cats, who sold over 10 million albums, garnered 23 gold and platinum certified records, and were music video pioneers of the MTV. The Stray Cat's worldwide mega hits "Stray Cat Strut", "Sexy and Seventeen" and "Rock this Town" have become a part of the fabric of rock and roll. The Rock and Roll Hall of Fame has included "Rock this Town" as one of the 500 most important songs in rock.
From the cover of the Rolling Stone magazine, to appearing on Saturday Night Live, to headlining the US Festival and touring with the Rolling Stones, Lee Rocker has seen and done it all. In addition to The Stray Cats and the Rolling Stones, Rocker has toured and performed with George Harrison, Ringo Starr, Willie Nelson, Leon Russell, and John Fogerty. In 1982 Rocker and his father Stanley Drucker, (classical clarinetist) both received Grammy nominations; this was something that has only occurred twice in the history of the Grammy Awards. In 2012 Lee appeared on Broadway in the hit musical "Million Dollar Quartet" and in 2014 he was inducted into the Bass Player Hall of Fame. Rocker has received numerous honors for his contributions to music and the arts, including being inducted to the Rockabilly Hall of Fame, the Long Island Music Hall of Fame and he is a recipient of the Visionary Artist Award by the City of Laguna Beach California. In his concert performances, Lee Rocker rocks every town and leaves every audience on their feet and cheering.

Lee Rocker has been consistently touring, recording and performing around the globe since 1980 and has cultivated a fanatically loyal following of rockers, rebels and all types of music lovers. He is known for making his upright double bass appear as if it were a lightweight instrument as he spins, throws it in the air, catches and plays it on stages throughout the world. His concert show is a time for him to tell stories about his days on the road and in the music business for the last 40 years – Sharing stories about his adventures!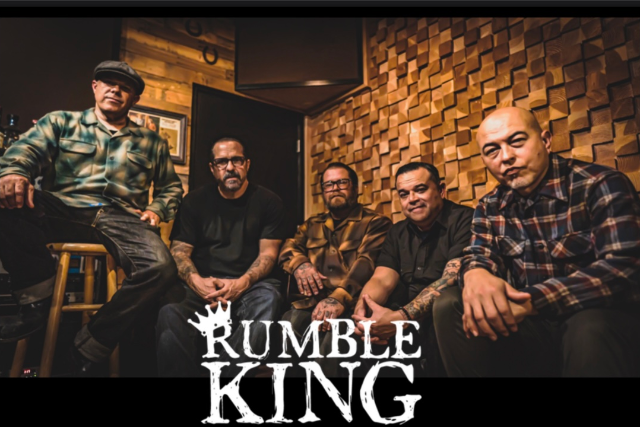 Rumble King
Music
Rumble King is an American rock n roll band formed in southern California in 1996. Lead by vocalist Aaron Deily and his acoustic piano, Scott Ramirez on tenor saxophone, Ulysses Gallegos on upright bass, Corey Miller on drums, and Johnny Main on Guitar.
The band established their place in music history during the rockabilly and swing revival of the late 90's. Rooted in blues and early rock n roll, this piano and sax driven quintet gained regional and then national attention with their original songs and unique approach to arranging, recording, and performing without a guitar. Prior to their first recording, the band rehearsed with and wanted to include renowned blues singer and guitarist Johnny Main (The 44's). Rumble King and The 44's traveled on separate paths for almost two and half decades until circumstances and fate brought them full circle to the band's current and originally intended line-up.
Aaron Deily has committed to performing on a genuine acoustic piano and continues to bring an upright piano to every show. The band's determination to present their sound in a way that honors the roots that have proceeded them is uncompromising. Rumble King has released four LP's, three EP's, and dozens of singles. The band's music and live performance has been showcased in multiple independent award-winning short films, television shows, and radio broadcasts. They have had successful residencies at Disneyland, Knotts Berry Farm, Las Vegas, and countless nightclubs.