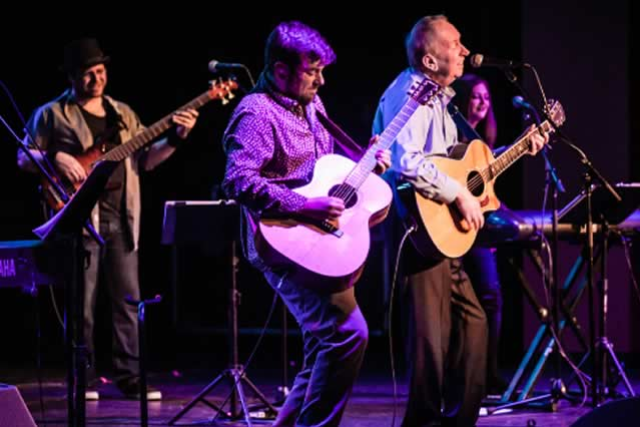 Al Stewart & The Empty Pockets
Show Dates are Subject to Change
Friday
Sep 22nd
8:00 pm
PDT
6:00 pm

Doors
$38.00
SHOW DATES ARE SUBJECT TO CHANGE

After Al's US tour in 2019 with his band The Empty Pockets, he spent most of
2020 and 2021 sidelined due the COVID-19 pandemic. But in 2022, he came back
full force with a string of sold out shows in the United States and United Kingdom,
and he even made his debut in Israel. In 2023, he'll continue his trek with several
shows throughout the United States. He will be playing his old favorites, like Year
Of The Cat, Time Passages, On the Border, Nostradamus and Roads To Moscow,
along with selections from his deep catalogue.
The Scottish-born singer-songwriter has released nearly 20 introspective and
lyrically powerful records featuring brilliant backing musicians (Jimmy Page, Phil
Collins, Richard Thompson, Peter White, etc.). His biggest platinum successes,
"Year Of The Cat" and "Time Passages", were released in 1976 & 1978
respectively. He's had several top 20 singles, including the above-mentioned titles,
as well as "On the Border" and "Song On The Radio".
In Al's own Words: "I'm just a folk singer that is interested in history and wine that
got lucky with some hit records! It's as simple as that really. I was always a huge
music fan and originally, I had wanted to be Brian Jones and then Bob Dylan, but
those two jobs were already taken. And in many ways, I'm still pretty much the
same troubadour that I was back in 1965. I still get a kick out of hearing the
Zombies, Hendrix or They Might be Giants on the radio."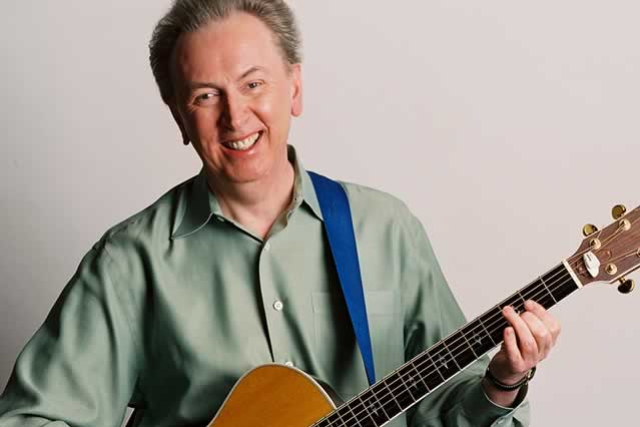 Al Stewart
Folk
For a singer and songwriter whose work is suffused with history and detail, Al Stewart follows no creative timetable. It's been 10 years since his last US CD of new material, almost 30 years since his "Year of the Cat" single and album became unforgettable international hits, almost 40 years since his first album was released. Al Stewart is not afraid of time and its passages. A Beach Full of Shells, Al's Appleseed debut and first new US release since 1995's Between the Wars, finds Stewart in timeless form, presenting a baker's dozen new songs that span centuries and continents, autobiography and fiction. As he nears the 20-album mark, Stewart remains a distinctively literate and vivid storyteller, time-traveling and teleporting himself and his listeners from World War I battlefields to Sixties bedrooms, from ships to airplanes to ice floes, from the specific to the mysterious.
Musical settings that encompass electric folk-rock and acoustic ballads, colorful dabs of classical and
Eastern music, and even a touch of Little Richard-style piano pounding, are as varied and imaginative
as Al's subject matters. The CD's producer, Laurence Juber, formerly of Paul McCartney's Wings,
has enhanced Al's elegant Scottish drawl, nimble acoustic guitar-work and keyboards with his own
Grammy-winning guitar playing, string arrangements and percussion and a flexible rhythm section.
"The Immelman Turn" kicks off the CD in a style reminiscent of Fairport Convention, Al's early
British contemporaries, with spirited violin and barbed electric guitar sweeping us into the tale of a
doomed pilot's last flight. Then we fall down the genteel rabbit hole of "Mr. Lear," a tribute to the 19th
Century nonsense poet, before landing in the veiled intrigue of "Royal Courtship" (certainly the only
song in history to use the words "plenipotentiary" and "amanuensis"). Elsewhere and elsewhen, we are
taken "Somewhere in England 1915"; into the freezing bleakness of "Out in the Snow"; to visit party
girl "Gina in the Kings Road"; to the frenzied rock 'n' roll past of "Class of '58" and a peaceful,
nostalgia-filled old age in "Katherine of Oregon." And that's just part of the tour on A Beach Full of
Shells.
In the spellbinding tradition of his signature songs "Year of the Cat," "Time Passages," "On the
Border," and "Nostradamus," among many others, Al's latest musical short stories are both lyrically
meaningful and insidiously catchy.
Like the fine wines that are his hobby, Al Stewart's gifts as a singer and songwriter have matured and
ripened over the course of his musical career, stretching from the early '60s to the present and beyond.
Stewart was born in Glasgow, Scotland, in 1945, and moved with his family to Bournemouth, a seaside
town in the South of England, at an early age. It was in Bournemouth that Al bought his first guitar –
from Andy Summers, future lead guitarist of The Police – and learned his first guitar licks – from
Robert Fripp, later the leader of King Crimson.
Leaving school at 16, Al headed toward his future by playing guitar in various local bands. "In 1963
The Beatles were breaking out in England," Al explained in the liner notes to his Greatest Hits
collection issued by Rhino Records last year. "I wanted to be Al Beatle. Along came the Rolling
Stones and I wanted to be Keith Richards." But a strong dose of Bob Dylan's original songs shifted his
focus from instrumentalist to lyricist and vocalist.
In 1965, Al moved to London and became the emcee at the famed Les Cousins folk club, rubbing
shoulders with young talents like Paul Simon, Ralph McTell, Bert Jansch and Cat Stevens. He started
writing and performing his own songs, first at Les Cousins, later at other folk clubs and colleges across
England, frequently appearing with folk-oriented groups like the Incredible String Band, Fairport
Convention, and The Pentangle.
Al's first album, Bedsitter Images, was released in England in 1967 (and years later in the US),
followed by 1969's Love Chronicles, which featured Led Zeppelin's Jimmy Page and a
pseudonymous Richard Thompson on lead guitars and a 19-minute title song that recounted his
romantic adventures and contained a then-shocking synonym for "fornicating."
After several more albums written in autobiographical mode, Al shifted his lyrical gaze outward, into
history, literature and current events, an approach debuted on 1973's Past, Present & Future (released
on the Janus label in 1974). The follow-up, Modern Times, cracked the US Top 40 album charts in
1975 and drew Al and his backing band to the States for a full length tour.
With groundwork laid and touring dues paid, Al's next album exploded in America: Year of the Cat,
released in 1976, spawned two Top 20 hits (the title song and "On the Border"), and itself became a
million-selling record. After Al relocated to California, where he still resides, his next album, 1978's
Time Passages, repeated the success of its predecessor, selling another million copies and spinning off
the Top 10 title track and Top 30 single, "Song on the Radio."
Despite high quality songs and performances, subsequent Stewart albums in the '70s and '80s didn't
receive as much popular attention, as punk rock and other new musical movements pushed their way
into public consciousness. In the early '90s, Al returned to his folk roots with a solo tour of the UK, his
first in 15 years, and Famous Last Words, which utilized acoustic instrumentation and traditional folk
and classical styles. Between the Wars (1995), focusing on the '20s and '30s, marked Al's first
collaboration with former Wings guitarist Laurence Juber; their next effort, Down in the Cellar
(2000), was a concept album, incorporating Al's knowledge of fine wines into his you-are-there songs
of personal and historical vignettes; the CD was only released in Europe.
Now the long drought of new Stewart songs has been broken by A Beach Full of Shells, Al's first CD
for Appleseed, which finds him at the peak of his songwriting powers, still able to conjure other times
and distant places with well-chosen words and evocative music. This is a Beach full of gems.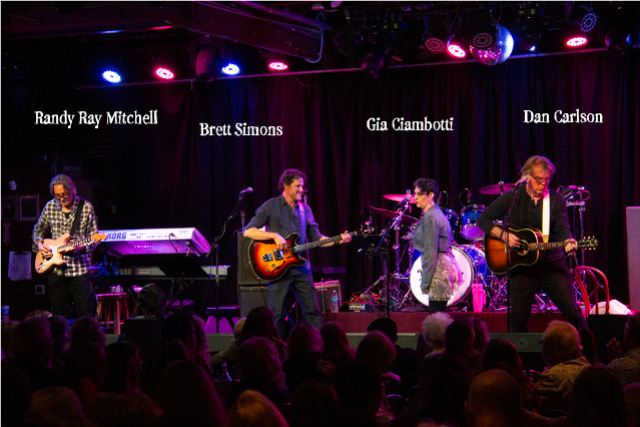 Waldo Bliss
Music
Waldo Bliss plays acoustic based music with organic vocal harmonies.
The current lineup of the band for live playing includes, Dan Carlson, Randy Ray Mitchell, Gia Ciambotti, and Dan Rothchild

Dan Carlson: vocals, acoustic guitar
Randy Ray Mitchell: electric & acoustic guitar, slide, eboe and more...
Gia Ciambotti: vocals
Dan Rothchild: vocals, bass

This LA-based band features shimmering three part vocal harmonies that live on top of acoustic and electric guitars, as well as bass, with some light and tasty percussion topping it off. They do original songs written by them, along with classic covers by such great writers as Brian Wilson, Laura Nyro
and Dan Hicks.

Waldo Bliss has opened for a lot of great bands including The Bangles, America, Ian Hunter and Petula Clarke.

The band would like their ID line... "Music for the Inside of Your Body", to be true for you when you listen, as much as it is for them when they are playing.

Waldo Bliss wants their sound to seep in and percolate, all around, you…