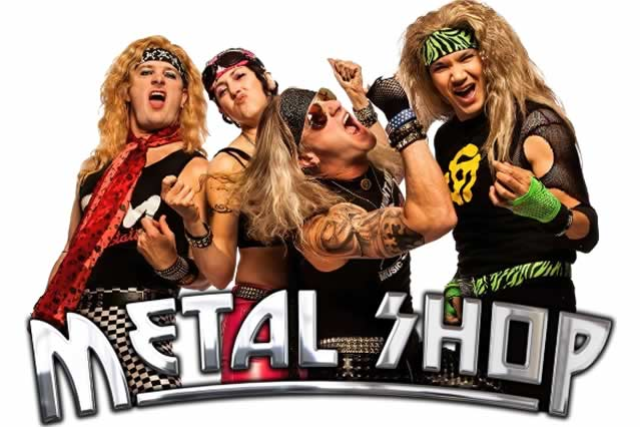 Metal Shop
Show Dates are Subject to Change
Friday
May 26th
8:00 pm
PDT
6:00 pm

Doors
$25.00
SHOW DATES ARE SUBJECT TO CHANGE
From the creators of the Boogie Knights, The M-80s, and The Spazmatics, comes PWE Productions' Metalshop–––an outrageously funny spoof of 1980s Heavy Metal music featuring some of the best musicians in the LA music scene.
Although often referred to as a "band," the Metalshop show is actually the brainchild of producers Jamie Brown and Roger Sause, who pick the cast members, perform, sing, and produce the backing tracks, and direct in costuming, choreography, scripted comedy and other "schtick." Since it's debute in 1997, Brown and Sause have expanded the Metalshop show (also performed under the alter ego of "Danger Kitty") into 8 different lineups spread all throughout the country performing hundreds of shows annually. Often copied, but never equalled, the Metalshop show has been pirated by many wannabes who are, in effect, paying tribute to another tribute act! So don't be fooled by imitators! Check your local listings for the next upcoming Metalshop show, and see for yourself that they're younger, taller, skinnier, and funnier than ever!

Song list:
SHAKE ME – CINDERELLA
BAD MEDICINE – BON JOVI
POUR SOME SUGAR ON ME – DEF LEPARD
JUMP – VAN HALEN
DON'T TELL ME YOU LOVE ME – NIGHT RANGER
CRAZY TRAIN – OZZY OSBOURNE
BACK IN BLACK – AC/DC
SHOUT AT THE DEVIL – MOTLEY CRUE
LIVE WIRE – MOTLEY CRUE
CUM ON FEEL THE NOIZE – QUIET RIOT
HERE I GO AGAIN – WHITESNAKE
LIVIN AFTER MIDNIGHT – JUDAS PRIEST
WE'RE NOT GONNA TAKE IT – TWISTED SISTER
ROUND AND ROUND – RATT
ROCK YOU LIKE A HURRICANE – SCORPIONS
DOWN BOYS – WARRANT
TALK DIRTY TO ME – POISON
WAIT – WHITE LION
TURN UP THE RADIO – AUTOGRAPH
RUN TO THE HILLS – IRON MAIDEN
CHERRY PIE – WARRANT
WELCOME TO THE JUNGLE – GUNS 'N ROSES
IN MY DREAMS – DOKKEN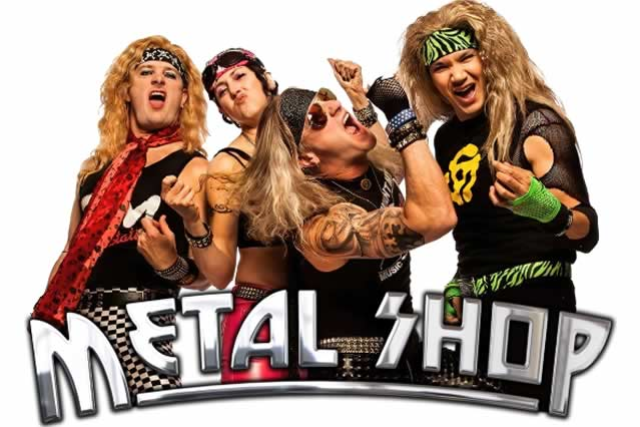 Metal Shop
Pop
​Bringing you your favorite 80s hair metal rock! Metal Shop has been rocking stages, servicing groupies and abusing roadies since 1982 back on the Sunset Strip. Stand up, SHOUT, and let your freak flag fly while we melt your faces off with Gun's 'n Roses, Bon Jovi, Def Leppard, Whitesnake, Ozzy, Metallica, Poison, Tesla, Winger, Cinderella, AC/DC, and more while watching a true 80s rock arena style concert complete with spandex, eyeliner, hairspray and rock 'n roll banter! If you are looking for the greatest 80s metal rock band, never fear, Metal Shop is here!