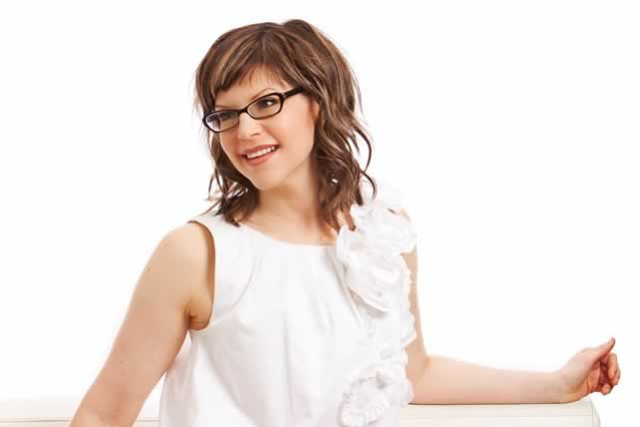 Lisa Loeb
Wednesday
Apr 25th
8:00 pm
PDT
6:00 pm

Doors
$20.00
Lisa Loeb Follows GRAMMY Win with Spring Performance Tour
Los Angeles, March 1, 2018 - Fresh off her 2018 GRAMMY Award for her album Feel What U Feel, singer-songwriter Lisa Loeb announces concert dates this spring and summer.
With a voice both assured and assuring, Loeb will perform the songs her fans know and love, including her No. 1 hit "Stay (I Missed You)" and other radio hits, fan favorites and requests (tweet requests to @LisaLoeb) As Jon Pareles of The New York Times notes, "Loeb's bright pop choruses and folk-rock guitars conceal a songwriter who can be as smart as she is sweet."
Lisa says her live shows offer unexpected and varied delights: "I love playing songs from my entire catalogue and telling stories. Every show is different from the last: the audience, the venue, the pre-show snacks -- you never know what's going to happen."
Lisa Loeb is an independent music trail-blazer. Her career catapulted with the platinum-selling #1 hit song "Stay (I Missed You)" featured on the GenX film Reality Bites. In 1994, when other top artists were all tied to labels, Lisa was the first unsigned artist to have a #1 single. She followed that remarkable feat with the hit singles "Do You Sleep," "I Do" and "Let's Forget About It" and the albums Cake and Pie and No Fairy Tale. Her albums Tails and Firecracker were both certified gold. Lisa continues to craft irresistible pop songs for the 21st century, while writing children's books and songs, designing Lisa Loeb Eyewear and supporting various non-profit causes including The Camp Lisa Foundation. Her GRAMMY and Parents' Choice Gold Award winning album Feel What U Feel (available exclusively on Amazon) was co-produced with Rich Jacques and features guest artists Craig Robinson, Ed Helms and more. In fall 2017, Loeb collaborated with Jacques and Larry Golding to release a collection of soothing songs with Amazon Originals, Lullaby Girl. The album of "music for insomniacs" features two original songs and 11 classics like " Rainbow Connection," "Ooh Child," "Inch Worm," and "Be My Baby."
Lisa continues to tour internationally, sharing her music from yesterday, today and tomorrow. Forever the fearless performer, Loeb is constantly exploring her creativity and telling original stories, whether writing songs or acting in films, TV and animated series like Amazon Originals' "If You Give a Mouse a Cookie" and "Creative Galaxy."
Lisa Loeb
Alternative Rock
Lisa Loeb's highly anticipated return to the pop/rock world after immersing herself in other projects may be called No Fairy Tale, but it's actually another charmed chapter of her storybook-like career which began in the mid-90's. She emerged from the New York coffeehouse and club circuits with her trademark Grammy® nominated hit "Stay (I Missed You)"--the only artist (still) to ever have a number one Billboard pop single while not signed to a recording contract. The multi-talented singer/songwriter, inspired to work with co-producer Chad Gilbert, guitarist and founding member of rockers New Found Glory, stirs up a glorious pop/punk rock sound over the course of 12 tracks that are both coolly contemporary yet rough around the edges on her new musical declaration No Fairy Tale.
A longtime fan, Gilbert emailed Lisa with his idea for a collaborative project. Loeb and Gilbert first worked together when he asked her to sing on his band's punky version of "Stay" on their film songs cover album From The Screen To Your Stereo Part II in 2007. In 2009, Loeb joined New Found Glory onstage at the Nokia Theatre (now the Best Buy Center) in Times Square for a live performance of the song. Gilbert had received an email alert about a stop on her book tour for the Lisa Loeb's Silly Sing-Along: The Disappointing Pancake and other Zany Songs book/CD project. "I got the crazy idea to email her to say, 'I know you do these kids books, but when are you going to let me produce a full-on modern indie pop/rock record for you. You haven't done one in a while."
Loeb recalls that Gilbert's email included the phrase "poppy-punky-rock album," a concept she was immediately receptive to. He also felt that a recent influx of female fronted groups like Canadian duo Tegan and Sara—whom New Found Glory had toured with—made the time right for the singer to record a raucous, upbeat album with a fresh perspective that would, in his words, "make her sound like it was her first recording ever." Gilbert adds, "Besides, she's a character, and her voice has always been so cool and unique. There are a lot of great artists out there, but no one sounds like Lisa."
Loeb agreed that the timing was ideal. "When he mentioned Tegan and Sara, it seemed perfect as I was very inspired by them and actually listened to their music while writing a lot of recent songs. It's funny that Chad and I have always gotten along so well. He's a tattoo-ed up post-punk rocker and I'm known more as a singer/songwriter with glasses, which may seem like an unlikely pair, but it totally makes sense. He brought a whole new angle to my music and it was great to work with many of the musicians he works with down in Orange County (California), as well as Joe Marro and Forrest Kline from the pop-punk band Hello Goodbye, who he enlisted to play keyboards." With the addition of veteran mix engineer Brad Wood, whose credits include Smashing Pumpkins, Liz Phair and Pete Yorn, the sound of No Fairy Tale soon melded into the perfect balance of Loeb's past "professional largeness" with the "not perfect but edgy" style she and Gilbert created.
Though she had been concentrating more in recent years on children's projects and other media endeavors, Loeb brought a cool arsenal of strong new material to her first meetings with Gilbert at her house. Eight previously written Loeb tunes were ultimately chosen for No Fairy Tale. She penned the high energy power-pop title track opener with fellow songwriter Maia Sharp, about navigating the waters of imperfect love—about how living in a real way with the ups and downs of life is better than living a perfect fairy tale life. "Weak Day," a heartfelt ballad about living through a tough emotional time, was originally written for the acoustic record Loeb was working on. "Sick Sick Sick" has a rollercoaster of rhythmic mood swings throughout that reflects the crazy and unpredictable dysfunction in an oddly co-dependent family. Taking a more optimistic tack, Loeb infuses a playful pop/rock energy into "Swept Away," a story about a fallen star looking to escape after a downfall. Her ultimate advice: it pays to keep trying. Loeb employs some talk-sing amidst her soaring harmony-laden vocals on "He Loved You So Much," a song about just who is doing the breaking up.
No Fairy Tale is rounded out with Loeb collaborating with other artists. These include the explosive new wave scorcher "Matches" (with Morgan Taylor); the raw garage rocker "Married" (with Chuck Wolverton), about the foolishness of being the other woman to a broken man in a bad marriage; and the stripped down, folky sad song "Ami, I'm Sorry," which she wrote with Marvin Etzioni. Loeb and Gilbert wrote another of No Fairy Tale's key tracks, the 80s new wave pop flavored "Walls," which Loeb says was like "channeling Patty Smyth and a Molly Ringwald movie" at the same time."
Loeb's introduction to Tegan and Sara resulted in her choice to include for the first time ever songs fully penned by an outside writer on one of her solo recordings. Tegan and Sara Quin's fiery rocker "A Hot Minute" (an emotionally charged "in love and stalking" song) and the encouraging closer "The Worst" (about the way the ugly trials we've been through can comfort us down the road) fit Loeb and Gilbert's overall aesthetic perfectly. Both tracks feature Tegan on harmony.
"To be honest," says Tegan, "I had no idea that Lisa would ever consider recording songs that anyone else had written. I was overjoyed, over the moon, ecstatic and crazed when I heard she was going to cut a few songs of mine. I grew up a huge fan and remain a huge fan of everything After meeting her I was an even bigger fan. She is so smart and confident. I was just so impressed by her work ethic, her presence and her ability as a writer and singer. I really related to a lot of her stories. It's not a stretch that something that happened to me could have happened to her. For me, it's nice after 15 years, to feel a renewed joy and sense of adventure when it comes to writing."
No single track on No Fairy Tale captures the driving aesthetic of the album like "The 90s," a raw, stomping, tongue in cheek blister-rocker (penned by Loeb and Gilbert) that includes direct references to making the video for "Stay"—including wanting to make her Betsey Johnson dress shorter and asking shoe designer John Fluevog to "make my platforms a little higher." "I'm usually more abstract as a songwriter," she says, "but it was fun writing a story that was more direct and pretty literal about the time."
Grammy®-nominated singer/songwriter Lisa Loeb was launched into the limelight in 1994 with her platinum-selling Number 1 hit song "Stay (I Missed You)" from the film Reality Bites. Since then, she has enjoyed a successful career encompassing music, film, television, voice-over work and children's recordings. In addition to raising two children, Loeb is currently working on a new eyewear line, Lisa Loeb Eyewear (in partnership with Classique Eyewear); her second children's book "Lisa Loeb's Songs for Moving and Shaking" out April 2, 2013; and No Fairy Tale.