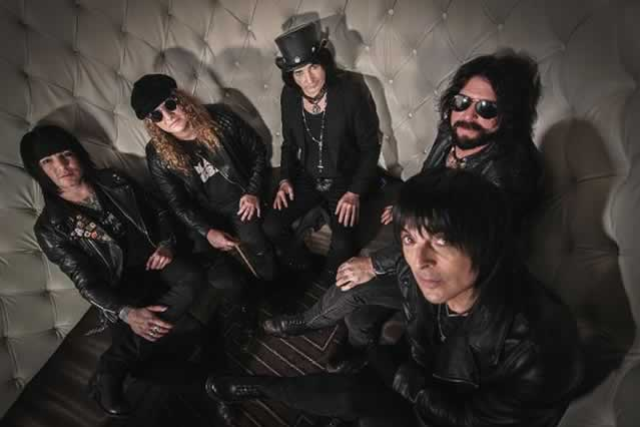 LA Guns
Saturday
Aug 17th
8:00 pm
PDT
6:00 pm

Doors
$20.00
Legends of the Sunset Strip in Hollywood, L.A. Guns starring Phil Lewis and Tracii Guns have released eleven studio albums over the span of almost 30 years, including Cocked & Loaded (1989), Hollywood Vampires (1991), and their critically-acclaimed The Missing Peace (2017), the highest selling release for Frontiers Music in 2017. They continue to excite their fans, old and new, with their kick-ass, high-energy rock n roll. Their twelfth release, "The Devil You Know" is set to release in 2019.
L.A. Guns
Pop
L.A. Guns to Release "The Devil You Know" March 29th via Frontiers Music Srl
New Single "Stay Away" Out Now.
Hot on the heels of the success of their last record, "The Missing Peace", L.A. Guns is ready to attack again with the new album, "The Devil You Know". The album is set for release March 29th via Frontiers Music Srl. Listen to the new single "Stay Away" HERE: https://youtu.be/0Xzq8Wwd3fM
Pre-order "The Devil You Know" on CD/LP/Digital HERE: http://radi.al/TheDevilYouKnow
Signed LPs, Limited Edition Red Vinyl, Merch Bundles & More available from the band store HERE: https://www.lagunsmusic.com/shop
Limited Edition Yellow Vinyl available from Frontiers' EU Shop HERE: http://www.frontiers.shop
Sonically, "The Devil You Know" covers a lot of ground and incorporates influences from Black Sabbath to Led Zeppelin to Kyuss to The Hellacopters, all while distinctly sounding like L.A. Guns. The band is rejuvenated and inspired after relentless touring and are literally taking no prisoners.
"After the success of 'The Missing Peace' a lot of people requested that the next record stay on track with the more metal side of the band's music, which is my personal favorite side of the band," says Tracii Guns. He continues, "I drew from my typical influences of NWOBHM [New Wave Of British Heavy Metal], while still not forgetting my earlier influences of the late '60s and early '70s. I wanted to lead with the track "Stay Away" because it's a familiar L.A. Guns sound, but even a bit more metal. Something to get everyone's palate wet."
"It's loaded with attitude and most of it bad," says vocalist Phil Lewis of the album's lyrical content. You want a love song f*** off and listen to Journey. They say write about what you know, and lord knows we've all known some evil bitches and dudes that have gone out of their way to make life difficult for us. We say unanimously from the whole band f*** you, we're going places you could only dream about. We know what it's like to be put down, poked, ridiculed...but guess what, looks like we get the last laugh. This band has always been fueled by adrenaline and anger and this record is a glimpse inside the carnival of rage that dwells deep inside our collective souls. Not much sunshine and hold tight to your lollipop...this is gonna be a fast, loud, bumpy ride!"
L.A. GUNS are truly one of the great American hard rock bands of the last 30 years. Since their self-titled debut in 1988 to the widely praised 2017 comeback album "The Missing Peace", L.A. GUNS, led by Tracii Guns and Phil Lewis have always delivered solid rock 'n roll to their fans.
This current incarnation of the band has been touring non-stop and the cohesiveness of the unit, not to mention Phil's stunning and unique vocals and Guns' mind-bending guitar playing, are on full display here. A must hear and listen for all fans of the band, both new and old!
Tracklisting:
1. Rage
2. Stay Away
3. Loaded Bomb
4. The Devil You Know
5. Needle to the Bone
6. Going High
7. Gone Honey
8. Don't Need to Win
9. Down That Hole
10. Another Season in Hell
11. Boom (Bonus Track - CD & Digital Only)
Lineup:
Philip Lewis - vocals
Tracii Guns - guitar
Johnny Martin - bass
Shane Fitzgibbon - drums
Ace Von Johnson - guitar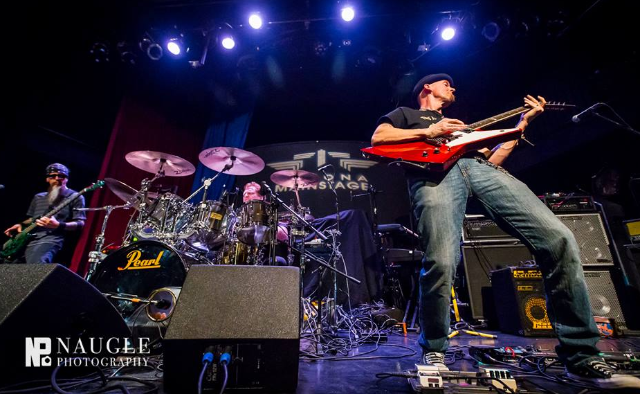 Taz Taylor
Music
In January 1997 UK-born Taz Taylor took a leap of faith and boarded a plane to Los Angeles with nothing more than a guitar, a backpack and roughly $2,000...

He spent much of his first year in the USA as a long haul truck driver, criss-crossing the country countless times in an 18-wheeler and spending the downtime in his sleeper berth practicing guitar. Eventually he settled in San Diego CA and set about recording his debut instrumental album "Caffeine Racer" which was released in July 2004. A band was formed and live shows commenced.

Caffeine Racer got the attention of legendary vocalist Graham Bonnet, most notable for working with the best guitarists in rock (Ritchie Blackmore, Michael Schenker, Yngwie Malmsteen, Steve Vai) and they set about recording the Taz Taylor Band album "Welcome To America" which was released on the UK label Escape Music in Aug 2006. Present TTB drummer Val Trainor joined immediately after the WTA sessions were completed.

International tours followed in 2007 and 2008, taking the band to UK, Germany, Austria, Switzerland, Hungary and Czech Republic.

In 2009 the band recruited another ex-MSG vocalist, Keith Slack for the "Straight Up" album, also on Escape Music, and also featuring a guest appearance from Deep Purple's Don Airey on keyboards.

2010 saw the band returning to Taz' instrumental roots with the release of "Big Dumb Rock".
Current TTB bassist Barney Firks joined immediately after the recording of this album and the band played a string of dates to promote BDR.

In 2014 TTB released "Deja Voodoo", an all instrumental offering of eight songs featuring a line-up that had now been together for four years and bonded and grown into something really special. During the summer of 2014 TTB embarked on a 10-date Summer Tour to promote Deja Voodoo, including dates in California as well as eight dates in the UK.

June 2017 saw the release of "Pressure And Time". This album featured the vocal talents of Chandler Mogel.
The album was released on Escape Music in Europe and on Rubicon Music in Japan. The Japanese version included a live bonus track, Explorations… recorded on the band's 2014 tour in the U.K.

March 2019 sees the band return to their first love…INSTRUMENTAL ROCK!!
"Hats, Tats and Guitars" Hard, fast, slow, tender... Instrumental Rock. Performed by "lifer" musicians who are in it because they have nothing they would rather be doing! On this album, Guitarist Taz Taylor, Bassist B.L. Firks and Drummer Val Trainor have managed to combine the swagger and attitude of 80's Sunset Strip with the musical virtuosity of the shred guitar boom which also peaked in that decade... whilst simultaneously raising a huge musical middle finger to the decade that followed. It's only 2019 if you look at a calendar and tune into today's crap mainstream radio! Grab a copy of "Hats, Tats And Guitars" and remind yourself what Rock and Roll is supposed to sound like!