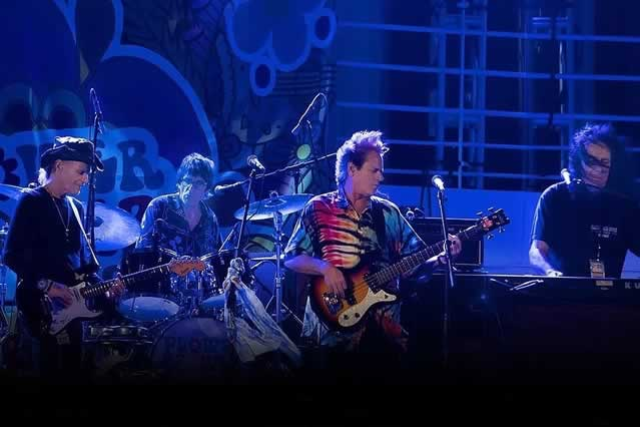 POSTPONED
Iron Butterfly - POSTPONED
Thursday
Jul 9th
8:00 pm
PDT
6:00 pm

Doors
$20.00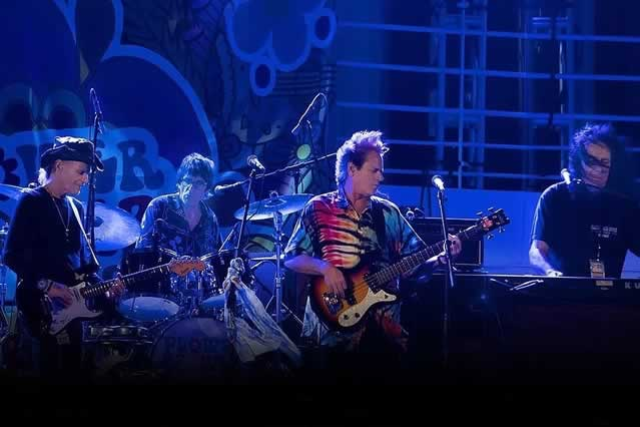 Iron Butterfly
Pop
The Los Angeles music climate of the late sixties and seventies was characterized by the heavy sounds and sentiments that reflected the revolutionary attitudes of the generation. Bursting onto that scene was Iron Butterfly, whose sound not only epitomized the hard attitudes of the youth with its heavy drumming and bass lines, but also embraced more delicate aspirations through its intricate guitar and keyboard overlays.
Iron Butterfly was signed to ATCO records (a division of Atlantic Records) and released their first album, aptly titled "Heavy". While the band was on the road with the likes of: The Doors, Jefferson Airplane, The Grateful Dead, Traffic, The Who, and Cream, their impressive debut stayed on Billboard's album charts for almost a year!
They followed up with the monumental LP, "In-A-Gadda-Da-Vida", featuring the 17:05 minute side-long track that shook the entire music industry with its phenomenal reception. 'Vida outsold every record in the history of recorded music within the first year of its release and therefore outgrew and outsold the standard of the music industry's "Gold Album" award.
For this achievement, Iron Butterfly was subsequently awarded: The Industry's Very First "Platinum Album"! "In-A-Gadda-Da-Vida" stayed on thecharts for 140 weeks, with 81 weeks in the Top Ten! To date the album has sold in excess of 30 million copies and remains an undisputed classic in the archives of rock with DJ's and audiophiles worldwide!
Within a year of releasing "In-A-Gadda-Da-Vida", Iron Butterfly had charted a third album, "Ball", – which surpassed "Vida" (still in Billboard's Top 10) turning "Gold", and climbed to No.#1. "Ball" remained on the charts for 44 weeks, followed by two more album releases – "Live", and"Metamorphosis", each charting respectably in the Top 20!
AWARDS
*Silver Album Award *Two Gold Album Awards *Two Platinum Album Awards
*4x Multi-Platinum Album Award *Lifetime Achievement Award
*After Breaking All Sales Records, Awarded the Music Industry's First Platinum Award
IRON BUTTERFLY MUSIC HAS BEEN IN THE FOLLOWING MOVIES & TV SHOWS
American Horror Story (2013) – Hell Ride (2008) – Resident Evil: Extinction (2007) – House M.D. (2007) – Salvador (2006)
Criminal Minds (2006) – Supernatural (2005) – The Simpsons (2005 & 1994) – Tag World Grand Prix (2005)
Playboy: 50 Years of Playmates (2004) – Mission Hill (1999) – Pirates of Silicon Valley (1999)
The Sonny & Cher Story (1999) – Seinfeld (1997) – Baseball (1994) – Fatal Instinct (1993) – Home Improvement (1991)
Freddy's Dead: The Final Nightmare (1991) – The Wonder Years (1990 & 1989) – Manhunter (1986) – The A-Team (1986)
Pleasure Island (1975) – The Psychiatrist (1971) – Freeform (1970) – In For Life (1970) – Red Man Cometh (1970)
Iron Butterfly is touring and thrilling audiences worldwide with their High-Energy Show and performing all the Hits, like:
"In-A-Gadda-Da-Vida" – "Iron Butterfly Theme" – "Soul Experience" – "Easy Rider" – "Butterfly Bleu"
"Stone Believer" – "Soldier in Our Town" – " In The Time Of Our Lives" – "New Day"
and many, many more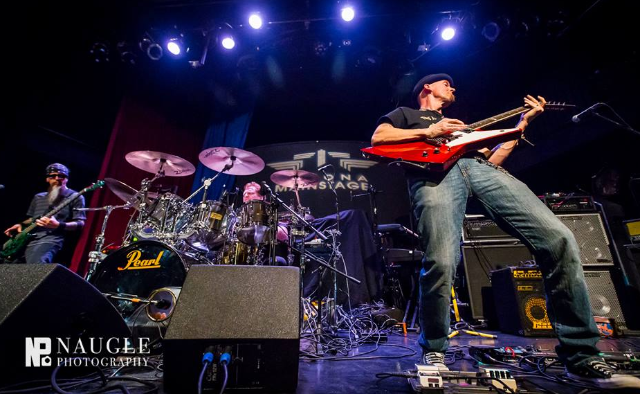 Taz Taylor
Music
In January 1997 UK-born Taz Taylor took a leap of faith and boarded a plane to Los Angeles with nothing more than a guitar, a backpack and roughly $2,000...

He spent much of his first year in the USA as a long haul truck driver, criss-crossing the country countless times in an 18-wheeler and spending the downtime in his sleeper berth practicing guitar. Eventually he settled in San Diego CA and set about recording his debut instrumental album "Caffeine Racer" which was released in July 2004. A band was formed and live shows commenced.

Caffeine Racer got the attention of legendary vocalist Graham Bonnet, most notable for working with the best guitarists in rock (Ritchie Blackmore, Michael Schenker, Yngwie Malmsteen, Steve Vai) and they set about recording the Taz Taylor Band album "Welcome To America" which was released on the UK label Escape Music in Aug 2006. Present TTB drummer Val Trainor joined immediately after the WTA sessions were completed.

International tours followed in 2007 and 2008, taking the band to UK, Germany, Austria, Switzerland, Hungary and Czech Republic.

In 2009 the band recruited another ex-MSG vocalist, Keith Slack for the "Straight Up" album, also on Escape Music, and also featuring a guest appearance from Deep Purple's Don Airey on keyboards.

2010 saw the band returning to Taz' instrumental roots with the release of "Big Dumb Rock".
Current TTB bassist Barney Firks joined immediately after the recording of this album and the band played a string of dates to promote BDR.

In 2014 TTB released "Deja Voodoo", an all instrumental offering of eight songs featuring a line-up that had now been together for four years and bonded and grown into something really special. During the summer of 2014 TTB embarked on a 10-date Summer Tour to promote Deja Voodoo, including dates in California as well as eight dates in the UK.

June 2017 saw the release of "Pressure And Time". This album featured the vocal talents of Chandler Mogel.
The album was released on Escape Music in Europe and on Rubicon Music in Japan. The Japanese version included a live bonus track, Explorations… recorded on the band's 2014 tour in the U.K.

March 2019 sees the band return to their first love…INSTRUMENTAL ROCK!!
"Hats, Tats and Guitars" Hard, fast, slow, tender... Instrumental Rock. Performed by "lifer" musicians who are in it because they have nothing they would rather be doing! On this album, Guitarist Taz Taylor, Bassist B.L. Firks and Drummer Val Trainor have managed to combine the swagger and attitude of 80's Sunset Strip with the musical virtuosity of the shred guitar boom which also peaked in that decade... whilst simultaneously raising a huge musical middle finger to the decade that followed. It's only 2019 if you look at a calendar and tune into today's crap mainstream radio! Grab a copy of "Hats, Tats And Guitars" and remind yourself what Rock and Roll is supposed to sound like!