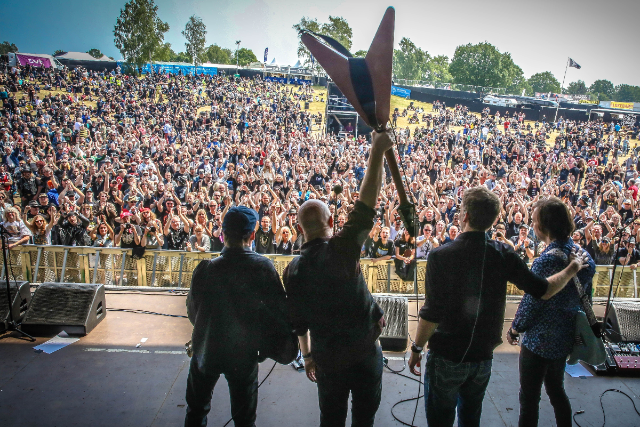 Wishbone Ash
Show Dates are Subject to Change
Sunday
May 8th
7:00 pm
PDT
5:00 pm

Doors
$35.00
SHOW DATES ARE SUBJECT TO CHANGE
Wishbone Ash 50th featuring Argus Live!
For this special concert, Wishbone Ash will perform their landmark album, Argus, in its entirety. The band's third release, Argus is interwoven with medieval and spiritual imagery, featuring such classics as "The King Will Come," "Throw Down the Sword" and "Blowin' Free" – all three are still staples of Wishbone Ash's regular concerts. It is on Argus that guitarists Andy Powell and Ted Turner perfected their melodic twin-lead style, which later influenced such bands as Thin Lizzy and Iron Maiden.
By all standards, Argus was an extraordinary achievement. In his memoir, Eyes Wide Open, Powell says, "In retrospect, nothing else we did would be quite so significant. … It turned out to be an album of powerfully if loosely connected themes: time passing, aspiration, conflict, good and evil.
The album's iconic cover design is one of Hipgnosis' legendary works - a sentry surveying a misty landscape - encapsulating the title of the album, which was taken from Greek mythology's one-eyed watcher.
"There was this wonderful cinematic imagery of 'The Warrior' on the cover, the artwork bringing a visual dimension to the music within," Powell says.
Released in April 1972, Argus reached No. 3 in the UK charts and was named "Best Album" in the Melody Maker's annual poll, selling more than one million copies worldwide.
Argus is the quintessential Wishbone Ash recording, the holy grail of realizing the band's unique and complex vision. Argus sold more than one million copies worldwide for Decca/MCA and was released. Remixed and remastered for the album's 30th in 2002, the reissue was one of the fastest sell out printings in MCA history. Visit
www.wishboneash.com
for more information; find us on Facebook @wishbone.ash.official and on Twitter @wishboneash_com
Argus videos draw large audiences, rare concert performances brings fans from around the world: 65,000 views 02/12/19
https://www.facebook.com/wishbone.ash.official/videos/592230037905174/
2.4 million views since 2003
https://www.youtube.com/watch?v=EeY9IRnVmk8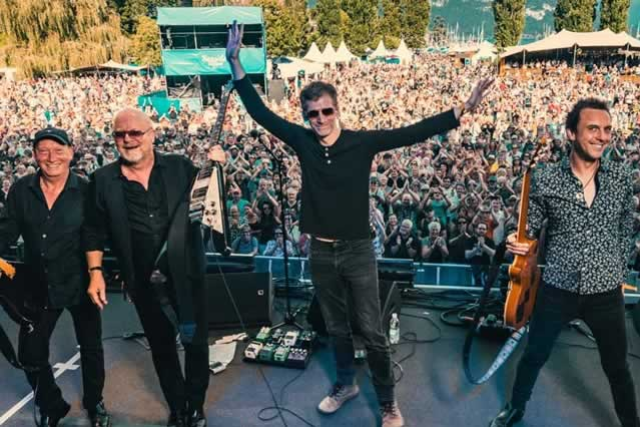 Wishbone Ash
Blues
The Phoenix Rising Tour began October 09 in Bilboa, Spain and will wind around the South and West of American 21 April through 24 May. Needless to say, the Band and the Fans are overjoyed to get back together and jam!
"Thankfully, before Covid-19 shut live music down around the world, we did manage to celebrate our 50th anniversary by touring Europe and the South and West Coast of America in support of our new album, Coat of Arms," says Andy Powell. We are so very grateful and excited to get back on the road to be with and play for our fans. Phoenix Rising, indeed.
This is the longest gap in gigs for the band since the founding in 1969. For example in just the last few years in addition to the U.S.A. and Canada, countries like Germany and France have been visited in Europe, the UK of course, plus Japan and South Africa. Each year, approximately 30,000 actual road miles are racked up, plus countless flights taking the band's special brand of twin lead guitar based rock around the planet.
"Everyone by now knows that Wishbone Ash is one of the hardest working bands in rock today and so it really was a major blow, to be wrenched out of our comfort zone - being on tour. A lot of personal, financial and physical adjustment was needed in taking this forced hiatus, for all of us, but we kept ourselves busy. I've been working my gear and working on songs. I also started my online
patreon.com/andypowell
site where I dispense road stories, guitar tips and songwriting insights. This kind of thing has kept us focused and creative individually, but there's nothing quite like a life on the road, especially if you've been living that way for 50 years!"
Their last concert was at the Triple Door in Seattle on Friday the 13th of 2020. "I looked like a hermetically sealed passenger when I boarded for home," Powell says. We were getting intel from the authorities as we rounded the corner up California, the virus seemed to be on our heels."
"After that, the whole world seemed to shut down and we had to make some major adjustments. We miss all our friends and fans around the U.S. and the World, in fact, and the camaraderie and support that brings "
Looking back at a half century of music in general, The Beatles, The Blues Boom and Psychedelia had made their impact on Classic Rock and the creative possibilities were infinite. Pioneering the use of twin lead guitars, Wishbone Ash hit the road in 1970, opening for Deep Purple. Andy Powell jumped up with Ritchie Blackmore at soundcheck and Ritchie loved it and recommended them to MCA which led to their first, self-titled album later that year. The band quickly began headlining in arenas, stadiums and festivals throughout the world. Taking full advantage of the fertile musical environment, they produced a distinctive brand of melodic rock, readily apparent on such hits as "Blowin' Free, "Time Was" "The King Will Come" "Helpless", "Runaway" and many more. Power and melody have made the Ash a hard act to follow, while they are currently being discovered by new generations of loyal rock fans.
Inspired equally by British folk traditions, American jazz and R&B, the group played to public and critical acclaim. Celebrating 50 continuous years of touring - up until the pandemic, Wishbone Ash, the quintessential road band, has gained worldwide recognition, based firmly on a regime of relentless touring and recording which has fed and grown their rabid following.
The band includes founding member Andy Powell, who handles lead vocals and trades licks with Yorkshire's Mark Abrahams. Bassist Bob Skeat, a 20-year veteran of the band, keeps the bottom rocking with Joe Crabtree, one of the best of Britain's new breed of drummers whose performance credits include Pendragon and David Cross of King Crimson.
Now with Coat of Arms, their 25th studio album release (and their 100th unique release through their history), Wishbone Ash continues to prove they are not a band to rest in the past. Wishbone's third album, Argus (1972), was named The Best British Album of the Year by Melody Maker and considered to be one of the all-time classic rock albums was released 50 years ago in 1972. Other outstanding vintage Ash includes Pilgrimage (1971), There's The Rub (1974) and New England (1976), along their best selling album Live Dates which sold more than 1 million copies. More recently, The Power of Eternity (2007), Elegant Stealth (2011) and Blue Horizon (2014) have each garnered enthusiastic praise from the pundits and fans alike. The latest musical project is Wishbone Ash: The Vintage Years (Snapper Music), a 32-CD deluxe box set spanning the years 1969 to 1991, featuring a coffee table book, posters, floppy discs, rare photos and more.
The constant of Wishbone Ash has been Andy Powell, voted into the Ten Most Important Guitarists in Rock History (Traffic magazine, 1989) and the Top 20 Guitarists Of All Time (Rolling Stone). Through the years, he has been featured in notable publications, including Guitar Player, Vintage Guitar and Guitarist, and has appeared at the Guitar Institute in Los Angeles. In 2015, he released his musical memoir, Eyes Wide Open: True Tales of a Wishbone Ash Warrior (co-written with Colin Harper, Jawbone Press) which offers an inside track of five decades of life on the road and in the studio.