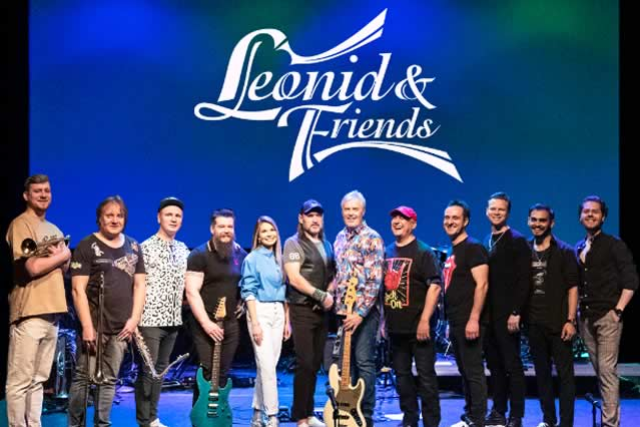 Leonid & Friends - A Tribute to Chicago
Show Dates are Subject to Change
Friday
Sep 30th
8:00 pm
PDT
6:00 pm

Doors
$40.00
ALL SHOW DATES ARE SUBJECT TO CHANGE

In just three short years, LEONID & FRIENDS have blown the minds of legions of fans with their uncanny ability to capture the spirit, musicality, and fire of American supergroup Chicago. Leonid Vorobyev's goal was a studio project in dedication to Chicago under the motto "musicians for musicians". Their first video went viral, but they really gained traction when Chicago itself published the video on its official website. They have since expanded their repertoire to include Earth Wind & Fire, Blood Sweat & Tears, Ides of March, Stevie Wonder, Steely Dan, Deep Purple, and new original material. This incredible 11-piece band now has over 600,000 followers across social media, an astonishing 120 million+ video views, and over 200 successful US shows under their belt. The future is only looking up for Leonid & Friends.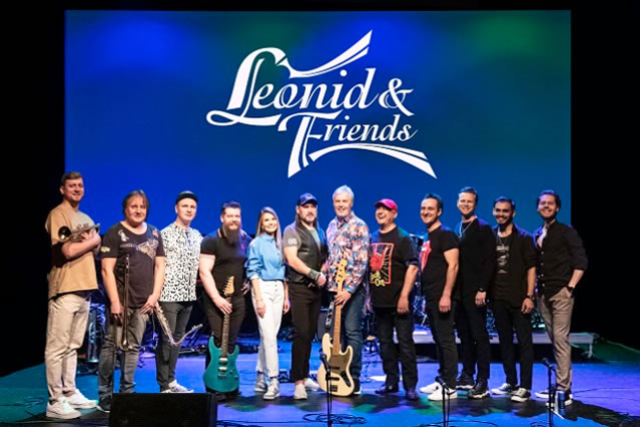 Leonid & Friends
Soft Rock
With multiple sold-out U.S. tours under its belt and hundreds of thousands of fans around the world, Leonid & Friends continues to astound its global audience with its unique ability in capturing the spirit, musicality, and fire of American supergroup Chicago.

And what is even more stunning is that Leonid & Friends, comprised of 11 of the finest musicians in Russia, Ukraine, Moldova, and Belarus, haven't seen Chicago perform live, yet replicates the band's complex arrangements amazingly note for note.

Chicago has never been in Russia, and none of us have attended their concerts," said Leonid Vorobyev, a multi-instrumentalist who is the band's leader. "We have only recordings and videos (to help us learn Chicago songs)."

Ironically, Vorobyev wasn't always a fan of horn bands, and as a teenager gravitated to the hard-driving guitar-based sounds of the Beatles, Creedence Clearwater Revival, Deep Purple, and Grand Funk Railroad.

"In the early 1970s in the USSR, electric guitars, amplifiers, and drums were rare to find so at school we were playing self-made instruments," Vorobyev explained. "We were allowed to rehearse in the same room with a horns band. Those musicians almost always were drunk and quite often tried to play with us our rock songs. It was a nightmare, and I hated them all!"

But that all changed when Vorobyev heard Chicago. He became an instant fan. "I loved so much the brilliant mixture of rock guitars, drums, and jazz horns with bright vocal harmonies," he said.

In 2014, Vorobyev decided to indulge his love for the band by gathering a few fellow musicians in a studio to record a video of them playing his favorite Chicago tune, Brand New Love Affair.

No charts or scores of the song existed so Vorobyev transcribed the tune by ear. The result was a YouTube video that quickly went viral. Since then Leonid & Friends has recorded videos of other Chicago hits including Make Me Smile, 25 or 6 to 4, and Saturday In The Park.

All total the videos have received more than 50 million views. Also, Leonid & Friends has recorded two albums showcasing its tribute to Chicago.

The process of getting each tune just right is a painstaking labor of love. In addition to scoring and arranging, Vorobyev oversees mixing and mastering of each song. However, he credits his highly skilled bandmates for making each tune sing. "All of my musician friends are highly professional," he said.

However, Leonid & Friends hasn't been satisfied with merely connecting with fans through videos and recordings. In early 2019, the band embarked on its first tour outside of Russia that had fans dancing in the aisles at sold-out shows in New York, Los Angeles, Chicago, and Florida. Two other scorching coast-to-coast U.S. tours followed that same year.

"The fans were so eager to see us that some traveled from as far as Hawaii and the Philippines not mentioning flying across the U.S .and driving for hours to attend our shows," Vorobyev said. "I was expecting a warm greeting but I didn't expect such a warm reception and with so much love and gratitude for us."

In Los Angeles, the band met its musical heroes, founding members of Chicago, keyboardist Robert Lamm, and drummer Danny Seraphine as well as Michelle Kath Sinclair, daughter of late, great Chicago guitarist Terry Kath.

"We were so thrilled that Robert, Danny, and Michelle took the time to visit with us," Vorobyev said. "It was an experience that we will cherish and remember forever."

When Leonid & Friends isn't touring, band members are in the studio in Moscow immersing themselves in Chicago's storied catalog of hits and deep tracks while preparing for the next tour.

In September of 2018, the band recorded its first song from legendary supergroup Earth, Wind, & Fire and also paid tribute to the band Blood, Sweat & Tears as well.

Borrowing a line from one of Chicago's biggest hits, "it's only the beginning" of great things from Leonid & Friends.
Scott Schwebke has been a journalist for more than 30 years and a longtime fan of Chicago dating back to its incarnation as CTA. His work has appeared in the Los Angeles Times, the Denver Post, Orange County Register and various publications across the U.S.