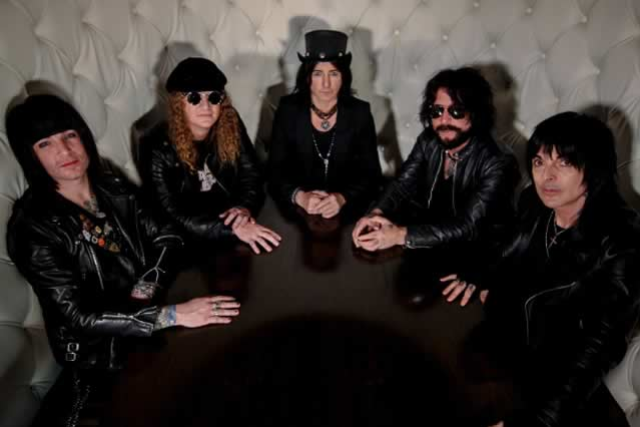 LA Guns
Show Dates are Subject to Change
Friday
Dec 30th
8:00 pm
PST
6:00 pm

Doors
$35.00
SHOW DATES ARE SUBJECT TO CHANGE

Long running hard rockers L.A. Guns released their new studio album, "Checkered Past" on November 12, 2021.

Written and recorded during late 2020 and early 2021, "Checkered Past" sees Tracii Guns, Phil Lewis, and company continuing with the darker lyrical tone of the preceding studio albums, "The Devil You Know" and "The Missing Peace", while incorporating their classic rock influences into the mix. Heavier songs are mixed with bluesier, boogie inducing tracks and dark, introspective ballads, often harkening back to the first three albums the band made, but also pushing the band forward. When fans absorb the album as a whole, they'll see that the tracklisting is divided up into 'sets' or 'suites', where a sonic style is explored across multiple songs before moving on to the next, making for a remarkable listening experience.
Feeling inspired and excited like they did when they first started out, but with many years of wisdom and experience under their belts, and most importantly, a renewed and stronger creative and personal relationship, Guns and Lewis are maintaining a creative peak that started with "The Missing Peace". "Checkered Past" shows a band invigorated and ready to bash you over the head, as well as "wow" you with some epic, slower songs, and even make you dance a bit to some rock 'n roll.
Since their self-titled debut in 1988 to the widely praised comeback albums "The Missing Peace" and "The Devil You Know", L.A. GUNS, led by Tracii Guns and Phil Lewis have always delivered solid rock 'n roll to their fans. This current incarnation of the band has been touring non-stop, with a notable break coinciding with all other touring bands, and the cohesiveness of the unit, not to mention Phil's stunning and unique vocals and Guns' mind-bending guitar playing, are on full display here. A must hear and listen for all fans of the band, both new and old.
L.A. Guns never looked like the pretty poster boys that so many of their peers did, but more the band that you would be terrified to bump into in an alley as they would likely be carrying switchblades and ready for a fight. But despite having many songs to back up that image, the band could also write powerful ballads (see the smash hit, "The Ballad Of Jayne" for Exhibit A of this argument) that showed there were some serious songwriting chops in the band. Those chops are on full display on the band's two most recent studio albums and the upcoming new album, "Checkered Past," arguably one of the most vital and exciting releases in the band's catalog.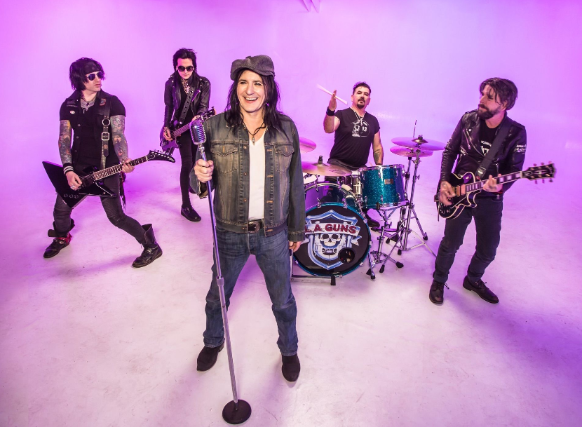 L.A. Guns
Rock
L.A. Guns was formed in 1983 by guitar player Tracii Guns and, then unknown singer, Axl Rose on lead vocals.

The Classic Lineup of Guns, former Girl singer Phil Lewis, Steve, Kelly & Mick, have sold 6 1/2 million records, including 1988's L.A. Guns and 1990's Cocked and Loaded, both of which were certified Gold. Cocked and Loaded contained the hit single "Ballad of Jayne" that went to #33 on Billboard's Hot 100 and #25 on the Mainstream Rock charts.

From the mid-90's to the mid 2000's, after changing lineups twice, L.A. Guns continued to tour and release new music.

Following their successful performance at SiriusXM's HairNation Festival in May of 2016, L.A. Guns went into the studio to record the critically acclaimed, The Missing Peace, the highest selling release for Frontiers Music in 2017. Their 12th release, The Devil You Know, released March 29, 2019 to the same critical acclaim.

Since reunited, Tracii and Phil continue to tour around the world with L.A. Guns which includes Johnny Martin (bass), Ace Von Johnson (guitar) and Scot Coogan (drums).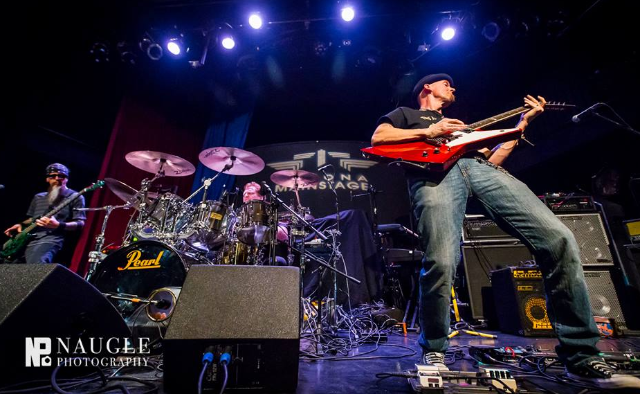 Taz Taylor
Music
In January 1997 UK-born Taz Taylor took a leap of faith and boarded a plane to Los Angeles with nothing more than a guitar, a backpack and roughly $2,000...

He spent much of his first year in the USA as a long haul truck driver, criss-crossing the country countless times in an 18-wheeler and spending the downtime in his sleeper berth practicing guitar. Eventually he settled in San Diego CA and set about recording his debut instrumental album "Caffeine Racer" which was released in July 2004. A band was formed and live shows commenced.

Caffeine Racer got the attention of legendary vocalist Graham Bonnet, most notable for working with the best guitarists in rock (Ritchie Blackmore, Michael Schenker, Yngwie Malmsteen, Steve Vai) and they set about recording the Taz Taylor Band album "Welcome To America" which was released on the UK label Escape Music in Aug 2006. Present TTB drummer Val Trainor joined immediately after the WTA sessions were completed.

International tours followed in 2007 and 2008, taking the band to UK, Germany, Austria, Switzerland, Hungary and Czech Republic.

In 2009 the band recruited another ex-MSG vocalist, Keith Slack for the "Straight Up" album, also on Escape Music, and also featuring a guest appearance from Deep Purple's Don Airey on keyboards.

2010 saw the band returning to Taz' instrumental roots with the release of "Big Dumb Rock".
Current TTB bassist Barney Firks joined immediately after the recording of this album and the band played a string of dates to promote BDR.

In 2014 TTB released "Deja Voodoo", an all instrumental offering of eight songs featuring a line-up that had now been together for four years and bonded and grown into something really special. During the summer of 2014 TTB embarked on a 10-date Summer Tour to promote Deja Voodoo, including dates in California as well as eight dates in the UK.

June 2017 saw the release of "Pressure And Time". This album featured the vocal talents of Chandler Mogel.
The album was released on Escape Music in Europe and on Rubicon Music in Japan. The Japanese version included a live bonus track, Explorations… recorded on the band's 2014 tour in the U.K.

March 2019 sees the band return to their first love…INSTRUMENTAL ROCK!!
"Hats, Tats and Guitars" Hard, fast, slow, tender... Instrumental Rock. Performed by "lifer" musicians who are in it because they have nothing they would rather be doing! On this album, Guitarist Taz Taylor, Bassist B.L. Firks and Drummer Val Trainor have managed to combine the swagger and attitude of 80's Sunset Strip with the musical virtuosity of the shred guitar boom which also peaked in that decade... whilst simultaneously raising a huge musical middle finger to the decade that followed. It's only 2019 if you look at a calendar and tune into today's crap mainstream radio! Grab a copy of "Hats, Tats And Guitars" and remind yourself what Rock and Roll is supposed to sound like!