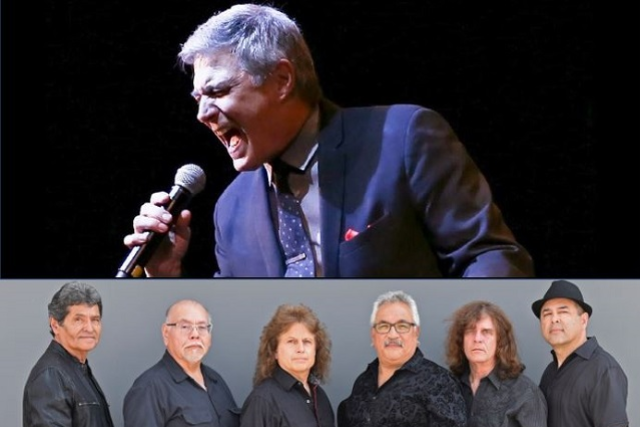 The Best of The 60's
Dennis Tufano with Special Guests Cannibal & The Headhunters
Show Dates are Subject to Change
Saturday
Feb 25th
8:00 pm
PST
6:00 pm

Doors
$30.00
SHOW DATES ARE SUBJECT TO CHANGE

THE BEST OF THE 60's featuring Dennis Tufano - The Original Voice of The Buckinghams with special guests Cannibal and The Headhunters and Bobby Gray!


This special show is a must see, plus all ticket purchasers will be entered to win a guitar that will be autographed by the artists in the show.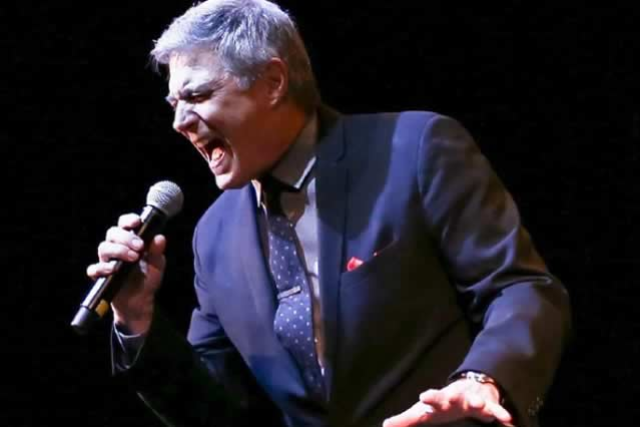 Dennis Tufano
Pop
Dennis Tufano, a native of Chicago, was the "Original Voice of The Buckinghams", 2009 inductees into the Hit Parade Hall of Fame. With Dennis' vocals leading the way, the Chicagobased group scored with a string of five Top Ten hits in the latesixties including , the No#1 "Kind Of A Drag", "Don't You Care", "Mercy, Mercy, Mercy", "Hey Baby, They're Playing Our Song", "Susan" and "Back In Love Again". Following his success in the Buckinghams he was part of the song writing duo "Tufano and Giammarese" and recorded three albums with Lou Adler's custom label, Ode Records (1971 to 1976). In 1978, he wrote the music and performed with Bernie Taupin, Elton John's lyricist, on Taupin's album, " He Who Rides The Tiger ". He has also performed as guest vocalist and co-written with renowned composer and musician Tom Scott. With Scott as composer, Dennis performed the "original title/theme song" for the long running "Family Ties" television show. (first 13 episodes) In 1982, Dennis toured with Olivia Newton-John and was featured, with Olivia, on her HBO Special in two dramatically inspired duets. In 1995 Dennis was invited, once again, to co-write, co-produce and perform with Bernie Taupin, Robin Le Mesurier and Jim Cregan on the Discovery Records CD "Farm Dogs, Last Stand In Open Country".

In current release on CD and ONLINE DIGITAL are:
Dennis Tufano LIVE! "I Remember Darin" New Release for Cantare Prods. On CDBaby.com
"The Buckinghams Greatest Hits" on Columbia Records,
"Mercy, Mercy, Mercy a Collection" on Sony Legacy Label
"Kind Of A Drag" CD re-release on Sundazed Records
"Time and Charges" CD Sundazed Records
"In One Ear and Gone Tommorow" / "Portraits"-double CD-Sundazed Records
"Olivia In Concert" on MCA Video/DVD.
"Tufano and Giammarese-33 1/3"- It's About Music.com
"Tufano & Giammarese Band" - It's About Music.com
"Tufano & Giammarese - The Other Side" - It's About Music.com
Farm Dogs-"Last Stand In Open Country"- Discovery Records w/ Bernie Taupin
"He Who Rides The Tiger"- Electra/Asylum new CD Release w/Bernie Taupin

As an actor, Dennis has appeared in theater productions in Los Angeles and has worked in film, television, radio & commercials. He was also one of the founding members of an improvisational voice-ensemble called the
"LA.MadDogs". This group of actors performs on hundreds of movies and numerous television shows and have produced and performed seven "live" radio dramas, three of which Dennis directed, for KMPC RADIO THEATER in Los Angeles. Dennis produced, directed and filmed a documentary in Chicago, "Major Hall:Therapy Tuesday" and is currently preparing it for release.
He is featured on the, "PBS Music Series My Generation, the '60s", and will be included in the award winning PBS-DVD series. Currently, Dennis is starring in "I Remember Darin" a 'tip of the hat' tribute to the songwriting / performing genius of the late Bobby Darin. The LIVE CD "I Remember Darin" is available at CDBABY.com. Backed by a full orchestra and under the music supervision of Michael Acosta, Grammy winner and former musical director of the Brian Setzer Orchestra, Dennis performs a stunning, highly professional show, including some of his 60's hits from The Buckinghams, for music lovers everywhere, as well as performing around the world in Classic Rock Shows along with Marty Grebb (original Buckingham), Sonny Geraci, Ron Dante, The Happenings, The Cryan' Shames, The Cowsills, Jackie De Shannon, Eddie Brigati, Peter Noone, The Association to name but a few.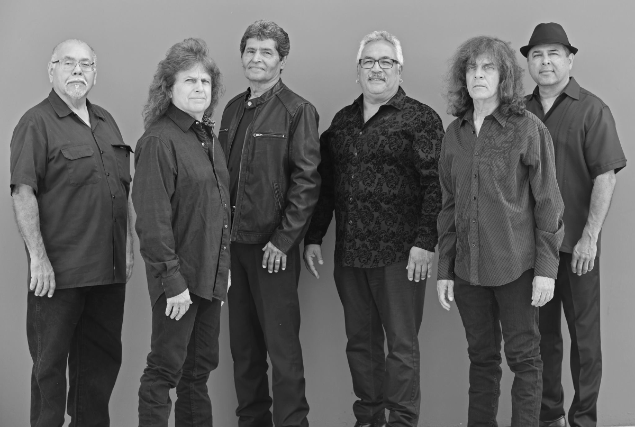 Cannibal & the Headhunters
Pop
Cannibal and the Headhunters had a spectacular beginning within a few weeks of the group's conception. They had a hit song Land of a 1000 dances on their hands the band had an Option to do the Motown tour or the Beatles second American tour of 1965, the Beatles tour was the one that founder Frankie (cannibal) Garcia chose to do it was August 15th through August 31st 1965. Frankie (cannibal) Garcia was born April 22, 1946 he passed away January 21, 1996. The groundbreaking rock & roll anthem Land of a 1000 dances owns its own space in the tale of the history of Rock and Roll. The repetitive line Na,Na,Na,Na, Na is embedded in the minds and hearts of Rock and Roll fans worldwide. 58 recording artists worldwide have covered the vocal riff and anthem created by Cannibal Frankie Garcia. The Band continues to tour and is a Rock and Roll staple in concert venues worldwide. This Band of great musicians also provides a strong backup support if it is required by other single artists on their tours. Although there have been personnel changes throughout the years the group continues to perform with the integrity of the beginning with drummer and band leader Robert Zapata who is celebrating his 50th anniversary with the group.
The group today continues to perform through the US and over sea's for the last few decades the band has tour with and backup some of Rock and Roll's best group of the 60's and 70's over one hundred and twenty act's just to name a few (Chuck Negron of, three dog Night) Bobby Kimbal of, Toto) Mickey Dolenz,the monkees) Wolfman jack) Jerry Corbetta, sugarloaf) Mary Wilson, the Supremes) Little Anthony) Denny Laine, Moody Blues & Wings) Otis Williams, the temptations) Al Wilson) Joey Mulland, Badfinger) thee Original Platters with Zola Taylor) and many more, this shows the diversity of the band.
Cannibal and the Headhunters has a great show not only rocking out with their mega hit "Land of a 1000 dances" and "don't let her go" as well songs from their new CD. The band plays all the hits from the Act's they backup over many years. Cannibal and the Headhunters take their Audiences through a MAGICAL MUSIC HISTORY TOUR YOU DON'T WANT TO MISS. Cannibal and the Headhunters were also featured in the HBO documentary (THE LATIN EXPLOSION) Hosted by Jennifer Lopez and Ricky Martin. Land of a 1000 dances was featured in "Forrest Gump" and the "great outdoors" and others. Cannibal and the Headhunters continue to receive accolades from their fans, agents and promoters for their showmen ship and the great memories the music gives their audiences to remember. Cannibal and the Headhunters is not just a great L.A Band or a great southern, California Band they are a great American Band.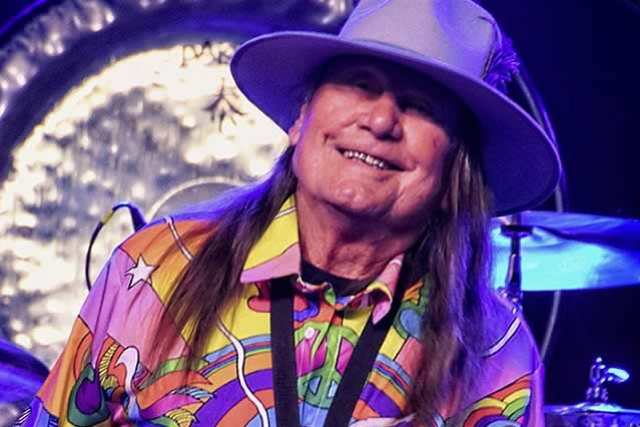 Bobby Gray
Music
Bobby Gray has performed and recorded with such greats as Elton John's bass player, Ringo Starr's drummer, Dick Dale, Tina Turner, Anita Pointer, Big Mamma Thornton, Elvin Bishop, J-Lo's Drummer, Sergio Mendeze's bass player, Chariya Bissonetter, and countless other great musicians!
A singer, songwriter, recording artist, saxophonist, flutist, harmonica player, and percussionist. Playing concert venues, festivals, fairs, theme parks, clubs, and restaurants nationwide. Bringing musical magic to the audience every time is my goal in life! Real music! Real joy! Real fun!