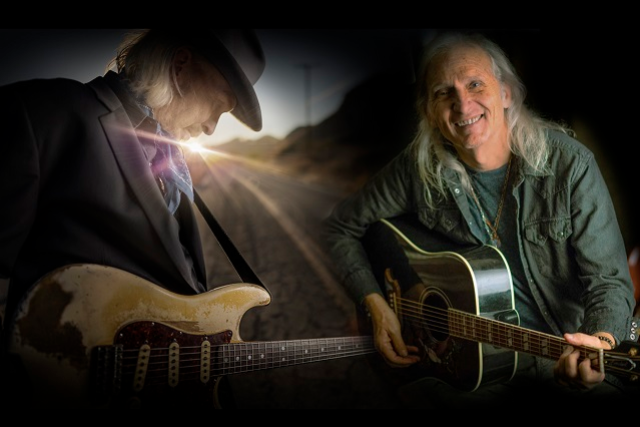 Dave Alvin & Jimmie Dale Gilmore with The Guilty Ones
Show Dates are Subject to Change
Thursday
Mar 2nd
8:00 pm
PST
6:00 pm

Doors
$40.00
SHOW DATES ARE SUBJECT TO CHANGE

Roots music legends, Dave Alvin and Jimmie Dale Gilmore, have been friends for 30 years, but only recently realized they had never played music with each other before. So in 2017, Grammy winner Alvin and Grammy nominee Gilmore decided to hit the highway to swap songs, tell stories, and share their life experiences.

Though Texas born Gilmore was twice named Country Artust of the Year by Rolling Stone, and California native Alvin first came to fame in the hard rocking rhythm and blues band The Blasters, they discovered that their musical roots in old blues and folk music are exactly the same. In these spontaneous shows, audiences enjoyed classic original compositions from the two, and also songs from a wide spectrum of songwriters and styles - from Merle Haggard to Sam Cooke to the Young Bloods. Mutually energized and inspired by these performances, Dave and Jimmie agreed to hit the road again.....this time with a full band, an album, Downey to Lubbock and some new stories to share.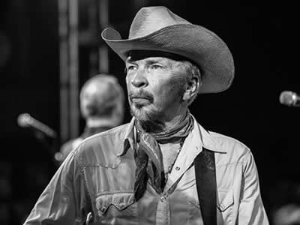 Dave Alvin
Songster
Dave Alvin, Grammy Award winning singer-songwriter and self-described "barroom guitarist," is widely considered to be one of the pivotal founders of the current Americana music scene. A fourth generation Californian, Dave Alvin grew up in Downey, California as the local landscape quickly evolved from orange groves and dairy farms to tract homes and freeways.
Since forming the highly influential roots rock/R+B band The Blasters, with his brother Phil in 1979, and throughout his long and critically acclaimed solo career, Dave Alvin has mixed his varied musical and literary influences into his own unique, updated version of traditional American music. Combining elements of blues, folk, R+B, rockabilly, Bakersfield country and garage rock and roll with lyrical inspiration from local writers and poets like Raymond Chandler, Gerald Locklin and Charles Bukowski, Alvin says that his songs are "just like California. A big, messy melting pot."
Dave Alvin's songs have been recorded by a who's who of contemporary roots artists from Los Lobos, Little Milton, Robert Earl Keen, Marshal Crenshaw and Joe Ely to Dwight Yoakam, James McMurtry, Buckwheat Zydeco, Alejandro Escovedo and X. His songs have also been featured in many movies and television shows including Justified, The Sopranos, True Blood, The Wire, Six Feet Under, Crybaby, Miss Congeniality and From Dusk To Dawn.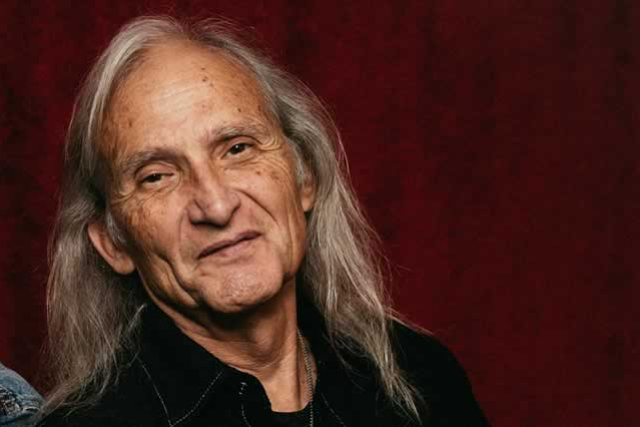 Jimmie Dale Gilmore
Country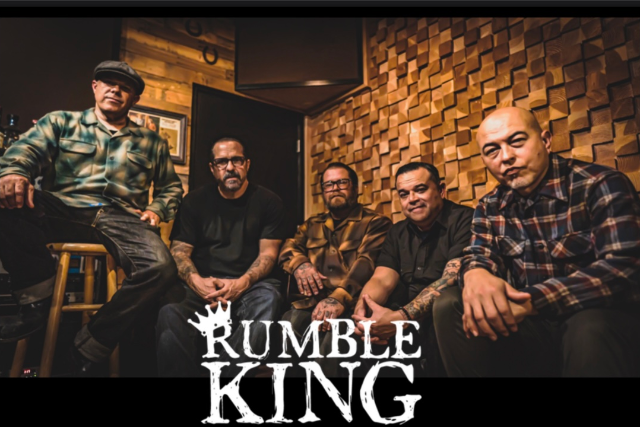 Rumble King
Music
Rumble King is an American rock n roll band formed in southern California in 1996. Lead by vocalist Aaron Deily and his acoustic piano, Scott Ramirez on tenor saxophone, Ulysses Gallegos on upright bass, Corey Miller on drums, and Johnny Main on Guitar.
The band established their place in music history during the rockabilly and swing revival of the late 90's. Rooted in blues and early rock n roll, this piano and sax driven quintet gained regional and then national attention with their original songs and unique approach to arranging, recording, and performing without a guitar. Prior to their first recording, the band rehearsed with and wanted to include renowned blues singer and guitarist Johnny Main (The 44's). Rumble King and The 44's traveled on separate paths for almost two and half decades until circumstances and fate brought them full circle to the band's current and originally intended line-up.
Aaron Deily has committed to performing on a genuine acoustic piano and continues to bring an upright piano to every show. The band's determination to present their sound in a way that honors the roots that have proceeded them is uncompromising. Rumble King has released four LP's, three EP's, and dozens of singles. The band's music and live performance has been showcased in multiple independent award-winning short films, television shows, and radio broadcasts. They have had successful residencies at Disneyland, Knotts Berry Farm, Las Vegas, and countless nightclubs.