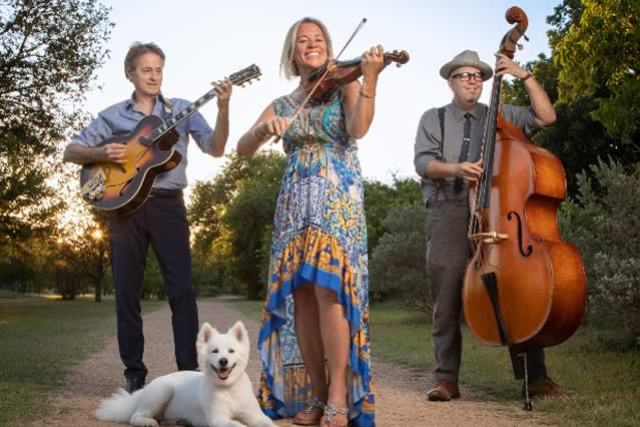 Hot Club of Cowtown and Tyler Hilton Celebrating Elvis Presley and Sun Studios
Show Dates are Subject to Change
Thursday
Mar 16th
8:00 pm
PDT
6:00 pm

Doors
$35.00
SHOW DATES ARE SUBJECT TO CHANGE
Award-winning Austin, Texas-based Hot Club of Cowtown may be the world's most globe-trotting, effervescent string trio, who's joyful sound blends the traditional Western swing of the 1940s American southwest with European hot jazz influences of the same era. The Hot Club of Cowtown, which is celebrating its 25th anniversary in 2022, writes its own original songs and reinterprets everything from hoedowns to American songbook standards in its own, original style. The band is guitarist Whit Smith, fiddler Elana James, and upright bassist Zack Sapunor.
HCCT has toured with Bob Dylan, Willie Nelson, Roxy Music and others and proudly represents traditional American music throughout the world for the US State Department from Azerbaijan to the Sultanate of Oman. It has been named Ameripolitan Western Swing Group of the Year and is a member of the Texas Western Swing Hall of Fame. Fifteen albums, a global following, and the relentless passion of its live shows are the band's enduring trademark.
Recently signed to UK roots label the Last Music Company, the Hot Club of Cowtown continues to amass a devoted following worldwide through its one-of-a-kind versatility and virtuosity. Career highlights include the Fuji Rock Festival (Japan), Lincoln Center, the Grand Ol' Opry, the Glastonbury Festival (UK) and all points in between.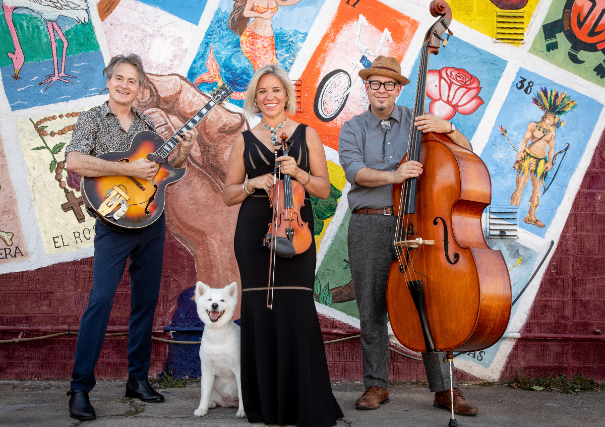 Hot Club of Cowtown
Western Swing & Country Boogie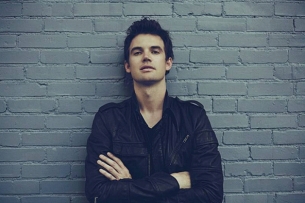 Tyler Hilton
Pop
Tyler Hilton was singing and playing in coffee houses as a 15 year old, when a chance encounter with Los Angeles radio personalities Mark and Brian from KLOS led to multiple appearances on their radio show, live concert dates with the duo, and national exposure. He released his first album independently shortly thereafter, which led to major label interest and eventually signing to Maverick/ Warner Records where he released "The Tracks of Tyler Hilton" which garnered two singles on the Billboard Top 40 charts. While on tour promoting the album, Tyler was cast as his child hood hero Elvis Presley in "Walk the Line" where he worked with T-Bone Burnett on the soundtrack, and for which he received a gold record.
An opportunity to sing on TV's "One Tree Hill," a notorious breeding ground for new musical talent, led to a series long run, several appearances on MTV's "TRL" with the cast, and a national tour with Gavin DeGraw and Michelle Branch who also sang on the show. Taylor Swift admitted to being a fan, and asked Tyler to star in her music video "Tear Drops on My Guitar" which became a huge crossover hit. The two appeared together live several times and later Tyler appeared via interactive video on her stadium tour. The independent comedy "Charlie Bartlett" followed with Robert Downey Jr. and
Anton Yelchin and where Tyler met his wife, Megan Park, who was also in the film.
Tyler moved to Nashville where he began exploring his family's country roots and made several records with notable producers including Dan Huff, Nathan Chapman, Matt Serletic, and John Alagia. Sadly, non of these records saw the
light of day, as staff and roster upheaval plagued Warner Brother Records, and eventually led to Tyler's departure from the label. One of these unreleased songs made their way to Joe Cocker, who recorded it on his final album. Tyler then started his own label, Hooptie Tune Records, and released "Forget the Storm" the following year. It became the first record of Tyler's to gain international success and led to several European tours and a new fervent fan base. His follow up, the mellow folky country album "Indian Summer," was recorded live in studio with a bluegrass band including his uncle, Tommy Hilton, on guitar. While recording, Tyler landed a role in Halle Berry's "Extant" on CBS and continued to film the show over the course of its two season run, touring and filming the holiday movie "Christmas on the Bayou" with Randy Travis, Ed Asner, and "One Tree Hill" alum, Hilarie Burton, for which he also recorded the single "One Foot in the Bayou".
Following the end of "Extant," Tyler worked on a pilot for the ABC sitcom, "The Fluffy Shop" alongside Gabriel Iglesias. Tyler is currently based in Los Angeles, where he's working on a new album.