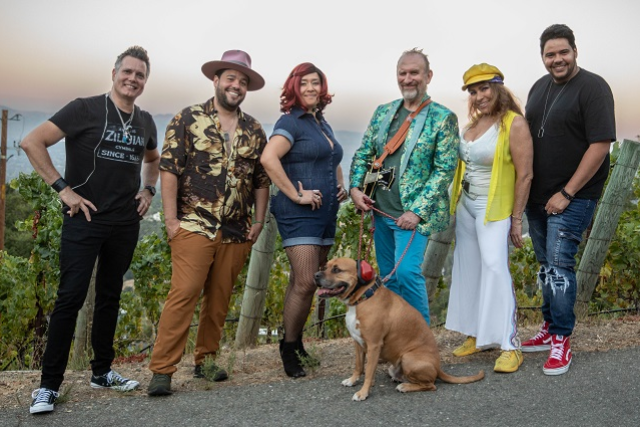 Colin Hay with Special Guest Lazlo Bane
Show Dates are Subject to Change
Thursday
Apr 6th
8:00 pm
PDT
6:00 pm

Doors
$55.00
SHOW DATES ARE SUBJECT TO CHANGE

Colin Hay has a prolific career both as the lead singer and principal songwriter of Grammy Award winning band Men at Work and a solo career that spans 25 years and 15 albums. This show will feature songs from his entire catalog and latest releases "Now and the Evermore" and "I Just Don't Know What to do With Myself", engaging stories he is known for, and special rare accompaniment of his acoustic band.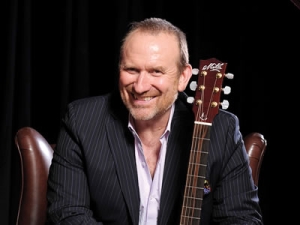 Colin Hay
Pop
Colin Hay may be best known as the lead singer for Men At Work, the platinum selling Australian band that topped worldwide charts in the 80s with anthems like "Down Under," "Overkill," and "Who Can It Be Now?" Hay's justifiably proud of his place in pop history, but since moving to Los Angeles in 1989, he's made 11 solo albums and is confident that Gathering Mercury is the best of the lot. "These are some of the strongest songs I've ever written," Hay says from his home studio in the hills of Topanga Canyon. "The loss of my father last year brought an unavoidable emotional contingent to writing and recording. I don't have a definitive belief in an afterlife, but I do feel like I had his help when I was working on this album, especially alone late at night, in the studio." Hay recorded and produced the ten songs on Gathering Mercury in his home studio, with the help of drummer Randy Cooke, bassist Joe Karnes, and guitarist Sean Woostenhulme, from his touring band and friends like bass player Jimmy Earl and pianist Jeff Babko from Jimmy Kimmel's band, drummer Charlie Paxson, Cuban percussionist Luis Conte (Madonna, Ray Charles) and his wife Cecilia Noel on backing vocals. The arrangements feature Hay's quizzical, instantly recognizable tenor supported by acoustic instruments and melodic electric guitar accents. The album was beautifully mixed by longtime friend and composer/producer Chad Fischer. "Send Somebody," the album's first single, was co-written with guitarist/songwiter Michael Georgiades, who provides not only the main chord structure, but the understated solo that sets up the song's touching bridge. The hypnotic pop melody is augmented by Chad Fisher's work on piano, xylophone and drums. The tune was inspired by a late night phone conversation. "You call tech support one night around midnight and actually get a human being on the line," Hay explains. "The unexpected connection with a stranger is often easier to make than one with people you know. It brings up the longing for connection we all feel. "Dear Father" is a poignant Celtic folk-like tune with Hay's 12-string guitar and melancholy vocal taking center stage. Cellist Oliver Kraus overdubbed the burnished string section. "This song was written and recorded almost instantaneously, a gift from beyond, if you will. The night my father died, I was in Glasgow on the river Clyde, about 20 streets away from where he was born. There's some kind of bleak poetry in that, very bleak." "Far From Home" has the reggae lilt of a contemporary Men At Work tune. Jeff Babko's Hammond B3, Cook's inspired drum part, and Hay's rhythm guitar add to the melody's hypnotic feel. "I don't know if it's reggae as such," Hay says. "But when I play electric guitar, the rhythm I feel is on the offbeat. It's my natural default." Other standouts include Michael Georgiades' "Half a Million Angels," with sublime performances by all; the darkly humorous "A Simple Song," which deals with the complexities of long term relationships with Hay on mandola and the buoyant vaudeville tune "Where the Sky Is Blue," a song Hay imagined his father singing to his mother before they married. "He was asking her to join him and create a life together, which they did." The tunes on Gathering Mercury are deeply affecting, but never maudlin. Despite the often serious subject matter, they're full of optimism. "It's not a conscious thing and may have to do with the Scottish mentality. We deal with darkness by shining a light on it. It doesn't diminish the charge of the feeling, it just makes it easier to deal with." Although he's one of Australia's best-known exports, Colin Hay was born in Kilwinning, Scotland. "I wasn't in bands as a boy," he recalls, "but I was surrounded by music. My mom and dad had a music shop, so there were instruments everywhere. The Hit Parade list came in every Monday morning, so obviously I knew The Beatles, The Kinks, The Rolling Stones, The Who, Screaming Lord Sutch, Gerry and the Pacemakers, Freddie And The Dreamers and, of course, Cliff Richard. I started playing guitar when I was 12. "My father and mother had music in their DNA; they passed it on to me. As a teenager, my dad was a singer and dancer on the vaudeville stage. He later became a piano tuner. My mother also could hold a tune, and is a great dancer, and there were many people in my extended family known for their singing abilities. When I heard The Beatles and read (John Lennon's) Spaniard in the Works, I knew this was a world I wanted to be part of." Hay taught himself to play guitar and, when the family moved to Melbourne in 1967, he found himself in the middle of a thriving musical community. "The late 60s and early 70s were remarkable, a golden age for Australian rock music. There were lots of places to play, fantastic bands and lots of great musicians. A lot of them never saw the light of day, but there was uniqueness and brilliance." One of those musicians was guitarist Ron Strykert. Hay was impressed by his musicality and technique. They started playing as an acoustic duo and Hay began writing songs. "We liked all kinds of musicians and writers, like Ry Cooder, John Martyn, Randy Newman, Joni Mitchell, Bob Dylan and the Beatles obviously, the reggae of Bob Marley and Jimmy Cliff to name a few. I'd always wanted to be in a great rock band. So, in the middle of 1979, we were joined by drummer Jerry Speiser, whom I met at university, and sax and flautist Greg Ham, whom I'd known since schooldays. "Men At Work" was formed, and off we went. Bass player John Rees joined a couple of months later. Men At Work built up a strong local following and got signed by CBS Australia. Their first album, Business as Usual, released in 1981, went 5X platinum within the first year, won a Grammy, topped charts all over the world and ultimately sold more than 10 million copies. Their second album, Cargo, also went multi-platinum and moved five million copies, but inner disputes put an end to the original line up. Hay and Ham finished one more record as Men At Work, 1985's Two Hearts, then went their separate ways. "I made a solo rock album for Columbia called Looking for Jack in 1987," Hay says. "When it wasn't commercially successful, I got the feeling that Columbia didn't know what to do with me, so I took up an offer from MCA Records, and Columbia let me go." Hay went back to his original musical inspirations for Wayfaring Sons, an album with Celtic folk influences for the MCA record. They dropped him soon after. "I'd moved to the States in '89, and soon realized I'd have to work harder for more modest returns. I started my own label, Lazy Eye Records, and set about building a new audience, through writing, recording and touring." It's been hand to hand combat ever since, but nourishing work at the same time." Hay has released nine albums since founding Lazy Eye in 1992. Peaks & Valleys(1992), an outing for solo acoustic guitar and voice; Topanga (1994), a rock album that featured "Waiting for My Real Life to Begin;" Transcendental Highway (1988); the acoustic Going Somewhere (2001); Company of Strangers (2002); a collection of newly recorded Men at Work hits and some new songs called Man At Work (2003); Are You Lookin' at Me? (2006); American Sunshine (2009) and the current Gathering Mercury. Since 2003, Hay has had a partnership with Compass Records and he's slowly rebuilt his name recognition. "I went from playing for 50 people a few years ago, to 500 and 1,000 seat venues. I'd like to speed it up a bit, cause I'm running out of life," Hay quips in fine Scottish style, "but for the most part I'm happy to be on the road and still making music, and attracting ever increasing audiences." Hay and Greg Ham toured with backing musicians as Men At Work from 1996 to 2002, and played to an estimated audience of 2 billion viewers during the closing ceremony of the 2000 Summer Olympics in Sydney. He's also toured with Ringo Starr's All Starr band in 2003 and 2008 and took part in the All Starr TV special. Hay and his music, most notably an acoustic version of the Men at Work hit "Overkill", as well as more recent works such as "Waiting for My Real Life to Begin" and "I Just Don't Think I'll Ever Get over You", has been featured on TV shows including Dawson's Creek, Judging Amy, and Scrubs. His song "I Just Don't Think I'll Ever Get Over You" was included on the soundtrack of the Zach Braff film Garden State. Hay also appeared in an episode of the celebrated "Larry Sanders Show," in Hay's mind, a career highlight. Today, he's equally at home in the studio or on stage, playing with either his band or solo acoustic. "I started off playing acoustic; it's my natural game, if you will," he concludes. "It's the point I started from and may well be the point I end with. It's always what I return to."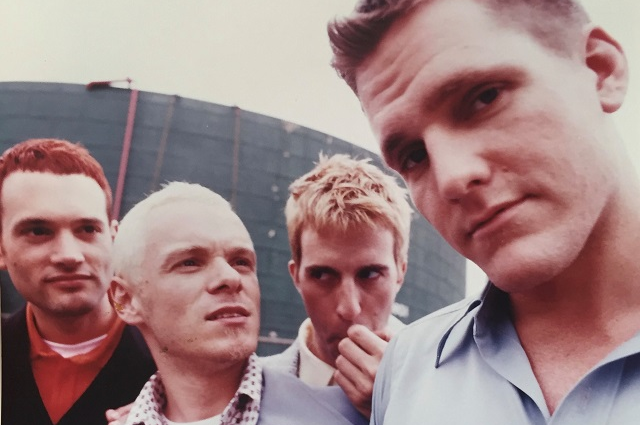 Lazlo Bane
Music
Lazlo Bane is an American alt-rock band formed in Los Angeles, California, in 1995 by drummer-turned-singer Chad Fischer. The group has been recording, touring, and making videos together for 25 years. Their first LP, 11 Transistor, released by Almo Sounds/Geffen in 1996, included a cover of Men at Work's "Overkill" and featured Colin Hay as a guest vocal. The video for the song went on to become a top 10 for MTV2 the following year and marked the first of several collaborations with Colin Hay over the years.
In 2002, they released All the Time in The World, which included "I'm No Superman." The song became the theme song for the TV series Scrubs and led to a video directed by Scrubs star Zack Braff. The band later released Backsides, a collection of additional tunes written during the All the Time in The World sessions.
In 2007 and 2009, the band released Guilty Pleasures and Guilty Pleasures (the 80s)—reimagined or lovingly recreated covers from the AM radio pop world of their childhood. In 2020 and 2021, Chad and the band put out a number of quarantine cover videos, inspired by how musicians around the world were turning to YouTube as live venues were shuttered by the pandemic.
The band has composed a number of songs for films over the years. Chad Fischer is the composer behind the TV series Scandal and many other projects, and Chad and guitarist Tim Bright jointly scored the TV series Private Practice.
Chad Fischer: Vocals, guitar, piano
Chris Link: Vocals, bass, banjo
Tim Bright: Guitar, keyboards
Robert Burke (aka Chicken): Vocals, drums