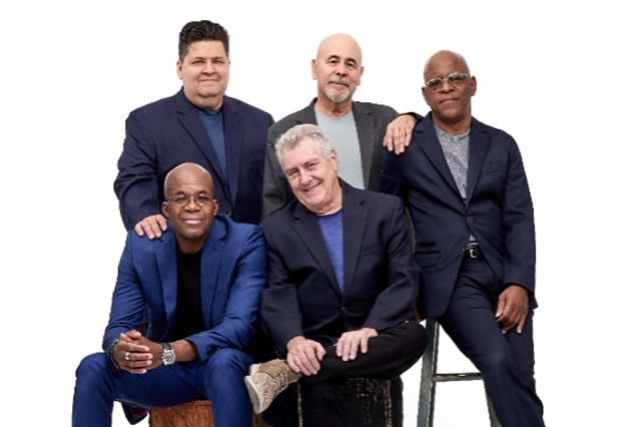 Spyro Gyra
Show Dates are Subject to Change
Friday
Aug 18th
8:00 pm
PDT
6:00 pm

Doors
$35.00
SHOW DATES ARE SUBJECT TO CHANGE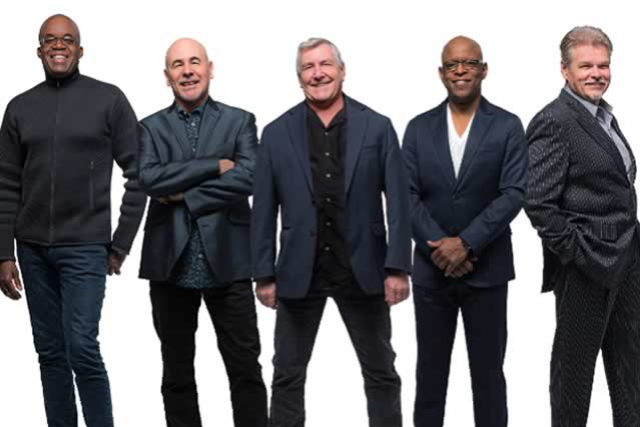 Spyro Gyra
Jazz
As Spyro Gyra looks forward to 2020 and beyond, they show no sign of slowing down. Over the last 40+ years, they have performed over five thousand shows, released thirty-one albums (not counting "Best Of…" compilations) selling over ten million albums while also achieving one platinum and two gold albums. Although few acts have accomplished this type of record, they have done it by constantly challenging themselves as is evidenced by their last studio release "The Rhinebeck Sessions" which was written and recorded over three days in the studio.
Born in Brooklyn, bandleader Jay Beckenstein grew up listening to the music of Louis Armstrong, Charlie Parker, Sonny Rollins and Dizzy Gillespie, and started playing the saxophone at age seven. Beckenstein attended the University at Buffalo, starting out as a biology major before changing to music performance (read classical and avant garde). During summer breaks, he and an old high school friend, keyboardist Jeremy Wall, played gigs together back on Long Island. Wall attended college in California, and after both graduated, Beckenstein stayed in Buffalo's thriving music scene, where Wall eventually joined him.
"Not many people know it, but Buffalo was like a mini Chicago back then, with a smoking blues, soul, jazz, even rockabilly scene, of all things," Beckenstein muses. "After being confined to classical music for so long, it was heaven. I was in the horn sections around town, backing some great vocalists."
Spyro Gyra, whose odd name has since become world famous, was first known simply as "Tuesday Night Jazz Jams," a forum wherein Beckenstein and Wall were joined by a rotating cast of characters. Tuesday just happened to be the night when most musicians weren't playing other gigs to pay their bills. Around this time, a young keyboardist named Tom Schuman began sitting in when he was only sixteen years old. This young man, of course, remains a member to this day.
"Don't forget the interminable Dead-like solos we were taking," Beckenstein cracks. "We were the kings of self-indulgence, but eventually we earned our right to charge a quarter at the door. It was a complete shock when word of our psychosis got out and we started packing them in!"
The group's increasing popularity – combined with the purchase of a new sign for the club – prompted the owner to insist that Beckenstein come up with a name for his band. "It began as a joke. I said 'spirogyra,' he misspelled it, and here we are thirty years later. In retrospect, it's okay. In a way, it sounds like what we do. It sounds like motion and energy."
In their earliest days, Spyro Gyra took their cues from Weather Report and Return to Forever – bands whose creative flights were fueled by a willingness to do things that had never been done before. "I believed that we were springing from what Weather Report did," says Beckenstein. "I never thought in commercial terms. I just thought they were the next step in the evolution of jazz, and that we would be part of it."
The first few years saw the group's identity split into a dynamic live act and a producer centric recording process, borne out of the rotating cast of characters in the jazz jam beginnings. These albums were the product of the band and a great number of the top session players in New York. In 1983, Beckenstein made the decision to make the albums the work of the band members he shared the stage with night after night, only supplementing with occasional guests.
There were several personnel changes in the 1980's, which slowed down about twenty years ago. Julio Fernandez became the group's guitarist in 1984 and, except for a short hiatus at the end of that decade, has continued in that position. Scott Ambush became the band's bass player in 1991 making this the beginning of his third decade in the band. Bonny Bonaparte joined the band in 2006 making him the "new guy" at five years.
"When we first started," Beckenstein recalls, "a lot of the jazz purists got on our case about calling what we did jazz and now it's funny to hear us getting respect from the same people. Like, wow, what you guys did was so much more intriguing than some of the stuff they hear today… Art manifests itself in a multitude of styles and contexts. Isn't that why we started to play in the first place?"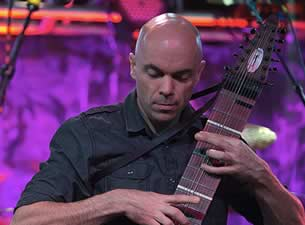 Tom Griesgraber
Music
Until you've seen it performed live, the music of Chapman Stick player Tom Griesgraber sounds too big to be real. There are acoustic guitar or piano-like moments, funk rock bass lines, ambient synth and soundscape textures, rock guitar leads, jazz solos and even small bits of percussion sometimes all happening simultaneously. To the uninitiated listener it sounds like an ensemble, but to those who have seem him live, it is the magic of a unique virtuoso.
As an honors graduate of the renowned Berklee College of Music in Boston in 1995, Tom had already developed a strong foundation in the mechanics of music along with a thorough proficiency on the electric guitar. But he yearned for more: he became weary of conventional methods and was compelled to seek out a more atypical means of making music.
This soul-searching came to a new beginning when Tom discovered the Chapman Stick, taking up the unique 12-string instrument shortly after watching a performance by Tony Levin with Jerry Marotta and Steve Gorn in 1997. In a dramatic move, Tom put his creative career on hold, set aside the guitar, and focused on the fresh and still mostly unexplored territory of the often unrecognized Chapman Stick. "Logically that decision didn't make much sense," says Griesgraber. "It really felt like starting over, but I just knew I had to do it. I believe every one of us has a purpose in life and if we concentrate on doing what we feel called to do, no matter the risks, things work out for the best."
Developed by musician Emmett Chapman in the early 70s, The Chapman Stick used by Griesgraber combines six guitar strings tuned in fourths with six bass strings tuned in fifths. Notes are "tapped" rather than strummed allowing the player to create separate parts in each hand with a variety of guitar and bass-like sounds. Taking things even further, Tom adds a third synthesizer output on the guitar side and incorporates live looping and synth pedals into his performances.
Today Griesgraber is one of the world's most respected and active performers on The Stick. He has toured as an opening act and guest for more than eighty US shows with the California Guitar Trio, toured the US and Europe with drummer Jerry Marotta as the duo Marotta/Griesgraber and opened numerous shows for artists like The Tony Levin Band, The League of Crafty Guitarists, The Dixie Dregs, Steve Hackett, Adrian Belew, Al Dimeola, Stanley Jordan, Bill Bruford's Earthworks, Larry Carlton and Steve Lukather, Muriel Anderson, Tower of Power, Asia, Michael Manring, Tim Reynolds, Jazz Mandolin Project and The Bad Plus. At the request of Recording Academy (Grammy's) president Neil Portnow, he has also performed for the Academy's Board of Trustees as well as the Academy's Holiday Party and the 2004 Grammy Awards Show Post Party. In addition to his solo performances, Tom also performs regularly with his group Agent 22 and as a duo with Bert Lams of the California Guitar Trio.
To date, Griesgraber has released seven recordings; two solo albums, two with his group Agent 22, two with guitarist Bert Lams and one as a collaboration with drummer Jerry Marotta. All of them reflect both his live shows and his eclectic tastes in music, with pieces ranging in style from progressive or "art" rock to jazz, acoustic music and ambient electronic. "Sketchbook," his most recent solo release is perhaps the most diverse of all and features stunning contributions from musicians Pat Mastelotto (King Crimson), Bert Lams (California Guitar Trio), Peter Sprague (Chick Corea) and Ryan Moran (Agent 22, Slightly Stoopid).