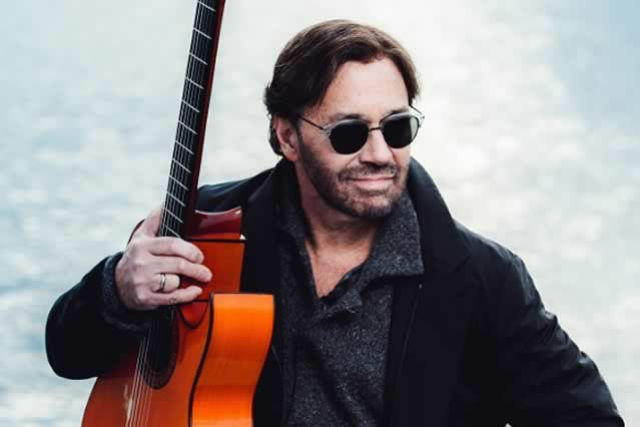 Al Di Meola
Show Dates are Subject to Change
Friday
Jun 9th
8:00 pm
PDT
6:00 pm

Doors
$39.50 - $150.00
SHOW DATES ARE SUBJECT TO CHANGE
Al Di Meola VIP Meet and Greet (GA Tickets are sold separately)
The VIP Soundcheck Experience Includes:
Viewing Soundcheck
Meeting the artist
An Al Di Meola CD of which Al will sign in person along with signing up to 2 other items of your memorabilia (guitar, posters, vinyl, etc)
Photo Opportunity with Al (taken on the patron's camera)

Check in time is 4:30pm.
Please note this will take place before the doors open, then all patrons will be escorted out of the venue after the meet and greet to get in line for entrance when doors open at 6pm.

Meet and greet package does NOT include or effect seating. To get reserved seats for the show please call the box office to make a dinner reservation. 949-496-8930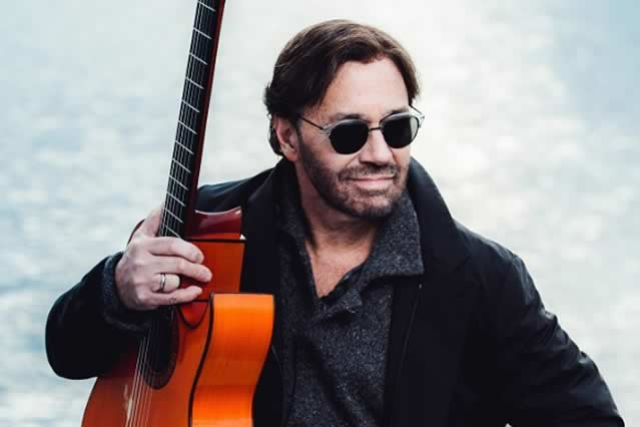 Al Di Meola
Jazz
Growing up in Bergenfield, NJ with the music of The Ventures and The Beatles, Di Meola naturally gravitated to guitar as a youngster and by his early teens was already an accomplished player. Attaining such impressive skills at such a young age didn't come easy for Al, but rather was the result of focused dedication and intensive periods of woodshedding between his junior and senior years in high school. "I used to practice the guitar all night after school and once in college, 6 - 8 hours per day" he told Down Beat. "And I was trying to find myself, or find the kind of music that suited where I was going with the guitar." His earliest role models in jazz included guitarists Tal Farlow and Kenny Burrell. But when he discovered Larry Coryell, whom Al would later dub "The Godfather of Fusion," he was taken with the guitarist's unprecedented blending of jazz, blues and rock into one seamless vocabulary on the instrument. "I used to ride the bus from New Jersey to see him at little clubs in Greenwich Village," he recalls. "Wherever he was playing, I'd be there." In 1972, Al enrolled at the Berklee College of Music in Boston and by the second semester there began playing in a fusion quartet led by keyboardist Barry Miles. When a gig tape of that band was later passed on to Chick Corea by a friend of Al's in 1974, the 19-year-old guitarist was tapped to join Corea's fusion supergroup Return to Forever. After three landmark recordings with Return to Forever -- 1974's Where Have I Known You Before, 1975's Grammy Award winning No Mystery and 1976's Romantic Warrior -- the group disbanded and Al subsequently started up his career as a solo artist. His 1976 debut as a leader, Land of the Midnight Sun, was a blazing showcase of his signature chops and Latintinged compositions that featured a stellar cast including drummers Steve Gadd and Lenny White, bassist Anthony Jackson and Jaco Pastorius, keyboardists Jan Hammer, Barry Miles and Chick Corea and percussionist Mingo Lewis. Over the course of six more albums with Columbia Records – Elegant Gypsy, Casino, Splendido Hotel, Electric Rendezvous, Tour De Force and Scenario – Al established himself as an influential force in contemporary music. 1980 marked the triumph of the acoustic guitar trio with Paco De Lucia and John McLaughlin. Their debut recording on Columbia Records, Friday Night in San Francisco, became a landmark recording that surpassed the four million mark in sales. The three virtuosos in the trio toured together from 1980 through 1983, releasing the studio album Passion, Grace & Fire in 1982. In 1995, they reunited for a third recording, Guitar Trio, followed by another triumphant world tour. In early 1996, Di Meola formed a new trio with the violinist Jean-Luc Ponty and RTF bandmate Stanley Clarke called The Rite of Strings. Their self-titled debut was released in 1995. Di Meola subsequently recorded with the likes of opera superstar Luciano Pavarotti, pop stars Paul Simon, classical guitarist Manuel Barrueco, and Italian pop star Pino Daniele. Over the course of his career, he has also worked and recorded with Phil Collins, Carlos Santana, Steve Winwood, Wayne Shorter, Tony Williams, Herbie Hancock, Gonzalo Rubalcaba, Milton Naciemento, Egberto Gismonti, Stevie Wonder, Les Paul, Jimmy Page, Steve Vai, Frank Zappa and Cuban pianist Gonzalo Rubalcaba. Di Meola's 2013 release "All Your Life" recorded at Abbey Road Studios was an acoustic tour de force that had him revisiting the music of a seminal influence – The Beatles. "I really credit the Beatles for the reason why I play guitar," he says. "That was a major catalyst for me to want to learn music, so their impact was pretty strong." A virtual oneman show of virtuosity, it features the guitar great interpreting 14familiar Beatles tunes in the stripped-down setting of strictly acoustic guitar.
In 2015 he released Elysium, which finds the guitar great blending the lush tones of his nylon string Conde Hermanos acoustic prototype model and a '71 Les Paul electric (his Return to Forever and Elegant Gypsy axe) in a collection of songs that are at once invigorating and alluring. "It represents a new composition phase for me, whereby the writing became, in a sense, my therapy during a challenging personal transition in my life," he said. In the same year he was honored as the 22nd recipient of the Montreal Jazz Festival's Miles Davis Award, created in 1994 to honor a great international jazz musician for the entire body of his or her workand for that musician's influence in regenerating the jazz idiom. 2018 marked a new era for Al Di Meola: His first of six signed projects with German record label Ear Music, "OPUS" was released in March. The Grammy award winning virtuoso says: "With Opus I wanted to further my compositional skills as I think that the evolution of this part of my persona has labelled me more composer/guitarist than guitarist/composer. For the first time inmy life, I have written music being happy, I'm in a wonderful relationship with my wife, I have a baby girl and a beautiful family that inspires me every day. I believe it shows in the music." A retrospective of Al Di Meola's nearly 50 year acclaimed career is expressed through his latest Ear Music release of March 2020 "ACROSS THE UNIVERSE" with his virtuosic arrangements and creative interpretations of 14 Beatles songs with a larger scale full production featuring orchestrations balanced with lavish acoustic arrangements and electric guitar. Current work includes an autobiography and a new solo guitar record of 13 brand new compositions. Al is also very proud to announce the upcoming April 2022 release of "Saturday Night in San Francisco" from the 1980 tour of the Guitar Trio with John McLaughlin and the late Paco de Lucia.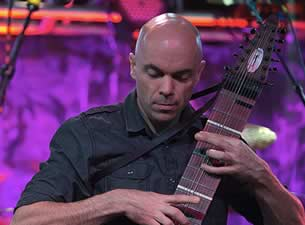 Tom Griesgraber
Music
Until you've seen it performed live, the music of Chapman Stick player Tom Griesgraber sounds too big to be real. There are acoustic guitar or piano-like moments, funk rock bass lines, ambient synth and soundscape textures, rock guitar leads, jazz solos and even small bits of percussion sometimes all happening simultaneously. To the uninitiated listener it sounds like an ensemble, but to those who have seem him live, it is the magic of a unique virtuoso.
As an honors graduate of the renowned Berklee College of Music in Boston in 1995, Tom had already developed a strong foundation in the mechanics of music along with a thorough proficiency on the electric guitar. But he yearned for more: he became weary of conventional methods and was compelled to seek out a more atypical means of making music.
This soul-searching came to a new beginning when Tom discovered the Chapman Stick, taking up the unique 12-string instrument shortly after watching a performance by Tony Levin with Jerry Marotta and Steve Gorn in 1997. In a dramatic move, Tom put his creative career on hold, set aside the guitar, and focused on the fresh and still mostly unexplored territory of the often unrecognized Chapman Stick. "Logically that decision didn't make much sense," says Griesgraber. "It really felt like starting over, but I just knew I had to do it. I believe every one of us has a purpose in life and if we concentrate on doing what we feel called to do, no matter the risks, things work out for the best."
Developed by musician Emmett Chapman in the early 70s, The Chapman Stick used by Griesgraber combines six guitar strings tuned in fourths with six bass strings tuned in fifths. Notes are "tapped" rather than strummed allowing the player to create separate parts in each hand with a variety of guitar and bass-like sounds. Taking things even further, Tom adds a third synthesizer output on the guitar side and incorporates live looping and synth pedals into his performances.
Today Griesgraber is one of the world's most respected and active performers on The Stick. He has toured as an opening act and guest for more than eighty US shows with the California Guitar Trio, toured the US and Europe with drummer Jerry Marotta as the duo Marotta/Griesgraber and opened numerous shows for artists like The Tony Levin Band, The League of Crafty Guitarists, The Dixie Dregs, Steve Hackett, Adrian Belew, Al Dimeola, Stanley Jordan, Bill Bruford's Earthworks, Larry Carlton and Steve Lukather, Muriel Anderson, Tower of Power, Asia, Michael Manring, Tim Reynolds, Jazz Mandolin Project and The Bad Plus. At the request of Recording Academy (Grammy's) president Neil Portnow, he has also performed for the Academy's Board of Trustees as well as the Academy's Holiday Party and the 2004 Grammy Awards Show Post Party. In addition to his solo performances, Tom also performs regularly with his group Agent 22 and as a duo with Bert Lams of the California Guitar Trio.
To date, Griesgraber has released seven recordings; two solo albums, two with his group Agent 22, two with guitarist Bert Lams and one as a collaboration with drummer Jerry Marotta. All of them reflect both his live shows and his eclectic tastes in music, with pieces ranging in style from progressive or "art" rock to jazz, acoustic music and ambient electronic. "Sketchbook," his most recent solo release is perhaps the most diverse of all and features stunning contributions from musicians Pat Mastelotto (King Crimson), Bert Lams (California Guitar Trio), Peter Sprague (Chick Corea) and Ryan Moran (Agent 22, Slightly Stoopid).