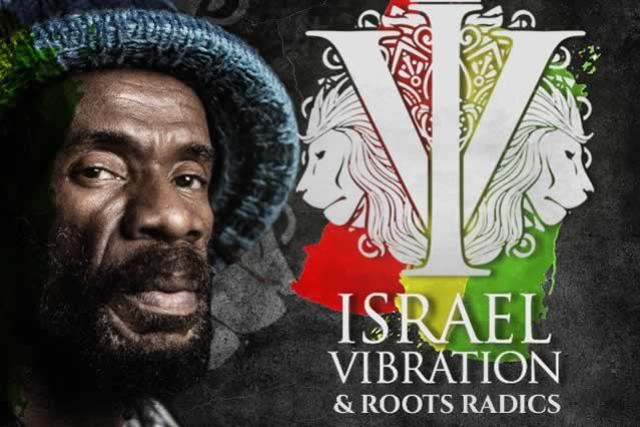 Israel Vibration & Roots Radics
Show Dates are Subject to Change
Thursday
Apr 13th
8:00 pm
PDT
6:00 pm

Doors
$35.00
SHOW DATES ARE SUBJECT TO CHANGE
Israel Vibration
Reggae
Israel Vibration was founded by Cecil "Skelly" Spence (born in 1952), Lacelle "Wiss" Bulgin (born in 1955), and Albert "Apple Gabriel" Craig (born in 1955, deceased in 2020). They were victims of the polio epidemic that spread through Jamaica in the 1950's. Skelly, Wiss, and Apple met at the Mona Rehabilitation Clinic in Kingston, where they got together to fund the group a few years later. Skelly and Wiss were members of the first musical group from Mona, the SKA Band "Hot Lickers", which appeared on TV when Skelly was only 12 years old. Apple attended Alpha Boys School, the musical birthplace of many legendary Jamaican artists.

The three young men adopted Rastafarian faith and decided to create a vocal group, initially called "Israel Vibration, Israel Vibrates", soon renamed to "Israel Vibration." In the beginning, they knocked at the doors of many studios, meeting different producers who used to listen to them acknowledging their talent, but without giving a chance to record.

Everything started to change when in 1975, they were at the gate of Channel One Studios. Maurice "Blacka Morwell" Wellington (one of the founding members of the Morwells alongside Errol "Flabba" Holt) saw them over there, auditioned them at the gate and let them in. Flabba was there on this day also. They recorded their first song "Bad Intention" with Skelly on lead vocals, but the track was not released.

Twelve Tribes of Israel, an essential branch of Rastafari faith, gave them great support in that period through the person of Hugh Booth, one of their members. The Twelve Tribes label took them to record their debut single that was released - "Why Worry", a song that has an important message to connect people to God. The track was released in late 1976 and got massive distribution in early 1977. The single was successful and placed them on the spotlights to be the opening act for other artists, such as Dennis Brown, Inner Circle, and Bob Marley.

After that, they started to work with producer Tommy Cowan and released the single "The Same Song" through his Top Ranking label in 1977. The single was followed by the album of the same name in 1978 and "Israel Tafari" (aka "The Same Song DUB"). "The Same Song" (and its DUB version) were very successful internationally, leading Israel Vibration to a deal with EMI. The album was reissued in the UK, and they also started working on a second album, "Unconquered People", recorded later at Tuff Gong Studios and backed by members of The Wailers band.

Their third album, "Why You so Craven", produced by Henry "Junjo" Lawes, was released in 1981, a year in which the dancehall movement started to grow steadily in Jamaica. After relocating to New York in 1982, the group split and reunited only in 1987, after getting positive feedback from Gary "Dr. Dread" Hilmefarb, founder of RAS Records. That was the beginning of an era.

They were flown to Washington, DC to record a new album at the Lion and Fox Recording Studios in Maryland, backed by the Roots Radics. The backing band, led by Errol "Flabba" Holt, Eric "Bingy Bunny" Lamont (both ex-members of the Morwells), still works with Israel Vibration until today. The album recorded was "Strength of My Life", released in 1988. The partnership with RAS lasted for years, and they recorded some more essential albums for Reggae Music industry: "Praises" (1990), "Forever" (1991), "Vibes Alive" (1992), "IV" (1993), "On the Rock" (1995), "Free to Move" (1996), "Live Again" (1997), "Pay the Piper" (1998), and "Jericho" (2000). Some of these albums also gained a DUB Version.

In 1997 Apple Gabriel left the group and started a solo career. Skelly and Wiss continued to record albums and are touring the world since then as Israel Vibration & the Roots Radics band. They played in major Reggae Festivals and Clubs for huge crowds and still headline some of the most important musical events of the world after over 45 years in music. In 2010 they got their first Grammy Nomination with "Reggae Knights". If you are new to their music and message, just mention the name Israel Vibration to any Reggae enthusiast in the world and get their reaction. This group is history.