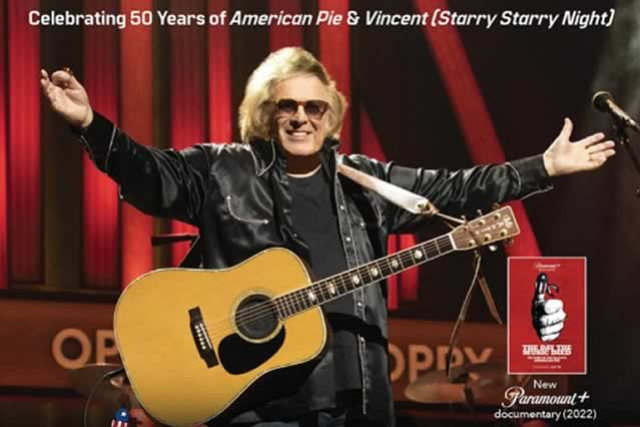 Don McLean: The American Pie 50th Anniversary Tour
Show Dates are Subject to Change
Friday
Sep 15th
8:00 pm
PDT
6:00 pm

Doors
$68.00
SHOW DATES ARE SUBJECT TO CHANGE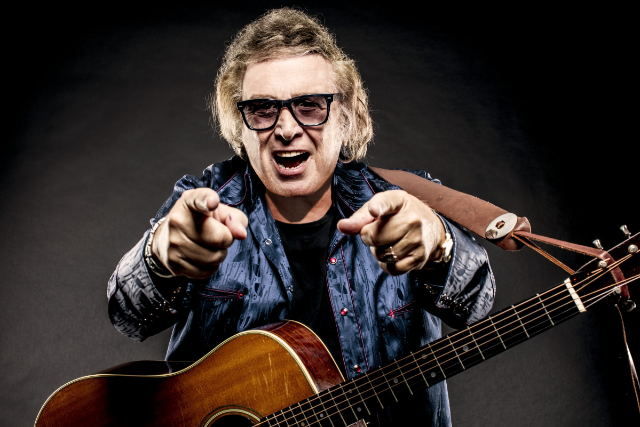 Don McLean
Pop
In 1969, Don recorded his first album, "Tapestry", in Berkeley, CA. The student riots were going on outside the studio door as Don was singing "And I Love You So" inside. The transition to international stardom began in 1971 with the release of "American Pie". "American Pie" was recorded on 26th May 1971 and a month later received its first radio airplay on New York's WNEW-FM and WPLJ-FM to mark the closing of The Fillmore East, the famous New York concert hall. Thirty years later, "American Pie" was voted number 5 in a poll of the 365 "Songs of the Century" compiled by the Recording Industry Association of America and the National Endowment for the Arts. "American Pie" was issued as a double A-side single in November 1971 and charted within a month. Interest from the media and public sent the single to #1 in the USA and Don to international superstardom. Every line of the song was analysed time and time again to find the real meaning. Don refused to sanction any of the many interpretations, so adding to its mystery. In the wake of "American Pie", Don became a major concert attraction and was able to call upon material not only from his two albums but from a repertoire of old concert hall numbers and the complete catalogues of singers such as Buddy Holly, and another McLean influence, Frank Sinatra. The years spent playing gigs in small clubs and coffee houses in the 60s paid off with well-paced performances. The 21st Century has seen a number of new honours for Don McLean and his music. Iona College conferred an honorary doctorate on Don in 2001 and, in February 2002, "American Pie" was finally inducted into the Grammy Hall of Fame. In 2004 Don McLean was inaugurated into the National Academy of Popular Music Songwriters' Hall of Fame and in 2007 he shared his life story in Alan Howard's biography. Don McLean continues to tour the world and release new material.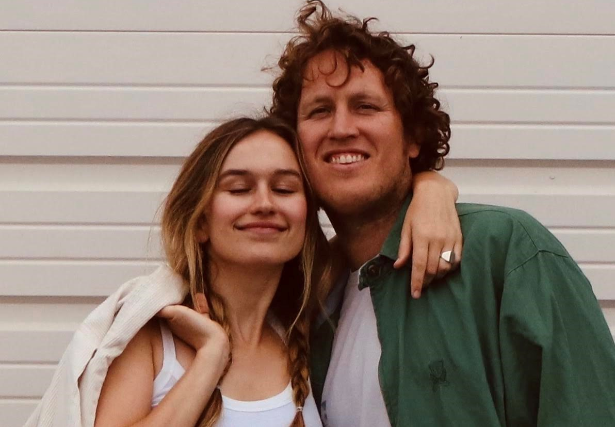 Iris and The Shade
Music
Iris And The Shade are an acoustic, indie, retro rock duo based out of Southern California. Truth told, they met after guitarist, Chase, tripped Iris at a local bar, catching eyes and getting lost in each other's company. They quickly became inseparable and started painting their apartment walls a deep-sea blue; an underwater cave that would harbor the maiden voyage of their first EP, fittingly titled, "The Blue Room".
They would later develop a musical and personal bond with legendary artist Matt Costa who over-heard their music and then went on to produce their debut album ~Caterpillar Wings~. Costa would bring a jangly magic to the pair's flowing love songs, and dark, nostalgic, groovy tunes. He describes Iris and The Shade as "having the indie pop sensibilities and spirit of The Head and The Heart, with vocals that harken to a modern Stevie Nicks or Dolly Parton, all while maintaining a sound uniquely their own."
Their music has been the perfect opening accompaniment on tour the last year 2022 with several incredible musicians from Donavon Frankenreiter, to The Lovin Spoonful, Wild Rivers, James Town Revival, Katie Toupin of Houndmouth, and the iconic band, Berlin.
They've recently showcased their love of golden oldies through stand out, newly released bops like "Go Go Darlin", and will be coming out with a new record in the Fall of 2023! For now, the natural cadence of the duo's melodic wisdom is apparent in standout tracks like Comatose (Jessica's Song) or the yacht rock groove of Allergic to the Smoke. Acoustic tracks Moonlight and Dreams are like a river holding onto love amidst the wild world we all live in . . . following the release of their new album this year, a tour will follow.