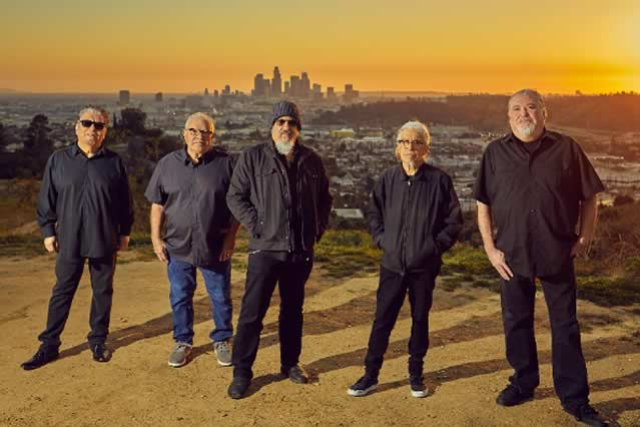 Los Lobos New Year's Eve Show
Show Dates are Subject to Change
Sunday
Dec 31st
9:00 pm
PST
6:00 pm

Doors
$98.00
On Sale Sep 22nd 10:00 am
SHOW DATES ARE SUBJECT TO CHANGE
LOS LOBOS AT 50
It's a matter of time. 50 years to be exact. And in that time Los Lobos have created an unprecedented body of work, a legacy of greatness. The numbers are staggering: 100+ gigs a year for five decades running, crossing millions of miles to rock millions of fans. And that's just at the live shows. In between they've recorded 17 studio albums, 7 live LPs, 3 compilations, 2 EPs, 2 DVDs, and contributed 40+ guest appearances on their friends' recordings — all garnering 5 Grammys, an Austin City Limits Hall of Fame induction, the ALMA Richie Valens Pioneer Award, NEA and Hispanic Heritage Foundation Honors, Congressional recognitions, plus countless "Keys to the City" and "Los Lobos Day" celebrations. And those are just a few of the highlights. But beyond all the hoopla and applause (and the source of it all, really) is the tremendous heart. Rather, hearts. Cinco corazones. Five blood brothers who have dedicated their off-stage time to helping others, working for peace and justice, penning some of the most literate and important music of their time, transforming the hard cries from the East L.A. barrio into songs of hope, tales of common folk finding ways to endure. The young wolves were weaned on late-night radio's soul, R&B, and doo-wop. Were cured through the African-American currents of the blues, jazz, and rock 'n' roll. An amalgam. As proud Chicanos, their songs have always glistened with the distillation from their Mexican and Latin American roots — nourished by Norteña and rancheras, buoyed by bolero and cumbias, soaring on the rhythms of son huasteco and son jarocho. Los Lobos have helped spread the rich diversity of cultures across every continent, throughout the global community. Kids in Antwerp now know about Aztlán. Residents of Luxor and Ghana are crooning Lalo Guerrero. People from Laos and Bulgaria are belting "La Bamba" — all thanks to The Wolves as cultural ambassadors. Talk about a living legacy. Talk about a productive half century. And in the true rebel spirit, they did it all on their own terms, against formula. For the ages. To our delight. Quite simply, they are one of the tightest, one of the best, one of the most prolific bands ever. And, amazingly, with the original founding members as the pack the entire time. Unprecedented. As their liner notes put it, quite simply: "Los Lobos still are David Hidalgo, Louie Pérez, Jr., Cesar Rosas, Conrad Lozano, Steve Berlin."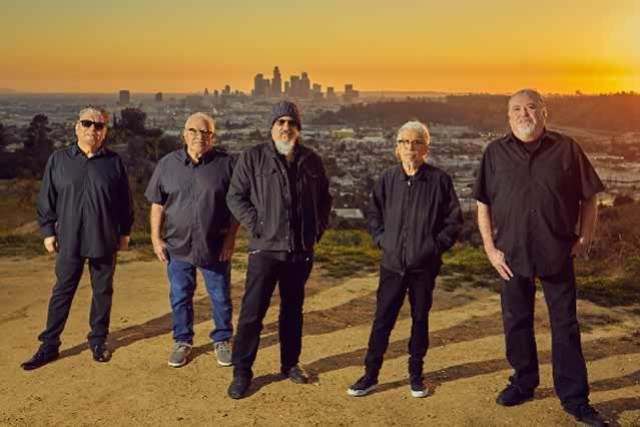 Los Lobos
Pop
The journey of Los Lobos began in 1973, 50 years ago this year, when David Hidalgo (vocals, guitar, and pretty much anything with strings), Louie Perez (drums, vocals, guitar), Cesar Rosas (vocals, guitar), and Conrad Lozano (bass, vocals, guitarrón) earned their stripes playing revved-up versions of Mexican folk music in restaurants and at parties. The band evolved in the 1980s as it tapped into L.A.'s burgeoning punk and college rock scenes. They were soon sharing bills with bands like the Circle Jerks, Public Image Ltd. and the Blasters, whose saxophonist, Steve Berlin, would eventually leave the group to join Los Lobos in 1984.

Early on, Los Lobos enjoyed critical success, winning the Grammy® for Best Mexican-American Performance for "Anselma" from its 1983 EP …And a Time to Dance. A year later, the group released its full-length, major-label debut, How Will the Wolf Survive? Co-produced by Berlin and T. Bone Burnett, the album was a college rock sensation that helped Los Lobos tie with Bruce Springsteen as Rolling Stone's Artist of the Year.

A major turning point came in 1987 with the release of the Ritchie Valens biopic, La Bamba. The quintet's cover of Valens' signature song topped the charts in the U.S. and the U.K. Rather than capitalize on that massive commercial success, Los Lobos instead chose to record La Pistola y El Corazón, a tribute to Tejano and Mariachi music that won the 1989 Grammy® for Best Mexican-American Performance.

That kind of sharp artistic turn has become Los Lobos' trademark, serving to both fuel the band's creativity and keep its fans engaged. In 1992, that willingness to defy expectations led them to record Kiko, an adventurous album produced by Mitchell Froom that's considered by many to be one the band's its very best.

Since then, Los Lobos has continued to deliver daring and diverse albums such as Colossal Head (1996), Good Morning Aztlán (2002), The Town and the City (2006), Tin Can Trust (2010) and Gates of Gold (2015). On top of that, the band's live shows never disappoint, as documented on the recent concert recordings Live at the Fillmore (2005) and Disconnected in New York City (2013). Through the years, they've managed to keep things interesting with unexpected side trips like an album of Disney songs in 2009, along with countless contributions to tribute albums and film soundtracks. One of those – "Mariachi Suite" from the 1995 film Desperado ­– earned the band a Grammy® for Best Pop Instrumental Performance. Los Lobos' love letter to the city of Los Angeles as their album Native Sons (2021), returned the band to the Grammy winner's circle with Best Americana Album of 2022. In 2023, Los Lobos celebrates its 50th anniversary as a band, a rare and impressive feat, as the band continues its great legacy.

Los Lobos has sold millions of records, won prestigious awards and made fans around the world. But perhaps its most lasting impact will be how well its music embodies the idea of America as a cultural melting pot. In it, styles like son jarocho, and norteño, and Tejano, and folk, and country, and doo-wop, and soul, and R&B, and rock 'n' roll and punk all come together to create a new sound that's greater than the sum of its parts.