Jack Russell's Great White
Friday
Jun 15th
8:00 pm
PDT
6:00 pm

Doors
$23.00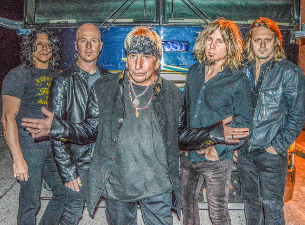 JACK RUSSELL'S GREAT WHITE
Blues-Rock
Jack Russell's Great White represents the next phase of his legacy. On January 27, 2017 Frontiers Music Srl will lay the framework for this new phase with the release of "He Saw it Comin".
"For me this is so much more than a collection of songs, it is the culmination of a lifetime of living. It is about addictions , love, pain and many facets of the human condition. I tend to write autobiographically and on this album I dealt with topics I've never explored," explains Russell of the new record.
Rather than look backwards and merely attempt to relive the multi-platinum Hard Rock entity's storied origins, Jack Russell set his sights on the future. In December 2011, Jack Russell's Great White first bared its teeth. Robby Lochner has been with Jack since its inception, they soon welcomed back longtime bassist and friend Tony Montana—this time as a guitar player and keyboardist— they then added drummer Dicki Fliszar , then bassist Dan McNay. This group has a sharp, soaring, eclectic, hook laden new album ready, boasting the bluesy hard rock stomp that made Russell and Montana icons in the first place.
"It's a powerful band," Russell proclaims. "The music is dynamic and I've gone where I've never gone before. Lochner was a catalyst for moving forward. I wasn't sure how the writing would go at first but soon realized the chemistry is beyond words. He's my copilot and one of my best friends."
This past year the musicians hit the studio to cut their official full-length debut. It taps into the bluesy bombast and heavy energy of Russell's celebrated material, but it's a distinctly modern metallic monster.
"We want the new material to blow people's ears back," Russell goes on. "It has the elements of the best of Great White, but there's diversity, vibe and an edge to it. It draws from our 60's and 70's roots in a more modern way."
Montana agrees, "It's got the classic sound. The first element is Jack's voice. No other band sounds like this one, ever did or does now. When I was 17-years-old, I remember walking around the UCLA campus listening to the band's first EP. I was a fan before I ever joined the band. We're going to maintain that integrity moving forward."
That integrity became forged over nearly thirty years. In 1984, the band broke out of the Los Angeles scene with its self-titled debut followed by seismic platinum-selling outings such as 1987's Once Bitten... and 1989's …Twice Shy. Moving over 10 million copies worldwide, they stood out as tried-and-true rock stalwarts into the 21st century until 2011, when Russell went on to form Jack Russell's Great White.
Ultimately, the new music is for the millions of fans who stuck by Russell all these years. It's everything they've been waiting for and more.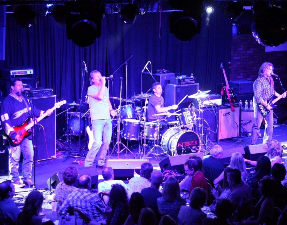 Striker
Rock & Roll
That was then:
The early beginnings of Striker started with two kids who simply wanted to play music and have fun.
At an early age (12) Steve Greco and Tris Mahaffay met in elementary school and started playing in garage bands
jamming the Stones, CCR and even Seals and Crofts!! All through junior high and into high school the perfect
band was always on their minds. After high school Steve and Tris (being forced to go to college by their parents)
were dying to play music. Watching the exploding So Cal music scene was way too tempting so they decided to give music a shot… this time seriously. The catalyst of Steve Greco's rock and roll powerful drums and Tris's mighty
guitar playing (Thank you Jim Marshall!) needed the fire power of a front man- and he would
show up as a blond haired, hot rod driving, Rob Halford / Robert Plant singing Ben Wiener.
The band was nearly complete… and song writing started immediately (more on that later) with the influences of classic
Van Halen, Scorps and a touch of Priest and UFO (not Seals and Crofts…sorry). All they needed was a bass player-
but not any bass player would do. Striker needed a true bass player (not a single pluck pluck brainless frustrated guitar player).
While doing a class recording project at Saddleback College their prayers would be answered. His name: Bill Crowder.
Bill's dynamic to the band cannot be understated. A true musician who can play bass as well and virtually ANY instrument, he's
a musical genius with a killer ear for melody and structure that perfectly matched Steve Tris and Ben's musical needs.
This is STRIKER!!!!!!!

The Band success:
In the 1980's -for those of us who remember- there was a true sense of magic in the air. The Southern California music scene
was unreal with 100's of bands playing all up and down the coast. The competition was huge and in my opinion the best band
to ever come out of so cal was right here in our own back yard. Striker made their name quickly with local air play on KLOS and KMET
even selling music at the local Tower records and having cable TV play their videos (pre MTV).

This is now:
After all these years Striker is very proud to be able to go out and play shows featuring all the original members.
Ben, Steve, Bill and Tris welcome you to come see us play. I have to say that it is my privilege to be able to see all of
our old friends and play some music. We have many exciting things happening with the band. Years have showed all the members of the band of how lucky we are to be playing together again. Please come see us, bring your family and have a few laughs about old times.

We will be thrilled to see you! Life is too short, and these time require a little escape from reality don't you think?
Rock and Roll – WE DO IT ALL FOR YOU!!!!!!!!!!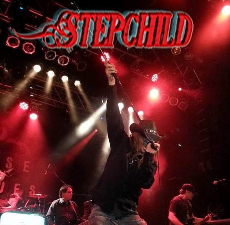 Stepchild
Metal
Legendary California Native Singer Kevin Jones fronts this Metal Monster Band from Orange County ,CA Originally formed in the 90`S with a all star line up of who's who's consisting of Scott Griffith , Danny De Jong, Paul Wilson from the infamous OC Band Nightfall along with guitarist Pete Demarzo, Who went on to add members Alex Perez a fierce guitarist from Enticer and Bassist Kurt Skorich from Enticer and Bad Angels. ,Stepchild was a force to be reckoned with notorious for their strong live show stage presence and soon was conquering the music seen in Los Angeles and Orange County, Headlining The Whiskey , The Roxy . Gazzarri's, The Viper Room , The Key Club , The Troubadour , The Long Beach Arena ,The Galaxy Theatre , The Coach House , Jezebel's , The Marquee Club and was also opening acts for bands like Accept . Michael Schenker Group ,Ingwie Malmsteem and many more. . A bidding war began with multiple major record labels from Warner to Interscope to Geffen but in the end the deals never truly transpired for multiple reasons including the members not willing to give up ownership of their songs. Tragically this brought much duress between the members and the band split up shortly after. Ironicaly one week after the band split up the bands singer Kevin Jones was approached by the band Judas Priest as the replacement for Rob Halford who had just quit the band to pursue a solo career as fate would have it Jones beat out three thousand other singers who sent in submssions and made it all the way down to the last six finalist and out of those six left no one ended getting the gig as the band found powerhouse Tim "Ripper" Owens out of nowhere and he signed with them. Sadly years later Stepchild's Leader Scott Griffith tragically lost his life at The Station nightclub fire in Rhode Island and the other band members were devastated as their friendship and bond had never faded as these members were friends since childhood and Scott was one of the most brilliant guitarist the world ever has ever known please see www.scottgriffith.org . The band reformed after Scott's passing for a Memorial Concert Tribute to him and the bands love of the songs and honoring his memory was so strong that band got back together and started playing shows all over again. Currently in 2014 the band has reformed with the original rhythm section of Billy Cannon on Drums , Danny Dejong on Bass , Kevin Jones Vocals , Geoff Gayer - lead guitarist from Leatherwolf and also brilliant guitarist Dave de Best. STEPCHILD is alive and well and will be out playing live shows this summer.