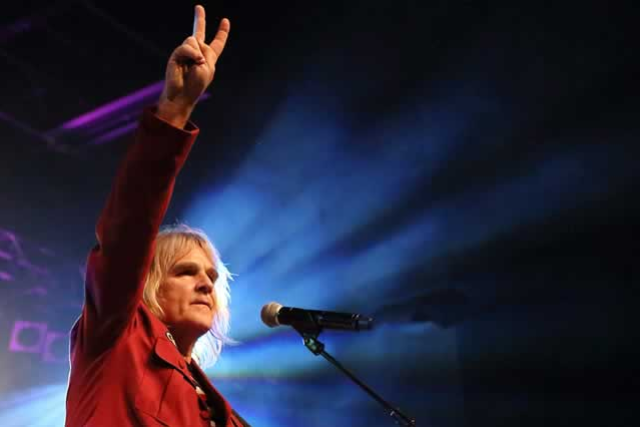 The Alarm
Friday
Aug 24th
8:00 pm
PDT
6:00 pm

Doors
Before assembling material for The Alarm's first album of new music in eight years, Mike Peters paused to take stock. To move forwards, he first had to look back and acknowledge the back-story of a group whose songs of defiance have traditionally been fuelled by an almost umbilical bond between band and audience. In the aftermath of 2010's Direct Action album, Mike Peters embarked on an ambitious renovation program that commemorated a string of Alarm 30th anniversaries by revisiting some of the band's landmark releases from the Eighties, a decade that saw a plucky band of young Welsh guitar-slingers break straight outta Rhyl, with plenty of street fighting spirit and an implacable belief in the communal power of music. Mike and the group began by re-working some of their earliest songs on 2011's The Sound And The Fury before re-imagining a brace of their mid-Eighties albums, Declaration and Strength, by re-recording them in full, and taking the new versions out on the road with a marathon world tour.
"I wanted to address our artistic history,' says singer, guitarist and songwriter Mike Peters. "There wasn't a massive need for new music purely for the sake of it around that time, because we have an audience who are very attached to our history. I also wanted to go back to the start and re-evaluate everything. I had songs that had followed me around for all of my adult life, and I wanted to remake them as if they had been written today. The meanings of some lines change as you go through life, and I wanted to reflect that. I knew it would divide opinion, but I felt it would open doors, too. I wanted to shake up our audience and myself, so I re-wrote some of the original lines and re-introduced verses I had edited out. It had quite an effect on me: the past started to inform how I was writing my new songs and I was able to carry that spirit forward into something new.'
That something new is Equals, The Alarm's first new album since Direct Action and a barnstorming collection of 11 songs that act as a retrenchment of original values and a poignant reflection of the tough times Mike and his wife Jules have been through in recent years. Having recovered from lymph cancer in 1996, Mike was diagnosed with a rare form of leukaemia in 2005 and, after an initial recovery, he suffered a relapse in 2015. To compound an already terrifying situation, Jules, who plays piano and sings backing vocals, was diagnosed with breast cancer just after. All band activity was put on hold as the pair underwent treatment and it is only now, with both in remission, that The Alarm are firing on all cylinders again. The emotional repercussions, though, are all too evident in the spirit of life-affirming optimism in the face of adversity that runs through Equals.