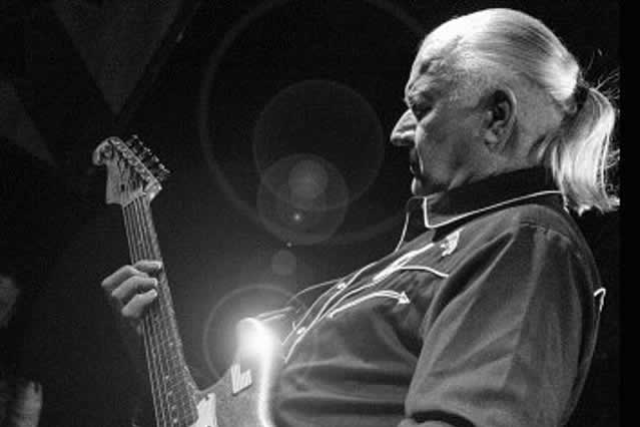 Music Legend
Dick Dale
Saturday
May 25th
8:00 pm
PDT
6:00 pm

Doors
$40.00
Dick Dale is the first pioneer and creator of his own genre of loud music sound in 1955 now marking 64 years in the business.
Dick Dale's Music sound comes Only from Gene Krupa's Jungle Drum Rhythms, Wild Animals sounds and roars in which Dick Dale owned and trained in the late 1950s+60s+70s+ until 1993.
The Dale music also comes from the indigenous people dancing.
Dick Dale and Leo Fender together Created and Pioneered the Fender Equipment in the late 1950s+60s as Leo Fender was like a second Father to Dick Dale.
Both Dick and Leo pioneered the Strat Guitar, Fender Amps, Speakers plus DD is responsible for the JBL Lansing speakers and the 1941 Harley Davidson Flathead risers for Harley Davidson motorcycle.
That is why Dick Dale was featured in the Harley Davidson 100th Anniversary Edition Magazine.
Dick Dale has had many titles over his 63+ years in the business.
Dick Dale is known in Spain as the Father of Heavy Metal as well as the Father of Loud and Fender Sound.
Dick Dale is also known all over the World as the Father of Heavy Metal, Father of Rock as well as King of the Surf Guitar labeled by 17 surfers only as Dick Dale surfed with these surfers in the day in the late 1950s and early 1960s.
It all started when Art La Boe had Dick Dale perform at Scriveners drive inn in 1954 as Art La Boe thought Dick Dale was a California Treasure as did Ed Sullivan who loved Dick Dale and asked him to be on the Ed Sullivan show in 1963 as well as DD starred on Town Hall Party along with the greats of the day playing Country Western Rockabilly music with people like Lefty Frazil/Tex Ritter/Wanda Jackson/The Collins Kids/Johnny Cash and Many More.
Dick Dale moved to Hawaii in the mid 1960s and performed over there as well as came back and built ground up two of the largest nightclubs in Southern Ca. and hired the largest acts of the day from Vegas from 1967-1982 as nightclubs were called The Rendezvous 2 and the second was the called The Playgirl Club..
Dick Dale plays all genres of music and plays over 15 different instruments self taught and never took a lesson in his life.
Dick Dale has many more windows of life as he was an avid Pilot, pool shark, In the 1950s -70s into Archery, Animal Trainer, old car enthusiast and car racer, Motorcycle Enthusiast, Builder to name a few.
Dick Dale was the music to countless films and commercials throughout his career such as Films like "Charlies Angels" and "Pulp Fiction" plus "Escape from LA" and many more.
Dick has Received many awards and accolades over the years since his humbling days in the 1950s.
Dick Dale
Rock
Dick Dale has lived through the the Greatest era's we have ever known born on May 4th, 1937, Dick Dale has had quite a difficult and at times turbulent Life.
Dick Dale was born in Boston, Mass. and grew up in Quincy, Mass. as well as Whitman.
Dick Dale is now about to turn 82 years old in May of 2019.
Lana Dale turned 53 years old July 15th.
Dick Dale left Quincy, Ma. and moved to Ca. in 1954 to South West Los Angeles, Ca. for some time with his parents James Monsour and Sophia Monsour AKA Nickname Fern and sister Shirley Monsour.
Dick then moved to Balboa, Ca. into a little Beach Shack
which is still there and I believe is still the color Green as it was when Dick Dale lived there with his Wild Animals.
DD also owned for some time crossed the Street a record shop and a hair salon called "RICHARDS" SAID RISHARDS.
Dick Dale began his Career in Show Business as his father James Monsour pushed him into the business in the first place and no DD did not want to perform as he wanted to surf, be a pool shark and metallurgy as well as riding his Harley Davidson Motorcycle in the 1950s before the 1941 Flathead Harley Davidson had been stolen.
Dick Dale is truly a Genius and as well a jack of all trades as we both have the Jack of all Trades in common!
Yes, it is true Dick Dale has had many windows of Life!
From Dick Dale's Humbling beginnings in 1955 he worked tirelessly now Marking 64+ years in the business to date.
I Lana Dale, Personally myself, have been in love with old music since i was born Along with the Great Old Films and Meaning the Pioneer Films from the beginning as well as the Beyond Talented and Wonderful Pioneer Actors and Actresses.
Let's not forget the Great Pioneer Directors, Producers and Cinematographers.
In other words everything to do with Film.
I Myself am a strong Wild Life Advocate and have been all my life both for Animals on the land and in the sea as we need them here with us and not gone to a boneyard cemetery as Dear God Without all of our trees and wildlife and sea creatures and clean oceans… than we as people cannot Survive and that is a given!
I am trying to save our Precious trees as you must realize they supply our oxygen.
I know and realize i cannot save the planet soley as it will take all of us all to do our part everyday so please join me in these efforts and Never give up!
I love the Old Theaters as they are a passion of mine not to mention old homes and buildings period.
They are trying to preserve them and let's remember we cannot do it without everyones input and support.
It would nice to save all of them wouldn't it but unfortunately some of the powers to be do not believe the way i do.
So Much of the many structures we have seen throughout the different decades in history are gone or disappearing day by day thus Meaning bulldozed quite often as
It breaks my heart!
Again, It will take everyones efforts to keep all of this thriving and going.
Each day I try to encourage people to help honest Animal organizations save our Animals and our Forests as well as our Theaters and old Historical landmarks and homes.
Time is precious and the past is Very Precious and by George Lets keep it going as it is up to us.
I can't stress this enough …especially now!
My husband Dick Dale at one time in his life had 40 different species of Wild Life Animals mainly given to DD because they didn't want to take care of them, feed them etc.
A list of these animals and photos as well can be purchased by emailing me upon request and Dick Dale signs the photo to you as with this money it helps pay Dick Dale's Major Medical issues as well as mine as we both battle major medical around the clock.
Dick Dale had Large Wild Cats, dogs, Sea Lions, Monkey's as well as Birds and a raven and even a baby elephant.
Some of the Wild Animals were well trained as a few of them were in Films and Commercials. That all ended in the early 1990s as the costs were too high for Dick Dale to continue so when his last animal passed and affected DD to the point of falling with the cat and almost died from shock while holding the Cat in his arms … this was his last desire to ever take on wild life again.
At the Time Dick Dale again was battling the disease called Rectal Cancer Which his first bout was in 1964 and they told him he would not live for more than 3 months.
Now here is even more Dick Dale History….
Dick Dale is the Creator and Pioneer of what many call Surf/Rock Music however, since day one Dick has called it simply
"Rock" Music.
Dick Dale's music comes from the jungle sound of his main inspiration Gene Krupa.
Therefore DD always explains music comes from Gene Krupa's Jungle Rhythms.
I want to stress this point to everyone as this comes straight from the horses mouth himself Dick Dale …
Dick Dale's Music Only came from Gene Krupa's jungle drum rhythms and the sound of Gene beating on the drums as well as the Indigenous people dancing Along with all of the sounds of the Wild Animals Roaring in the day and you can add some of the surfing wave sounds but mainly what was mentioned firstly.
Dick Dale was the very first to create his Genre of Loud music sound in 1955 however, Dick Dale plays all Kinds of Music and as well all genres of music and also all styles of music since his humbling beginnings in 1955 and I will say it again "All Kinds of Music." as he started out in Country Western Rockabilly before anything else.
Dick Dale plays all instruments since his younger days self taught and never took a lesson in his life.
Very Important Note ..It was 17 surfers who surfed with Dick Dale in the day in the late 1950's that nicknamed Dick Dale "King of the Surf Guitar" and this was while they were all surfing and coming regularly to watch Dick Dale play at the World Famous Rendezvous Ballroom in Balboa, Ca. every night of the weekend in which Music Legend Dick Dale reopened after Stan Kenton and his big band and other Big Bands Left.
Dick Dale surfed in HuntingtonBeach and Balboa as well as hundreds of other surfing spots all over California and Hawaii.
Dick Dale is Also the Creator and Pioneer along with then like second father Leo fender of much of the Fender equipment in late 1950s and 1960s.
Both Dick Dale and Leo Fender and I mean both Pioneered and Created Amps as well as Speakers and the Strat Guitar and Transformers.
Please check dickdale.com for all DD Pioneered and Created Fender Equipment Listings.
DD and I, and two chosen band members a bass guitarist and a drummer plus two road technicians do a short Southern Tour to Florida every year in April or May but only come through doing this tour once a year.
We also do a Large tour up North called our Dick Dale NE tour to Boston, Ma. usually in August or September of every Year and it sometimes runs over into the beginning of September as well as if done in September it runs over into October.
We always take our Famous Inspiring Desert Dog Whitey Dale on the tours.
We also do Venue one off events in California each year throughout the year and a couple up the coast usually in santa Cruz and Oakland in October of each year.
If there is a request to do a Festival Event and our Contract Rider is met along with proper Promoting we will do a Festival Event so Please let your Event Coordinators for Festival Events know you want to see Music Legend Dick Dale.