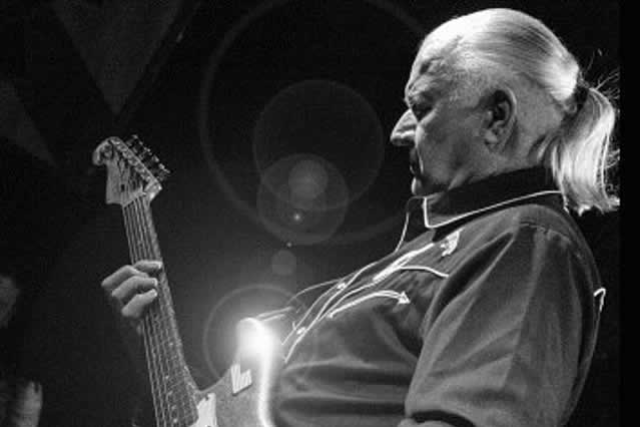 A Benefit for Guitar Legend Dick Dale
Saturday
May 25th
8:00 pm
PDT
6:00 pm

Doors
$40.00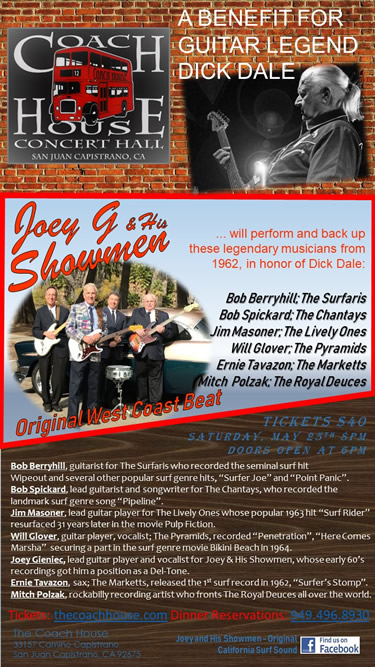 A lineup of pioneer First Wave surf genre musicians from 1962-1963 whom Dick Dale inspired will be performing at the benefit to honor the originator or surf music, Dick Dale.
Bob Berryhill; guitar player for the Surfaris, recorded the seminal surf hit Wipeout and several major surf genre hits such as Surfer Joe and Point Panic in 1963.

Bob Spickard; lead guitar player and songwriter for the Chantays, recorded the landmark surf tune Pipeline in 1963.

Jim Masoner, lead guitar player for the Lively Ones, whose 1963 surf genre hit Surf Rider resurfaced 31 years later in the pop movie Pulp Fiction.

Will Glover - guitar player and vocalist for the Pyramids, whose recordings of Penetration, Here Comes Marsha and Contact secured a spot in the surf genre movie Bikini Beach in 1964.

Joey Gieniec, - lead guitar player and vocalist for Joey & His Showmen whose early 1960's recording got him a position as a Del Tone.

Ernie Tavizon; sax player with the Marketts, the session band that released the first surf genre record in 1962 Surfers Stomp.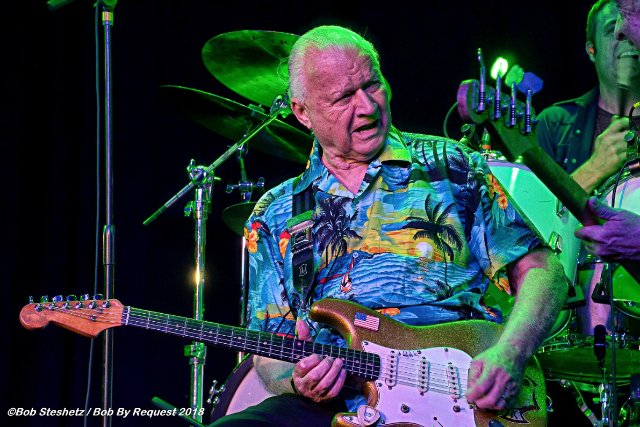 A Benefit for Guitar Legend Dick Dale
Surf Rock
Dick Dale is the first pioneer and creator of his own genre of loud music sound in 1955 now marking 64 years in the business.
Dick Dale's Music sound comes Only from Gene Krupa's Jungle Drum Rhythms, Wild Animals sounds and roars in which Dick Dale owned and trained in the late 1950s+60s+70s+ until 1993.
The Dale music also comes from the indigenous people dancing.
Dick Dale and Leo Fender together Created and Pioneered the Fender Equipment in the late 1950s+60s as Leo Fender was like a second Father to Dick Dale.
Both Dick and Leo pioneered the Strat Guitar, Fender Amps, Speakers plus DD is responsible for the JBL Lansing speakers and the 1941 Harley Davidson Flathead risers for Harley Davidson motorcycle.
That is why Dick Dale was featured in the Harley Davidson 100th Anniversary Edition Magazine.
Dick Dale has had many titles over his 63+ years in the business.
Dick Dale is known in Spain as the Father of Heavy Metal as well as the Father of Loud and Fender Sound.
Dick Dale is also known all over the World as the Father of Heavy Metal, Father of Rock as well as King of the Surf Guitar labeled by 17 surfers only as Dick Dale surfed with these surfers in the day in the late 1950s and early 1960s.
It all started when Art La Boe had Dick Dale perform at Scriveners drive inn in 1954 as Art La Boe thought Dick Dale was a California Treasure as did Ed Sullivan who loved Dick Dale and asked him to be on the Ed Sullivan show in 1963 as well as DD starred on Town Hall Party along with the greats of the day playing Country Western Rockabilly music with people like Lefty Frazil/Tex Ritter/Wanda Jackson/The Collins Kids/Johnny Cash and Many More.
Dick Dale moved to Hawaii in the mid 1960s and performed over there as well as came back and built ground up two of the largest nightclubs in Southern Ca. and hired the largest acts of the day from Vegas from 1967-1982 as nightclubs were called The Rendezvous 2 and the second was the called The Playgirl Club..
Dick Dale plays all genres of music and plays over 15 different instruments self taught and never took a lesson in his life.
Dick Dale has many more windows of life as he was an avid Pilot, pool shark, In the 1950s -70s into Archery, Animal Trainer, old car enthusiast and car racer, Motorcycle Enthusiast, Builder to name a few.
Dick Dale was the music to countless films and commercials throughout his career such as Films like "Charlies Angels" and "Pulp Fiction" plus "Escape from LA" and many more.
Dick has Received many awards and accolades over the years since his humbling days in the 1950s.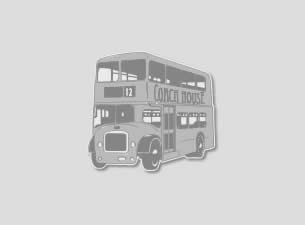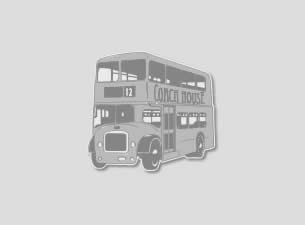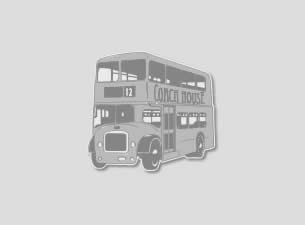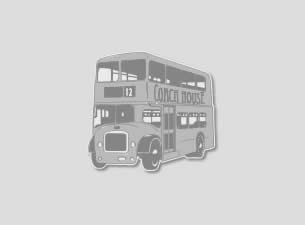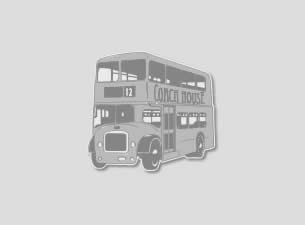 Joey & His Showmen
Surf Rock