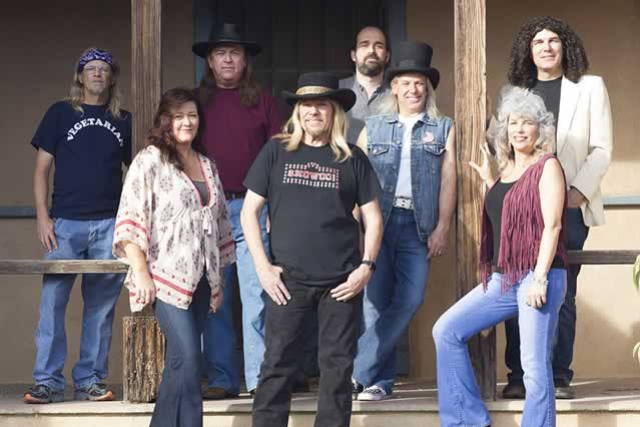 Simple Man
- A Tribute to Lynyrd Skynyrd
Saturday
Nov 24th
8:00 pm
PST
6:00 pm

Doors
$15.00
Simple Man is the quintessential Lynyrd Skynyrd tribute band. Based out of Southern California, this group of consummate musicians and soulful rockers embody the talent and energy of the original band, who sadly lost members much too soon. Simple Man evokes Ronnie Van Zant's profound and powerful vocals, while highlighting the dual lead guitar riffs that Simple Man made famous. They celebrate the entire catalogue including the hits like "Simple Man," "Sweet Home Alabama" and "Tuesday's gone," as well as deeper cuts such as "The Needle and the Spoon" and "Poison Whiskey."

Authenticity to the music is at the core of every Simple Man performance and each musician truly personifies an original member. Lead singer Andrew Mazzarelli (Ronnie Van Zant) channels the power and humanity that Andrew felt when he first saw Ronnie perform. Backing vocalists Shaun Bernadou (Leslie Hawkins) and Jea Landgraf (Jo Jo Billingsley) bring additional depth and charisma to the stage, while bass player Greg Lemke (Leon Wilkeson) and drummer Blair Banning (Artimus Pyle) provide a strong rhythmic backbone that enhances the experience. Rick Dekker (Ed King & Allen Collins) and Celso Salim (Gary Rossington) expertly intertwine impressive guitar licks with vitality and wisdom. Celso also captures the trademark slide guitar that turned songs such as "Free Bird" into anthems. Dan Jorissen (Billy Powell) does an exceptional job providing a Southern rock vibe on the keys.

If you are looking for a genuine Lynyrd Skynyrd rock n' roll experience, look no further than Lyvyn Skynyrd. They will take you through a time capsule of songs from the 1970's that no other band can replicate. The music of Lynyrd Skynyrd is enjoyed by children from 7 all the way to adults in their 70s. Once you have experienced the music it is something that you will never forget. See what is being said about them.

"Simple Man is the most honest, best sounding, most well played tribute to the legacy of Lynyrd Skynyrd that I have ever heard. This is as good as it gets"