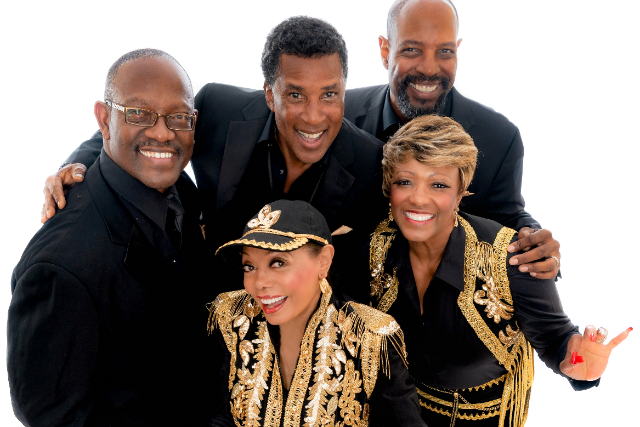 The 5th Dimension
Saturday
May 18th
8:00 pm
PDT
6:00 pm

Doors
$40.00
In 1967, a little known vocal group called The 51h Dimension recorded a song called "Up, Up and Away" which turned out to be one of the biggest smash hits in musical history. The single won several Grammy Awards, the group capitulated to stardom, and their story has been one of success ever since.
The 5th Dimension has released over a dozen hit albums and received 14 gold records, 6 platinum records and 6 Grammy Awards. Their classics include such hits as: "Up, Up, and Away," "One Less Bell To Answer," "Wedding Bell Blues," "Stone Soul Picnic," "Last Night I Didn't Get To Sleep," and "Aquarius/Let The Sun Shine In."
The group has headlined in both Las Vegas and Atlantic City regularly and continues to tour extensively throughout the rest of the United States, Europe and the Orient. Their personal appearance itinerary has placed them on the world's most glamorous stages for over 40 years, including a tour of England and a performance at Radio City Music Hall with the late Frank Sinatra. While remaining true to their roots of intricate harmonies, The 5th Dimension continues to grow with the times to appeal to audiences of all ages and nationalities. A portion of The 5th Dimension's performing itinerary includes concerts with prestigious symphony orchestras. Their family oriented show has also allowed them to be a favorite at both Disneyland in California and Disney World in Florida. Their classy show has also allowed them to perform at the White House four times, and travel to Eastern Europe on a state department sponsored tour.
Preferring for the group to be innovators rather than imitators, original member Florence LaRue, along with Willie Williams, Leonard Tucker, Patrice Morris and Floyd Smith, has put together a show and sound that is truly their own, with more vocal range than ever and material that is fresh and varied. She also works hard to remain true to the sound of The 5th Dimension's original recordings.
Performances on national television shows, including PBS specials, have provided a widening visibility for The 5th Dimension.
The group plans to take time out from their busy touring schedule to record a new CD to satisfy the many requests from fans and to introduce their music to the new generation.
Perhaps a recent reviewer of the White Plains Citizen said it best: "Their voices and harmony are stronger, more emotional and as meaningful, perhaps more meaningful than when they first became hits in the 1965-1975 era. — Today's Dimensions deliver a tight, personal show, as crisp as old top 40 Radio."