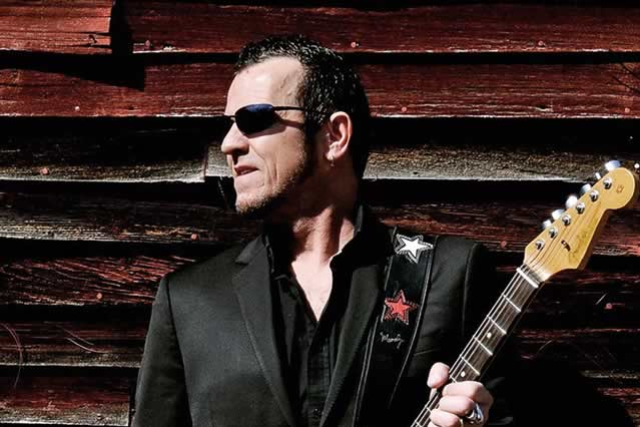 Gary Hoey
Friday
Jun 14th
8:00 pm
PDT
6:00 pm

Doors
$20.00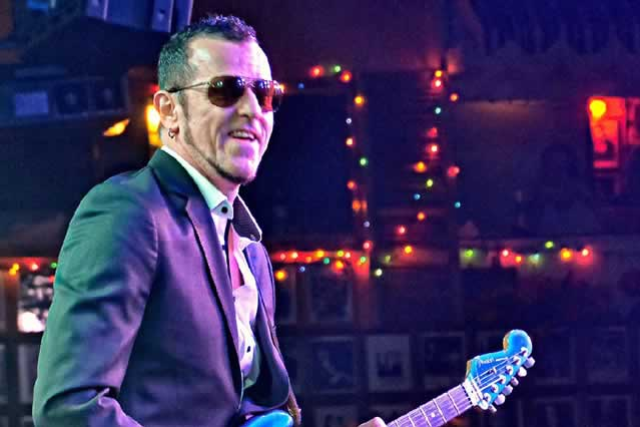 Gary Hoey
Rock
World renowned rock guitarist Gary Hoey's first break came in 1987 when Ozzy Osbourne liked Hoey's tape enough to fly him to LA for an audition. Although Zakk Wylde wound up with the gig, Ozzy recommended Hoey move to LA where he was certain he would get noticed. So he did - thanks Ozzy - and it paid off. In 1992 Gary's cover of "Hocus Pocus" rocketed into the Billboard's Top 5 Rock Tracks.
With a collection of 19 albums it's no wonder Gary Hoey is listed as one of the top 100 guitarists of all time. In 1994 Hoey scored the successful "Endless Summer II" soundtrack for New Line Cinema. In 2012, he produced and co-wrote The Queen Of Metal, Lita Ford's latest release "Living Like Runaway" for SPV records to rave reviews. As Music Director for Rock n Roll Fantasy Camp, he's worked with legends like Joe Perry, Roger Daltrey, Yes, blues icon Johnny Winter, Robben Ford, Leslie West, and KISS drummer, Peter Criss. And he has toured and traded licks with the likes of Jeff Beck, Brian May of Queen, Ted Nugent, Joe Satriani, Steve Vai, Peter Frampton, and Dick Dale.
Hoey has explored many styles in his career, from hard rock to rock to surf to prog, and with 2013's "Deja Blues" he came home to the blues. His latest, 2016's "Dust & Bones," is an exuberant fusion of blues and rock. But whatever style he plays, one thing is certain, Gary Hoey is a fiery, charismatic player who connects with the crowd. Whether he's playing scorching originals or rock classic covers, his solos are thrilling and reminiscent of Clapton or Stevie Ray in their fiery youth. One thing that remains consistent is Hoey's impassioned command of the guitar. He can attack his instrument with feral intensity and then play something very soft and achingly beautiful. This ability to mix feeling, phrasing, technique and tone is the true mark of a master guitarist.
"It's great to hear Gary sing and play the blues with his trademark intensity, feel and authenticity. And the guitar tones! "Dust & Bones is a great sounding Blues/Rock album that's both vintage and modern at the same time." - Joe Satriani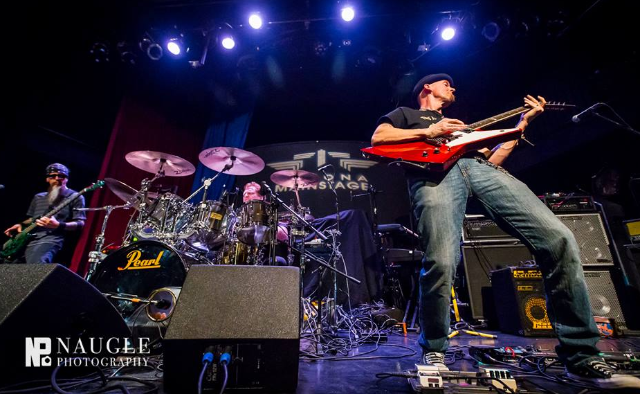 Taz Taylor
Music
In January 1997 UK-born Taz Taylor took a leap of faith and boarded a plane to Los Angeles with nothing more than a guitar, a backpack and roughly $2,000...

He spent much of his first year in the USA as a long haul truck driver, criss-crossing the country countless times in an 18-wheeler and spending the downtime in his sleeper berth practicing guitar. Eventually he settled in San Diego CA and set about recording his debut instrumental album "Caffeine Racer" which was released in July 2004. A band was formed and live shows commenced.

Caffeine Racer got the attention of legendary vocalist Graham Bonnet, most notable for working with the best guitarists in rock (Ritchie Blackmore, Michael Schenker, Yngwie Malmsteen, Steve Vai) and they set about recording the Taz Taylor Band album "Welcome To America" which was released on the UK label Escape Music in Aug 2006. Present TTB drummer Val Trainor joined immediately after the WTA sessions were completed.

International tours followed in 2007 and 2008, taking the band to UK, Germany, Austria, Switzerland, Hungary and Czech Republic.

In 2009 the band recruited another ex-MSG vocalist, Keith Slack for the "Straight Up" album, also on Escape Music, and also featuring a guest appearance from Deep Purple's Don Airey on keyboards.

2010 saw the band returning to Taz' instrumental roots with the release of "Big Dumb Rock".
Current TTB bassist Barney Firks joined immediately after the recording of this album and the band played a string of dates to promote BDR.

In 2014 TTB released "Deja Voodoo", an all instrumental offering of eight songs featuring a line-up that had now been together for four years and bonded and grown into something really special. During the summer of 2014 TTB embarked on a 10-date Summer Tour to promote Deja Voodoo, including dates in California as well as eight dates in the UK.

June 2017 saw the release of "Pressure And Time". This album featured the vocal talents of Chandler Mogel.
The album was released on Escape Music in Europe and on Rubicon Music in Japan. The Japanese version included a live bonus track, Explorations… recorded on the band's 2014 tour in the U.K.

March 2019 sees the band return to their first love…INSTRUMENTAL ROCK!!
"Hats, Tats and Guitars" Hard, fast, slow, tender... Instrumental Rock. Performed by "lifer" musicians who are in it because they have nothing they would rather be doing! On this album, Guitarist Taz Taylor, Bassist B.L. Firks and Drummer Val Trainor have managed to combine the swagger and attitude of 80's Sunset Strip with the musical virtuosity of the shred guitar boom which also peaked in that decade... whilst simultaneously raising a huge musical middle finger to the decade that followed. It's only 2019 if you look at a calendar and tune into today's crap mainstream radio! Grab a copy of "Hats, Tats And Guitars" and remind yourself what Rock and Roll is supposed to sound like!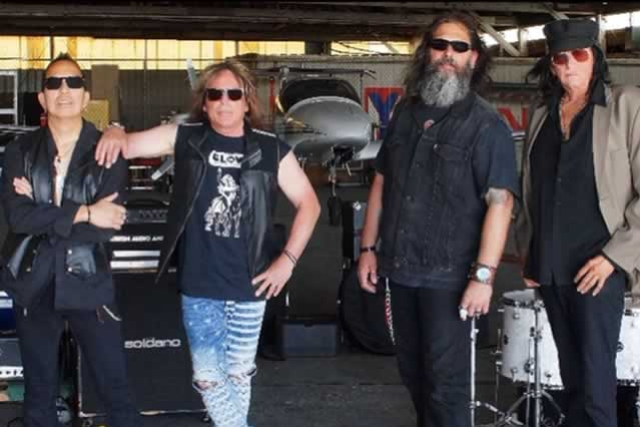 Liquid Circus
Hard Rock
Liquid Circus was formed in 1996 and released their debut album by the same name later that year.
Upon its release, the band was chosen Best New Artist across North America and were selected for a compilation CD that included Motley Crue and Sponge. The band continued performing live with distribution in foreign markets.
Fast forwarding to today, founding member and bassist/vocalist Rick Maestas teamed up with longtime bandmate Benjamin Sanders on lead vocals, Kev Davis on guitar, and Mick Josephs on drums. Combining driving rhythms, soaring guitar, and melodic vocals, they have formed a powerful new sound and vision for the band.
The new lineup's explosive live performances have been winning over audiences and leaving them wanting for more. Opening up for such classic acts as The Tubes, Dokken, The Babys, Uriah Heep, and others, you'll want to catch this band soon!
Currently, there are 3 songs available on iTunes/Apple Music - check them out and come to join the circus - The Liquid Circus!