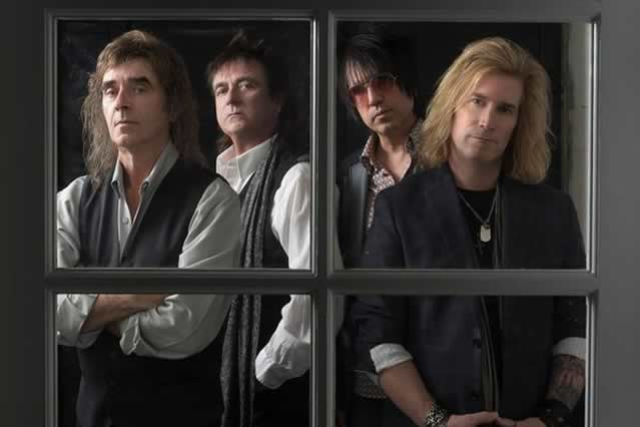 The Babys
Saturday
Sep 7th
8:00 pm
PDT
6:00 pm

Doors
$20.00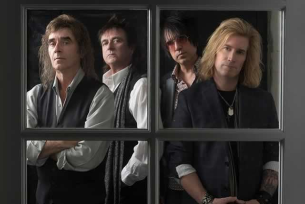 The Babys
Classic Rock
Tony Brock: Drums
Wally Stocker: Lead Guitar
John Bisaha: Singer/Bassist
Joey Sykes: Guitar
One of the world's most beloved classic-rock bands, The Babys, are back together after a 30-something year layover! With a string of '70s and '80s classic rock radio hits like "Isn't It Time," "Every Time I Think of You," "Back on My Feet Again," "Head First", "Midnight Rendezvous", and so many more, The Babys created some of the most memorable arena anthems of their era. The shows are jam packed with material that has entire audiences on their feet – singing and dancing to every tune.
Original drummer Tony Brock and original lead guitarist Wally Stocker have reformed the band with an incredible new singer, John Bisaha, whose vocals and bass playing fits The Babys to a tee, along with guitarist Joey Sykes, a renowned singer/songwriter. In concert, The Babys feature The Babettes – Holly Bisaha and Elisa Chadbourne, and keyboardist Brian Johnson.
This new incarnation of The Babys created an instant buzz with their first new song in 30 years, the aptly titled "Not Ready to Say Goodbye," which was released in November 2013. It has all the classic Babys elements – amazing vocals, thoughtful lyrics and a chorus that lodges itself in your brain, refusing to leave for days. In June 2014, fans were blown away with the release of their brand new album. I'll Have Some Of That, that boasted 12 dynamic, new songs that resonate with the classic Babys sound, including the single "I See You There." That single was released at the end of 2014 and reached #5 on Billboard's Hot Singles Sales Chart, and stayed in the top-10 (reaching #5 as well) on FMQB's AC Top-40 for 10 weeks.
Previous band members John Waite, Jonathan Cain and Ricky Phillips have all given their blessings to The Babys 2014. Waite continues on as a solo artist, Cain joined Journey after leaving The Babys and penned a string of hit singles including "Don't Stop Believing," the most downloaded song in history, and Phillips is the longtime bass player for Styx.
Below is a capsule look at each member of The Babys:
Tony Brock, drummer – Strongly considered one of the best drummers in the world, Brock plays with a rare combination of feel and timing, combined with a preference to hit the drums just about as hard as possible. Post-Babys, Brock was a long-time member of Rod Stewart's band in addition to playing with Jeff Beck, Bernie Taupin and others. Eventually, Brock founded Silver Dreams Studios (www.silverdreamsstudios.com) near Los Angeles, where he produced platinum records for Jimmy Barnes and a string of others.
Wally Stocker, lead guitarist – A key force throughout The Babys' original rise to stardom, Stocker first left home in London at 15 with just a couple of pounds in his pocket and a guitar strapped to his back in pursuit of his rock and roll dreams, and he has never turned back. A favorite among Babys fans for his spellbinding guitar riffs that always played the spaces as well as the notes, Stocker went on to join Rod Stewart's band, Air Supply, and Humble Pie.
John Bisaha, vocals/bass – Blessed with a terrific voice that sounds about as close to one-of-a-kind Waite as you can get, Bisaha proved an instant hit at The Babys' first comeback performance in July 2013. The first song was "Looking For Love," and it took about 30 seconds for Bisaha to have the capacity crowd in the palm of his hand. Through the years Bisaha has made his mark in several bands, theater and studio work.
Joey Sykes, guitars - Born and raised in New York, currently living in L.A. Sykes also spends time writing in Nashville. He got his first real taste of the industry with the band Boystown and Coward (Elektra Records) who shortly after signing their record deal signed a publishing deal with Warner-Chappell Music. In addition to The Babys, Sykes has been writing for other artists, television and motion pictures as well as producing other artists.
For more info on The Babys – visit their website at TheBabysOfficial.com.
The Babys Catalog of Hits
Isn't it Time
Every Time I Think of You
Back On My Feet Again
Midnight Rendezvous
Head First
Anytime
Turn and Walk Away
If You've Got the Time
Silver Dreams
True Love, True Confessions
I See You There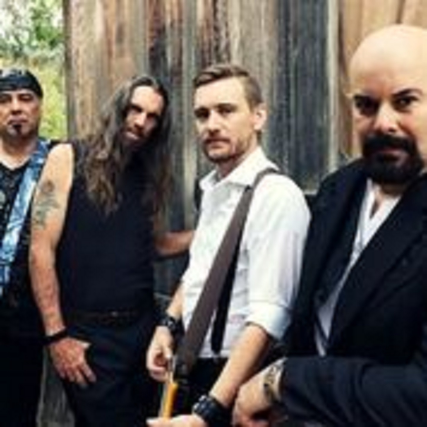 Jon Campos & The Incurables
Rock
Jon Campos & The Incurables the six-time Global Music Award Winner was formed in 2015. Inspired by the big riffs of the great rock bands of the past, they set out to create their own sound in the San Diego area.
They are ranked the #1 Alternative Rock Band on Reverbnation and aim to create memorable performances on stage with Jon Campos at the helm whose big powerful voice and emotional guitar playing tell tales of life and love that would make you think he has lived for a couple of hundred years and has gone through hell and back. Tyler Johnson energetic basslines lay the foundation that drives the band towards nirvana. The hard-hitting rhythmic groove drummer, Danny Wasson was born to give songs character and soul. And last but not least, on lead guitar is Adam Brannon whose jaw-dropping performances are explosive and make the Rock Gods proud!
These guys have worked with some of the top music producers in the industry such as John Kurzweg who produced for Creed, Jewel, Puddle of Mudd and is credited for over 58 million albums sold worldwide. The band has also worked with season veteran and Grammy nominee Marc Desisto, who has worked with legendary bands and individuals such as U2, Melissa Etheridge, Pink Floyd, and Don Henley to name a few.
Jon Campos & The Incurables has also opened for national acts such as Puddle of Mudd, Saliva, Saving Abel, Skid Row, Adelitas Way, Pat Travers, Jake Lee of Red Dragon Cartel, Ozzy and Badlands, and Richie Kotzen of Winery Dogs.
To book this big voice, hard-hitting, energetic and explosive band for your next gig, please fill out the form below or contact us directly.